The Differences Between Fog Lights & Driving Lights
We carry a lot of different lights, and on a Jeep, they are a popular item to add to your ride. Not really because they look so good (and they do!) but there are a lot of conditions where you need extra lighting. Maybe you live far from the city, and you have to contend with crossing deer, bears, moose, or Sasquatch. Or you have extreme weather conditions in your neck of the woods and you actually want to see where you're going, on road and off road. Maybe you have them installed on a work truck, or an emergency vehicle, where light is needed for rescue and safety concerns. Whatever the reason, lights are a big part of Jeeps and how they are used.
Before we jump into adding new lights to your Jeep, there's a couple of things we want to go over. The basics are:
There are 2 kinds of lighting solutions: Driving Lights, and Fog Lights.
Fog lights are normally mounted at or below bumper level. About the height of your headlights. These are lights that light up the road for a short distance, just in front of the vehicle. They are meant to pierce fog and airborne particles (such as dust) close to the front of your vehicle. They typically have a beam pattern that shines wide, for the sides, and down, for the short distance on the road. This pattern helps keep the lights below your eye level, and from bouncing back off the fog and into your face.
Driving lights are for distance, similar to the high beams you already have, but they are aimed and dispersed forward, usually in a rectangular pattern, depending on the design. The idea is to light up far ahead and along the road (trails) so that you can see terrain and objects long before you reach them. Lights like these are usually mounted at the same height or preferably, higher than your factory headlights. The goal is to use Driving lights in conjunction with your high beams.
Different lighting companies have different designs on how their product will shine and light up the night, so there're many choices on how you may want to mount them and use them on your Jeep. But it's important to use the correct type lighting you need (Fog lights vs. Driving lights) and work that into how they will be installed. If it's a driving light you need, you'll want to figure out just where on your Jeep it will be mounted. On the roof? On the windshield frame? How may lights do you plan to use? How much power do you need? Some drivers like lights mounted up high at roof level, to shine over them, while some like them about hood height. It's really a matter of preference.
With fog lights, you have to decide where on your bumper to mount them, and if you even have a bumper that will accept the lights you want. You can usually mount them in the bumper, above the bumper, sometimes even below it. The setup is up to you, depending on your goals and how you'll be using them.
Now you know the quick differences between the two types of lights commonly used, and where you'll need to mount them on your Jeep or Truck.
We also want to mention, and you'll see this in the vast array of products we carry, that there are different kinds of bulbs within the lighting products themselves. We don't want to go into this to much here, but for some quick information, here's the basics.
Halogen Bulbs – Halogen bulbs are used on most vehicles made today, and are a common stock light bulb. Even though they have been around in one form or another since 1882. A modern Halogen bulb contains the gas Halogen (though it can also contain Xenon or Krypton) and burns brighter and more efficient than older glass headlights. There's a boat load of science on how they work, but we won't cram those 100 pages of scientific theory here. Halogen bulbs typically are the less expensive choice as far as bulbs go compared to others.
HID (High Intensity Discharge) bulbs are similar to a fluorescent light, like in your home. They even use an external ballast in most cases. (or the ballast is part of the bulb's base). HIDs use a Tungsten filament, and are usually filled with Xenon gas. They come in different combinations, but the thing to know here is that they are very bright and energy efficient. They won't have the power draw that a Halogen bulb has. Because of the complicated technology, materials and manufacturing, these bulbs can cost more than a Halogen.
LED (Light Emitting Diode) bulbs are the new kid on the block as far as being used in the auto and truck markets. The drawback is that they can be the most expensive option of the 3 types of bulbs, but they have some positive aspects when used. They are a solid state (electronic) light that doesn't rely on incandescence or electroluminescent properties. They have lower energy requirements, a longer bulb life, can be almost an size, (especially smaller sizes) and can be activated with a digital switch. The more LED lights find their way into our daily lives, and the more they are manufactured, eventually this will create a situation where the prices go down as the demand goes higher.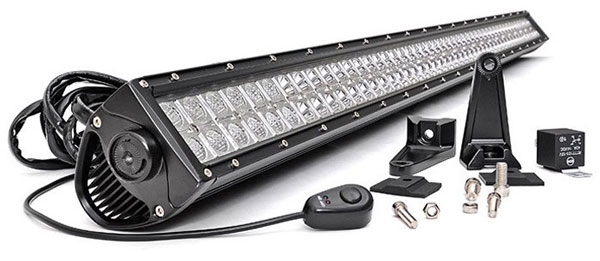 Which bulb is best? That's a big question, and it's not cut and dry, there are to many variables. But when deciding on your driving or fog light, the type of bulbs used will factor into your choice. It can also effect pricing. Obviously, an LED light from Rigid will typically cost more than a Halogen one. But it's a matter of choice, where the light will be mounted, how they will be used, and which light best fits your Jeep or Truck.
Here at the Morris 4X4 Center, we carry a very wide range of lighting solutions.
Here are some of the top brands you want to browse to find your lights:
Below are some other manufacturers who are beginning to add new types of lighting products to their lines that you may be interested in:
The important thing to know on all this is that whether you're choosing Driving Lights or Fog Lights (or both!), we have the setup you need here at the Morris 4×4 Center. We help Customer everyday choose the best lighting for their Jeeps and we can help you too, to get the best deal and the best lights.
Ready to light up the night? Get your Driving and Fog Lights today.