Jeep Tire Information
Tires are one of the most important Jeep Parts that often times get ignored. Here we are going to discuss Radial Tires and Bias-Ply Tires. Radials are probably the most common tires made and sold.

These tires aggressive tread design can be All Terrain, Mud Terrain, Off Road, and many other designs to satisfy the Jeep owners need. This is the Jeep Part you need to maintain the least and one that gives back every day.

Manufacturers: Mickey Thompson, Pro Comp, Nitto, TSL, Dick Cepek and many more.
Tire Threads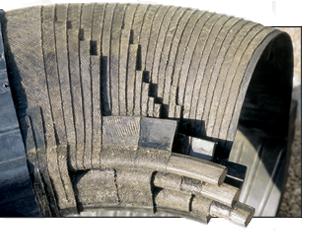 Radial tires are made of polyester and steel plies that overlap to form a very sturdy and resistant surface.

Bias-Ply tires have a criss/crossing design that gives the tire strength in both directions. Bias-Ply tires are made of nylon and are extremely strong and weight bearing.
What do all the numbers and letters on the side of a tire mean?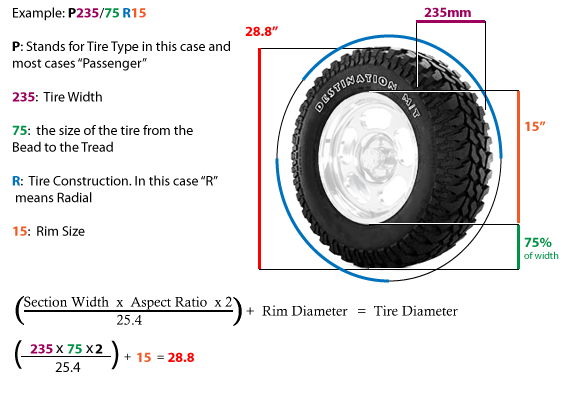 Tire Rules & Regulations
National Highway Traffic Safety Administration provides a Tire Safety Checklist that included Tips and Safety Advise.
The NHTSA also has UTQG (Uniform Tire Quality Grading) system on their site. The UTQG provides you with information to check the rating on your tires for Tread Wear, Traction and Temperature. The ratings are assigned by the manufacturers based on the tests they perform or on the testing performed by independent companies they hire.

NOTE: Every tire that is sold in the United States must achieve a "C" rating, this rating indicates that the tire can withstand speeds of 85 MPH.
Your tires will treat you the way you treat them. Selecting the right tires for your Jeep will be the most important decision you make. Once you have selected the tires that fit your needs and lifestyle you have to maintain them.

Maintaining Your Tires Is Simple:
Air Pressure
Tire Rotation
Visual Inspection
This will keep you on the right track, extend the tire life and keep you safe!