Types of Jeep Hard Tops
Jeep Hard Tops are full of options and they are available in one piece and two piece designs. Of course one of the main advantages of a Hard Top is security. After you install the Top on your Jeep you can park it and walk away feeling better about your personal property.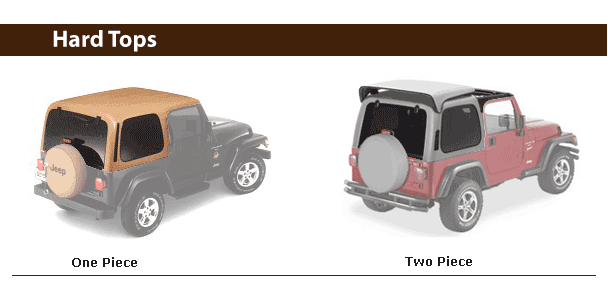 One Piece Hard Tops
The one piece hard top gives you all the same security as the two piece but it's a Targa Top. This means that it is semi-convertible, or for the old-timers a sort of T-Top. The Targa Top pulls off and with the optional rear roof top rack you can store it and let the outside come in.
Two Piece Hard Tops
The second Hard Top option for your Jeep is the two piece hard top. The two piece Hard Top is similar to the regular Hard Top with a couple of extras. The new Tops come with dome lights and options that range from roof racks to interior pockets for additional storage.
Don't feel left out if you choose a two piece, because you can get your two piece Jeep Top with a Sun Roof option. The Sun Roof option doesn't pull off like the Jeep Targa Top but it lets you enjoy the best of both worlds; security and the outside.
Hard Top Advantages
Another advantage of sporting a new Top on your Jeep is protection from the elements.

Winter: During the cold months your Hard Top will keep you protected from the harsh weather.
Spring and Summer: You can remind yourself of the joy your Jeep brings you with your one Piece Top or Your four Piece Sun Roof Top.
Slider Windows: if you have a half door on your Jeep and you install your Hard Top say goodbye to zipper windows and hello to Slider Windows.
Additionally, Hard Tops now come with tinted windows.
Tinted Windows: are great for insulation by assisting your air conditioner to keep you cool during the summer.
Jeep Hard Top Options:
Dome Light
3rd Brake Light
Roof Rack
Tinted Windows
Slider Windows for Half Doors
Interior Pockets for Additional Storage
Removable Targa Top for One Piece Top
Rear Roof Rack for Targa Top
Your Top can bring you security, protection from the elements and reduce the noise while still providing you with the fun and excitement of owning a Jeep. Make sure you explore all the options that are offered with a Hard Top before you make your final decision.