Jeep Security Types: Center Consoles, Glove Boxes, and Security Lock Box
As with anything you own and love you want to keep your Jeep safe and sound. The Jeep Hard Tops offer the highest level of security but they are not 100% percent deterrent. There are several things you can do to improve the level of security. You can add an alarm, tailgate locks, a lockable trunk, lockable consoles and glove compartment. If you're concerned about your wheels then you can change you lugs and get Wheel Locks. Of course you can have an alarm installed with remote start, a relay system if you want your windows to roll up and down, lock the trunk and lock and unlock doors or you can just add a module and have everything work remotely with one controller. If you have a Jeep Soft Top then you have a greater challenge because you have a convertible. Obviously the material can be punctured or cut to burglarize your Jeep. In this case your best security measure is to be very aware of your surroundings and make sure you don't leave any valuables in your Jeep. This doesn't mean you don't have security resources. You can protect you radio with a locking stereo cover, or your winch with security bolt locks. If you like High-Tech stuff you can get an Infrared Alarm installed on your Jeep. These types of alarms work well but they do not prevent someone from breaking into you Jeep. These alarms are set of when someone enters the inside of the Jeep through the windows, doors or sunroof. The infrared sensor bounces of the foreign object and sets off the alarm. In order for this to happen someone has already punctured or cut through your Jeep top. You end up with a broken top, but your Jeep and most of your personal items will be safe. There are many options to protect your Jeep, your personal items and the investments you've made to customize your Jeep. Let's talk about those options.
Flip-N-Lock Stereo
The Flip-N-Lock Stereo by Tuffy Security Products is a great way to protect your stereo. It serves as a lock box and hides your stereo in a secure box with key. The Tuffy Flip-N-Lock comes equipped with a cam-lock system and is constructed of .090" aluminum. The Flip-N-Lock encloses your stereo and hides it from passersby and curious intruders.
Jeep Center Consoles
Center Consoles for your Jeep by Tuffy Security Products are the best in the market, and are tested for durability. The basic center console sits in between the front seats and can store general items like sunglasses, small wallets, etc. There are more complete consoles like the Security Center Console with Electronics from Tuffy. This console is made of 16 gauge steel and provides a large area for storage. This console has a special bracket to mount a stereo or CB that is removable, so you can store it and lock it away. Inside the storage area you will find a 12 volt marine grade power outlet as well as removable utility tray. Tuffy designed this Center Console with a 1/4" thick Ply-Guard II latching system. This is the top end of Center Consoles and they did not forget comfort and convenience. This console has front and rear cup holders and a full length, padded armrest. Security, Toughness and Comfort all found in Tuffy Security Center Consoles.
Jeep Glove Box
Your Jeep came with a factory plastic glove box, but you can upgrade from there and add security to the items you keep in your glove box. The Security Glove Box by Tuffy is the replacement glove box that fits your Jeep. The Glove Box is made of 16 gauge steel with Tuffy's Patented Latch and the Ply-Guard II locking system. Once you install it you can keep your items safe with a product that offers you a limited lifetime warranty.
Jeep Security Lock Box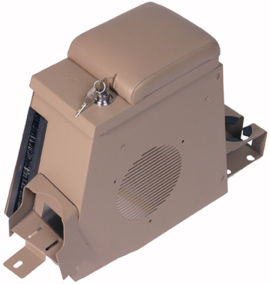 The security lock boxes are great for Soft Tops. They bolt down to your Jeep and secure your items. These Lock Boxes by Tuffy are made of 16 gauge welded steel with the Tuffy Patented Ply-Guard construction and pick-proof tubular locks. These lock boxes come in several sizes allowing you to store your small valuables like your wallet, spare keys, change or sunglasses to a larger items like your CD changer.
The level of security you add to your Jeep is limited by you and your needs. Tuffy is an industry leader in Security products that stand the test of time. Tuffy constructs their products with tough welded steel, patent design latches and pick-proof locks. Secure you Jeep Today with Tuffy.