Jeep Body Lift Kits
One of the more popular ways to lift a Jeep is with a body mount, or spacer lift, from Morris 4×4 Center. The body on your Jeep is mounted to the frame with mounts. Large round flat rubber bushings. Think of them as doughnuts, complete with the hole in the middle. The bushings cushion the body to the frame, and allow some flex, while minimizing the transmitting of suspension impacts to the driver.
Most of the stock bushings are probably around 1-inch thick. That also means the body of the Jeep rests the same distance up off the frame. There are mounts up and down the frame in several locations. Such as in the image below: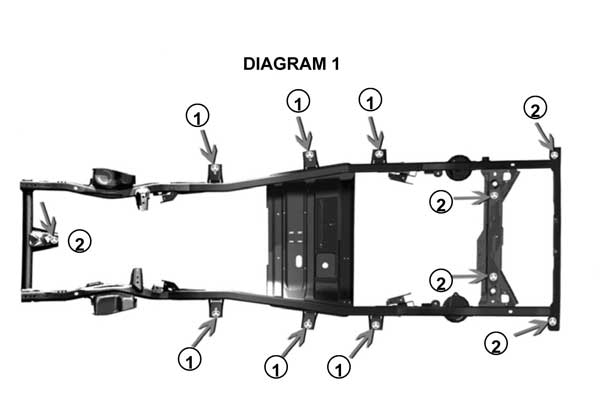 There are several reasons to use a body lift kit. One is, they are usually less expensive than a suspension lift kit. They are also much easier to install, and require much less modifications to the vehicle. It's rare you would change anything on the suspension at all.
The replacement mounts themselves are usually made out of a modern material, such as Polyurethane. This means they are stronger, and last longer, than traditional factory rubber mounts.
A good body lift kit, such as the brands we sell here at Morris 4X4 Center, include hardware and brackets to allow you to do the lift all at one time. In most cases, it only takes a few hours to get your Jeep lifted with a new body mount lift kit.
A typical kit will look similar to the image below: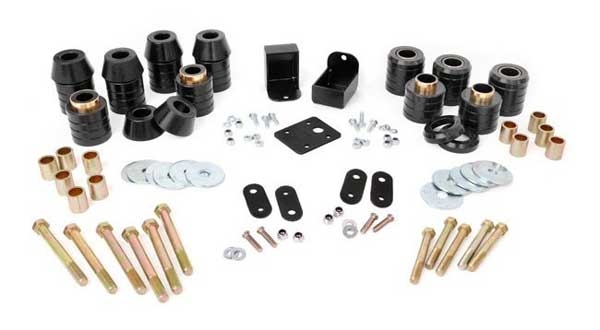 These images are a Rough Country's body lift kit for a 1987-1995 Jeep Wrangler YJ. It may not look like much, but this kit includes all that you need to add a lift to your Jeep, and allow you to run a larger tire size.
We carry body lift kits for up to 3 inches or more, depending on the Jeep model and what kind of driving you do. For daily driving, and light offroading, a body lift is a good way to safely add larger tires and enhance the sport look of your Jeep.
We carry body lift kits by:
Morris 4X4 Center is the place for the body lift kit you need. It's a great away to allow you to install larger tires without the complications and expense of a full boogie monster lift kit.