For Jeep owners, probably one of the most popular and needed modifications is a Jeep lift kit. Whether you drive a Cherokee or any Wrangler YJ, TJ, JK or CJ a common upgrade is a Jeep lift kit. Sometimes Jeepers simply want to know which Jeep lift kit we prefer.
If you really want to get outdoors, outside, and off the grid, you need to make your Jeep more capable of getting you to where you want to go. That secret fishing spot in the mountains. That great camping site no one but you knows about.
Whether it's the deep woods of Alabama or the wide open rocky deserts of Arizona, you've got places to go and wonders to see in your travels.
But a stock Jeep, a stock suspension, isn't going to get you there. So we've put together this list of the best Jeep lift kits available for your ride.
Best Jeep Lift Kit for Wrangler YJ
That's why the Morris 4×4 Center carries some of the best lift kits for Jeeps ever produced. Thinking about getting a lift kit and need a few ideas? Check out the kits our Customer have made the most popular!
Let's mix it up here, because we carry kits for just about every Jeep. Not just any lift kits, but products from the leading manufacturers, so you know quality is top notch, and installation is going to be straight forward. That's what makes these kits so popular. Customer's want components that are designed to work together, fit like they should, and give them the lift they need to enjoy their Jeep.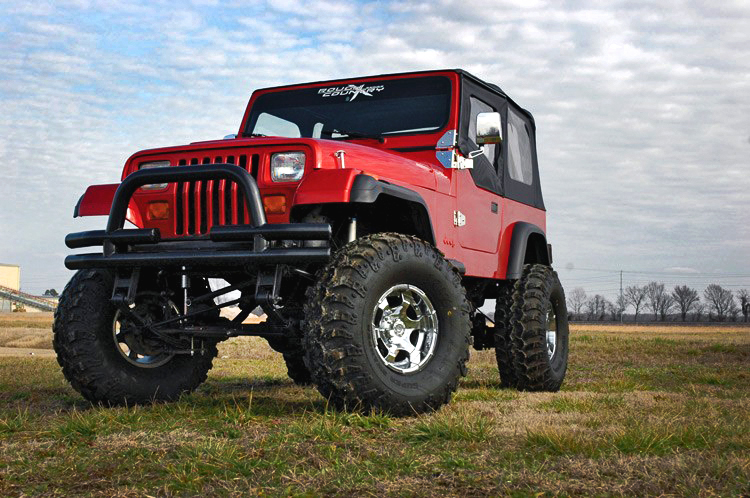 Rocking a YJ Jeep isn't always easy, but it's no big deal when it comes to lift kits. Check out Skyjacker 2.5″ Sport Series Suspension Lift Kit with Hydro Shocks (Part SJ-YJ21BKH ). It features shocks, springs (with urethane bushings) and new u-bolts. This kit literally installs with just bolts and nuts. The 2.5 inches of lift not only raises your Jeep for more offroad ground clearance, you can slip on some slightly bigger tires and rims as well. (if you prefer rubber bushings, go for the RC-615H Lift Kit ).
Need even more lift? Get the popular Rough Country 4″ Suspension Lift Kit with Premium N2.0 Series Shocks (Part RC-620N2). This kit allows you clearance to get up to a 33″ tire installed. Like all Rough Country kits, they've included the bits and pieces you need to make the install less of a headache and get your Jeep on the trails in only a matter of a few hours. (Rough Country also makes a 4.5″ lift kit, Part RC-618.20)
Doing some serious, no holds barred off road driving? Ready to tackle any trail, any mountain, any outback? The popular Pro Comp 5″ Coil Spring Conversion Suspension Lift Kit with ES9000 Shocks ( Part PCK3053BK) is what you're looking for. This kit converts your leaf spring suspension over to a coil spring setup. A very popular modification for getting some serious offroad driving in, it's one our most popular kits for extreme YJ's drivers.

Best Lift Kit for Jeep Wrangler TJ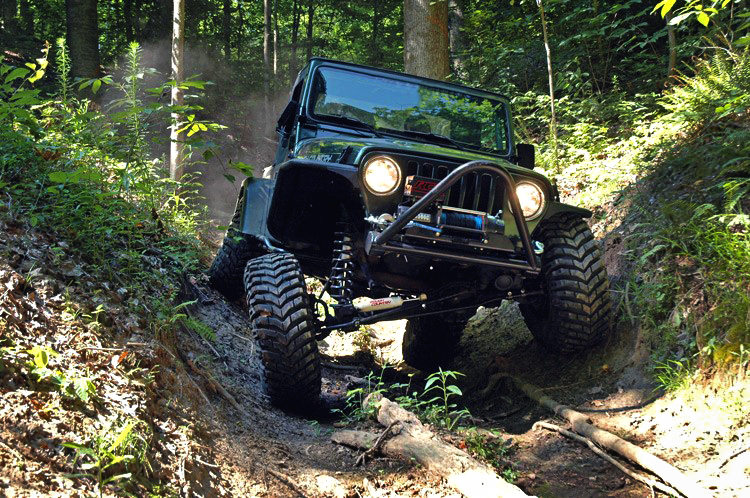 We have some great lift kits for TJ's, with coil springs, shocks, and what you need to get your Jeep ready for the trails. If you just want a moderate lift, a popular kit is the Old Man Emu 2″ Light Load Suspension Lift Kit with Nitrocharger Sport Shocks (Part OMETJLKS). It's easy to install, and you can't beat the Old Man Emu setups for reliability and construction.
For a budget minded, yet very popular choice, take a look at the Skyjacker 2″ Spacer Lift Kit with Hydro Shocks (Part SJ-TJ20H). It's a simple way to add some lift, without major parts or modifications. You can even go up to a 32″ tire.
How about a Rough Country 3.25″ Suspension Lift Kit with Premium N2.0 Series Shocks (Part RC-642.20). This kit can be installed in 3 to 5 hours, so it's a one day weekend project that you'll enjoy on your Jeep for years to come. Of course it includes the bits and pieces you need for the install, as well as the springs and shocks.
Or maybe the Skyjacker 4″ Standard Suspension Lift Kit with Hydro Shocks (Part SJ-TJ401BPH) will fit your needs. With the drop pitman arm, end links, and lower links included, this is a popular bargain to install. (and allows up to a 34″ tire).

Best Jeep Lift Kits for Jeep CJ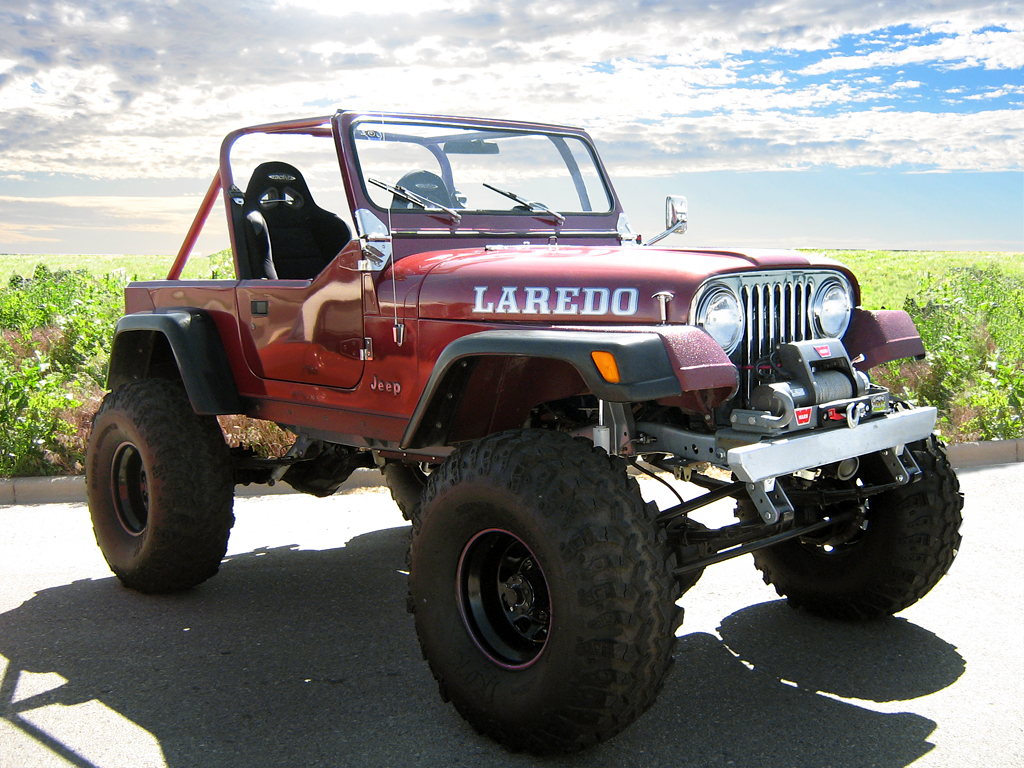 Whether you just want a moderate lift, or all out backwoods crazy, we've got the lift kits to get your CJ-Series hitting the trails and packing up for the weekend fishing spots.
Still have a stock CJ Jeep, with factory springs? Now is the time to hook up with some of these very popular lift kits! The Pro Comp 2.5″ Suspension Lift Kit with ES3000 Shocks (Part PCK3063K) is a great set for moderate offroading where you need a little more ground clearance, and a slightly larger tire. It's an uncomplicated, but fully functional kit. I's a breeze to install, and is one of our biggest sellers.
Not to be left out, a good choice for lift kits on a CJ Jeep is the Skyjacker 3.5″-4″ Standard Suspension Lift Kit with Hydro Shocks (Part SJ-J40KH). You can fit your Jeep with up to a 33″ tire combo with this kit. It's basic, but gives you a lot of bang for the buck.
If you want to install larger tires, and get more clearance, another popular kit we sell is the Pro Comp 4″ Suspension Lift Kit with ES3000 Shocks (Part PCK3064K). With 4″ of lift, you can add up to a 33″ tire / wheel combo. Best of all, it's still a basic and simple kit to install.

Best Lift Kit for Jeep JK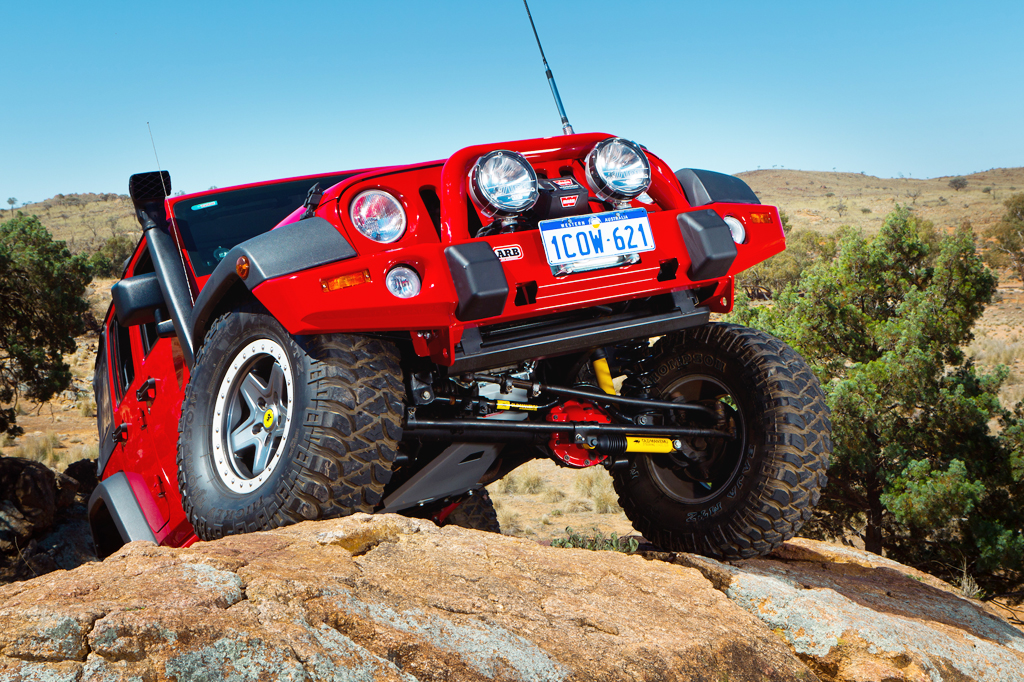 Just because you have a newer JK series Jeep doesn't mean you get left out. We sell a ton of lift kits for JKs too, and we've got you covered with all the best brands. One of the most popular setups is the Old Man Emu 4″ Suspension Lift Kit with Nitrocharger Sport Shocks (Part OMEJK4). This kit allows you to install a 35″ tire, so right out of the box, you're ready to go offroad with a new lift kit. It includes the parts you need to do the job right the first time.
Another up and coming hot lift kit is the Mopar 3″ Stage 3 Lift Kit with Fox Racing Shox. (Part P5156140-M ). The Fox shocks feature external reservoirs for serious offroading capability. It even allows you to install up to a 35′ tire set. The shocks, in combination with the Mopar / TeraFlex SpeedBump System (used on the front axle), provide exceptional performance at speed. (Mopar also makes a 2″ lift kit, Part P5156118-M, or if you have a 2-door JK Wrangler, Part P5156141-M).

Best Lift Kits for Jeep Cherokee
You know XJ's never die. They just get lifted ! Our mot popular selling kit for the Cherokee XJ's is the Rough Country 4.5″ X-Series Suspension Lift Kit with Premium N2.0 Series Shocks (Part RC-633XN2). It's a 100% bolt on kit. It features all the parts you need to get in there and lift your XJ without any fuss. Few, if any lift kits can compare, considering all the parts you get in the box, and at a very good price.

These are some of our best selling, and most popular kits with Jeep Customers. They're popular for a variety of reasons. Easy installation, the kits include the parts you need to get the job done right, and they function well once installed. We don't pick the most popular products: YOU DO.
Of course, we probably have the lowest price on the kits than anyone else, but that will never compensate for a low quality product, or a kit that doesn't fit. These are top selling kits because our Customers demand and deserve the best parts. Parts that fit and work right.
With Jeep lift kits made by top companies such as Skyjacker, Old Man Emu, Pro-Comp, Rough Country and others, it's easy for us to bring you the best lift kits, at the best price.
Check out some of the suggestions we've mentioned here above. You can't go wrong with the hundreds, if not thousands of Jeep Customers who have installed these lift kits and spread the word that they work great, fit well, and do the job you need to make your Jeep even more capable to off road. For more, you can visit our full line of Jeep lift kits.
See ya on the trails!