10 Important Accessories a New Jeep Owner Needs for the Trail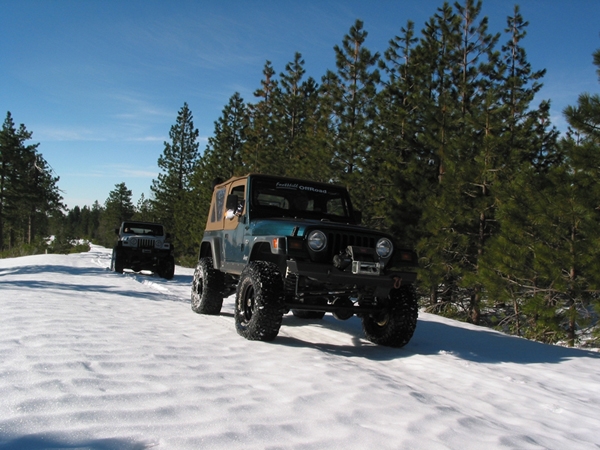 Most of the Customers we help at Morris 4x4 Center are Jeep diehards through and through. They live it day and night like us. Many have been driving Jeeps all their lives. But new people join the Jeep family every day. It doesn't matter if it's a brand new
Wrangler JK
off the showroom floor, or an older
CJ-Series
they put back together, the first thing they want to do it get that baby on the trail and enjoy the great outdoors. We get emails and talk to Customers all the time about setting up for their first venture on a trail. It might be just a day trip into a national park or a week in the New Mexico desert. But for first timers, it's something they've looked forward ever since they could say the word Jeep. We've been discussing the topic with our expert technical people here at Morris 4x4 Center on what Customers should take on such an adventure. They're experts on Jeeps, off-roading, as well as survival, and deal with these questions every day. Here are some of their top suggestions to keep your Jeep rolling, and help you make it back home safe and sound.
First Aid
- Anything can happen. That's why they call them accidents. You're also out in the open, miles from anywhere. Wild animals, like rattlesnakes, don't care who you are. We carry a compact convenient
Smittybilt First Aid Storage Bag
,
so there's no excuse not to take one
. Pack it with standard medical supplies, things that you need for the environment you are trailing in. Check with any passengers that are going with you: do they have medications they need to take? Are they diabetic? Do they have any allergies? Pack those supplies up too. Put it all in this one bag, and let everyone that's going with you know where the bag is stowed and what's in it before you leave. In an emergency, it won't do you any good if you're the only one that knows you brought it along.
Tow Ropes
- Sometimes unexpected things come up on  the trail. Anyone can get stuck, even in a Jeep. We recommend a
good tow rope
, like one of our
Bubba Ropes
. If you are trailing with other vehicles, they might get stuck and you need to rescue them, so keep at least one or two with you. They are light and easy to store. We also carry
Kinetic Recovery Straps
.  The elasticity in a snatch strap is what makes it such an essential piece of recovery gear. The kinetic energy generated by the elasticity aids with the recovery of the vehicle itself, while at the same time reducing the likelihood of vehicle damage. If you are not used to using tow ropes, the Kinetic Strap can be a better choice.
D-Rings / Tow Hooks
- These are essential on any Jeep. A tow rope is good, but you need a
tow hook
so you can connect that rope or strap up to something. The time to check you Jeep is before you leave. Are your hooks and D-rings in good condition? The last thing you want to do is get stuck and find out you have a weak or rusted hook, that can break in a critical situation.
We sell a variety of styles and tow hooks for every occasion.
 Also, you don't have to rely on just the factory hooks and D-rings. You can add extra ones to several locations on your Jeep to give you even more leverage in a difficult situation when you're stuck.
Fire Extinguisher
- Fire is an issue, especially in the middle of nowhere, because it's effects can be devastating. Many new Jeep owners don't think they need one, after all, it's a brand new vehicle, what could happen? But an extinguisher is needed for several reasons. Yes, you could get an unusual electrical fire, maybe under the hood. If you have an older Jeep with a carburetor, that might cause a fuel leak, or while trailing, you break a fuel line underneath. If fuel comes in contact with a muffler, that might cause a fire. Another reason is you might be camping. If the campfire gets away from you, it could cause a major forest fire, so a fire extinguisher comes in handy. Most new extinguishers are small and can be stowed or mounted just about anywhere on a Jeep. We carry several kinds of mounts to keep your extinguisher safe and in place. One of our popular choices is our 
Warrior Holder with Hand Grip
.
Shovel
- You can almost call this the universal tool for Jeeps and trailing. It can help when you get stuck obviously, but can also used in various camping chores and minor work duties. In a pinch, it can be a defensive instrument. We recommend our
Smittybilt Survival Kit.
 It includes a
Trail Axe
as well and makes a great combination. The shovel is a folding military style, so it's compact yet rugged.
Hi-Lift Jack
- The
Hi-Lift Jacks
are a rugged, highly versatile jack that puts you in command of situations requiring lifting, pushing, pulling, winching, and clamping. Depending on the situation out on the trails, you may not be able to use your stock jack. Note that the Hi-Lift jack is not just for changing a tire. It can be used as a clamping device when using a winch, to help get you out of a tight situation if you're stuck. Hi-Lift Jacks are also used by the U.S. military, everywhere in the world, where survival is most important.
Winch
- If you are hitting the trails or desert with other Jeep folks, then getting stuck is probably not to big of a deal. They can help pull you out. But if you alone, or separated from your group, and you get stuck, you'll be in a world of trouble. We recommend a
good Jeep winch
to get you out of those situations. A good winch is a serious accessory to purchase for your Jeep, we understand that, but it can also be one of the most important. You won't find many Jeeps that go off road without one. At Morris 4x4 Center, we carry a wide range of winches for all kinds of different style Jeeps and budgets. Adding a winch to your Jeep can mean the difference between getting home or getting stuck.
Lighting
- Out in the open, away from civilization, brings a whole new meaning to the word "dark", Especially on a moonless night. Depending on the area you're in, you may have a lot of wildlife around. If you're driving,
you need more lighting
to prevent hitting something, such as a moose of deer, and to prevent you coming up on a situation that can get you stuck. More lighting isn't just a fad accessory. It's something you need in a real world situation. We carry several high quality brands of lighting for Jeeps, such as
KC
,
PIAA
,
HELLA
, and others.
Sandtrack
- The
Bushranger Sandtrack
 was designed for getting unstuck out of the sand, mud, or anything else you would need more traction under your tires. It's especially useful for desert areas where there may not be any vegetation or anything else to hook a winch up to. These are light, easy to stow, and can get you out of some bad situations.
Recovery Bumper / Rock Crawlers
- Changing the bumper on a Jeep is almost a necessity. The
front bumper
especially has so many uses, it's a lot more than just a "bumper" like on a car. First of all, you need something to attach your new
winch
to. Something strong and rugged. Luckily, at Morris 4x4 Center, we carry a wide variety of the best bumpers ever made. Ready and able to handle winches, powerful lighting,
D-clamps
, and much more.
Well, there you have it. That about rounds out our 10 choices. There are many other products we carry that can make hitting the trail with your favorite Jeep a better and safer experience, but the list above goes to the head of the list.
We also want to mention that you should take the normal supplies, such as water, maps, maybe extra
fuel containers
, things that can be specific for your personal adventure. And don't forget the trash bags and ziploc bags, to make sure you leave the wilderness clean, and the way you found it, so it will stay a great place for other Jeep trailblazers to enjoy. Happy Trails! from all of us here at
Morris 4x4 Center
.