10 Jeep Tailgate Accessories You Probably Didn't Know About
Just like about any part on a Jeep, there are a lot of things you can do to make your tailgate more functional, better looking, and more adaptable for the trails. Tailgates get a lot of use, opening and closing, while trailing or camping, so there's a lot going on back there. It's a good thing Morris 4x4 Center has you covered!
So what are the 10 best ideas for your Jeep's Tailgate?
1. Restore and repair you old tailgate.
Let's face it, there's no sense going with a new accessory if your old tailgate is rusty, bent and banged, and looks the back-end of southbound mule. As far as body parts, it's one of the easiest to change out. Get an all new steel tailgate from Omix or Mopar and bring the back of your Jeep up to par. We even carry tailgates with a factory
Willys
or
Jeep logos
.

2. Tailgate Tables.
The Rockslide Tailgate Table
 is a great example. This is good for camping, reading maps, cleaning fish, or setting your coffee cup on maybe. If you use a Jeep on the job, you might use it to hold tools within reach. It's a real workstation on it's own. Since it's made of 12 gauge aluminum, it would last for many years, and it's easy to clean.
Teraflex makes a Tailgate Table,
that even includes a cutting board! Both of these tables fold up against the tailgate until you need them.
3. Tailgate Assist Kits
. Introducing the
Hydraulic Tailgate Assist Kit
 by Rugged Ridge. If you like to keep the tailgate open a lot, when you're camping, at the beach, or generally outside having a good time, you might be interested in a Hydraulic Tailgate Assist. This product acts like a third hand, holding the tailgate open when you are loading or unloading. Once the tailgate opens smoothly, it stays open till you shut it.
4. Tailgate Gear Storage.
You can never have enough storage for a Jeep. There's not much room inside, so you need to use every inch of space that you can. There are several products that can add some storage bags to your tailgate and let you organize and carry more gear in the space you have. We carry solutions such as Smittybilt's G.E.A.R Tailgate Covers. Or the
Bestop Rough Rider Tailgate Organizer
.
5. Tailgate Rack and Brackets.
Bestop has a very functional
HighRock 4X4 Universal Rack Tray
that allows you to carry more gear off the back of your Jeep. When used with their HighRock 4X4 Tailgate Rack and Bracket, it's the perfect addition to your tailgate. The Bestop Rack Tray will hold up to 100lbs of gear. Warrior makes a similar product with their
Adventure Rack
, as well as
Rugged Ridge's Easy Load Trail Rack
.

6. Tailgate Covers.
Several companies we have offer different types of Tailgate Covers. They not only give the back of your Jeep a distinct look, they can protect the body panel and paint underneath. A large selection of the are available from  
Warrior Diamond Plate Tailgate Covers
.
7. Tailgate Vent Covers.
These are a great way to spruce up the space in the middle of the tailgate. If you removed your tire carrier, you now have a wide open space in the middle of the tailgate. Vent covers come in different styles and materials, so you can match the one you like best up your Jeep.
Poison Spyder makes a whole series of them, that they call "Tramp Stamps"
. Rancho offers a
RockGear
one made from thick steel construction. Or-Fab makes one with a cool Gecko!
8. Antenna Mounts.
Want mount your CB antenna on the rear, some where out of the way? Several companies make easy brackets and kits to mount your antenna back there in no time. Poison Spyder makes durable
Antenna Mount
. But there are many other choices, and different kinds of mounts to work with just about any Jeep model, and in different locations.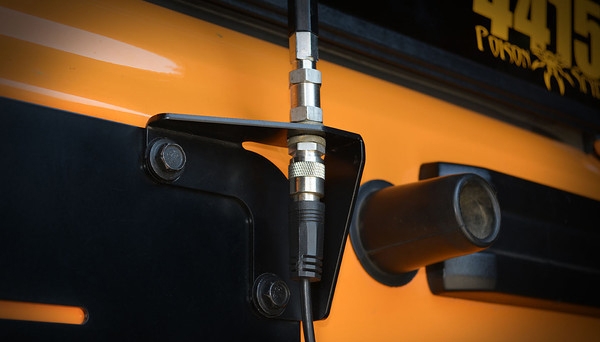 9. License Plate Relocation Kits.
If you removed the rear spare tire carrier, you might think the license plate looks a little odd over on the left hand side. But you can relocate it to the middle of your tailgate, in front of the vent to give the back a balanced look. Many companies make these kits, in several different styles. Check that out for many more ideas and options.
10. Tailgate Enclosures.
Tuffy makes a
Steel Security Tailgate Enclosure
, and also a more Jeep universal
Steel Lock Box
. While they don't actually mount to the tailgate, it does protect your valuables behind the tailgate.It also keeps your stowed items out of eye site. To go even further.
ARB makes an Outback Solutions Modular Roller Drawer Kit
. This maximizes the space behind the tailgate, and uses a roller drawer for easy access. Aries offers a nice hard 16-gauge 
Steel Security Cargo Lid
. It can even support up to 200 lbs. Another nice setuup is the Smittybilt cargo Security Storage Vault to protect your gear. It uses a drawer for easy loading and unloading, and the drawer itself will support up to 350 lbs. It features easy glide sliders and a security lock.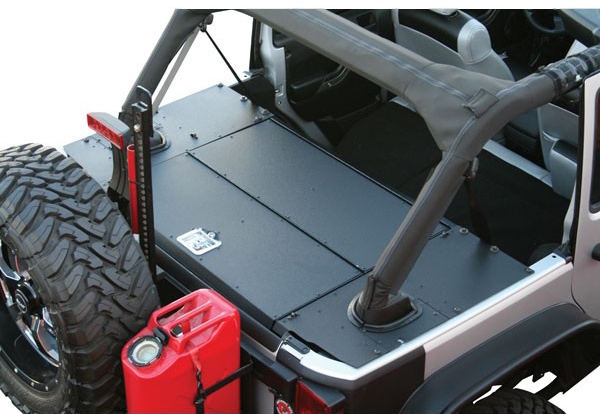 +11. Poison Spyder's Flip Down Tailgate
 - Now for the 
Pièce de résistance,
the  
Aluminum Flipdown Tailgate Kit
. We couldn't resist adding this ultra tailgate to the list. Like the older Jeeps, with this kit you can have your tailgate actually flip down like a traditional CJ or pickup truck. No more side swinging tailgate. Once flipped down, you can sit on it, use it as a bench, and all the useful things you can do with a flip down gate. It's the ultimate tailgate conversion! This tailgate will typically hold the weight of a 260 lb person standing on it, and even a pair of 180 lb. Jeepers sitting on it side by side. Another plus feature is the ultra smooth face of the tailgate, which can be painted to match you own Jeep. Believe me, when you show up at the camping site and pop down this tailgate, EVERYONE will want one!
Now that we've covered the Top 10 (er, 11), things you can attach to your Tailgate,
there are also great products to help you store your gear,
and make that small "cargo" space behind the tailgate more useful.
Rampage Rear Sport Racks - This multi-piece design places a heavy duty rubber seal on your tailgate while providing extra space and covering up your cargo.
Rampage Steel Sport Racks - Safety lock catch in lowered position - hides secure lower compartment for concealed storage.
Bestop Pet Barriers -  This barrier will keep you safe in the front seats and your pet safe behind the barrier.
Bestop Instatrunk - The 16-gauge, heavy-duty steel construction forms a weather-resistant seal when you close and lock the tailgate.
Rugged Ridge Rear Cargo Area Storage Bin - This custom fit storage bin fits perfectly in the rear cargo area storage compartment providing protection and an easy to use removable tote.
Mopar Cargo Are Liner  - Mounts to the bottom bar, and the mat zips out and has enough length to fold out onto rear fascia. Includes a storage bag.
So there you have some ideas of what you can do with your tailgate, and what kind of products might be available for your Jeep and the rear cargo area. Chances are you already have one or two of these, but as you can see, there are even more choices when it comes to upgrading your Tailgate, and the space behind it. Luckily, these are available from your favorite place to get Jeep parts, the Morris 4X4 Center! See ya on the trails!