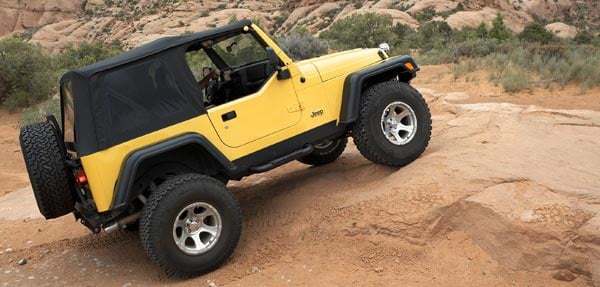 We speak fluent Wrangler here at Morris 4x4 Center, and when it comes to Jeep TJ lift kits not only do we carry a wide variety of brands, we can set you up with the TJ lift you need at the best prices. But don't let the low buck deals fool you, these affordable Jeep Wrangler TJ lift kits are high quality and made to get you off-roading in no time with minimum fuss. Before upgrading to a Jeep TJ lift kit made for the mountain trails and the desert vistas, you will need to familiarize yourself with shocks, springs, spacers, end links, brackets, bushings and other hardware. Let's review how you can get the Jeep TJ lift kit you want and save money at the same time.
Rubicon Express TJ Lift Kit for $800
The
Rubicon Express 3.5" Standard Suspension Lift Kit with Twin Tube Shocks
(
part RUB-RE7002T
) is a great deal, even if your Jeep is a daily driver, for on road and off. With twin tube shocks and moderate valving, you won't be going hardcore on the ride, and you get the ground clearance you need for 33 tires. The RUB-RE7002T comes complete with the following: 1) shocks 2) coil springs 3) bump stop extensions 4) sway bar end links 5) rear track bar bracket
Zone Offroad TJ Lift Kits from $460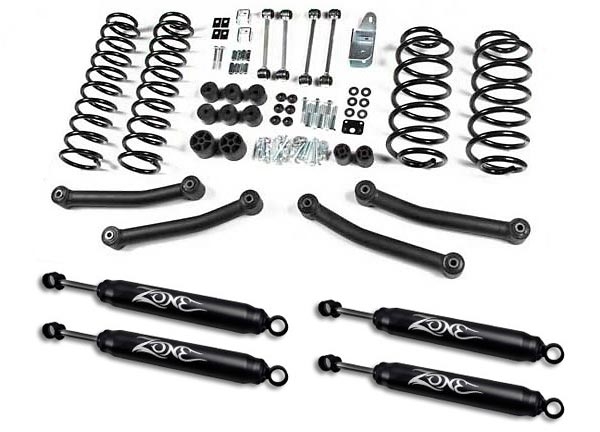 Looking for a Jeep TJ 4 inch lift? Catch the
Zone Offroad 4" Suspension Lift Kit with Nitro Shocks
(
Part  ZON-J11N
). While you get the traditional cold springs and shocks, Zone Offroad includes new, stronger lower control arms. Just to make sure you get what you need in one box, they throw in a shift linkage bracket, rear upper control arm cam plates, and a transfer case drop kit.  Giving you more bang for the buck and offroad capability.

If 4-inches is a little to much, grab the
Offroad 3" Suspension Lift Kit with Hydro Shocks
(
part ZON-J2H
). You still get a good lift kit, one that can increase your wheel travel from the stock 7" to 10 full inches. Ready for 32 or 33 inch tires!
Skyjacker TJ Lift Kits from $288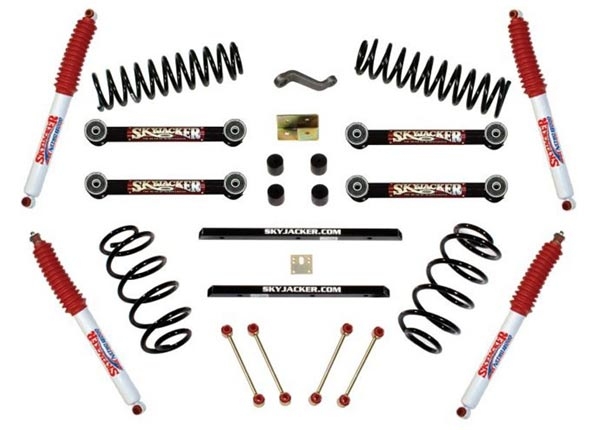 You know with a name like Skyjacker, you're getting a lift kit that pulls no punches. Hook up with the 
Skyjacker 4" Standard Suspension Lift Kit with Four Hydro Shocks
(
Part SJ-TJ401BPH
) and get ready to hit the trails in style. This kit packs an assortment of parts, made to take your TJ off road with confidence. Included are: 1) four coil springs 2) four hydro shocks 3) front lower extended links 4) rear lower extended links 5) rear track bar bracket 6) transfer lowering kit With this Jeep TJ 4 inch lift you can bolt on some 34 inch tires and head for the mountains!
If the 4-inch lift is ore than you're looking for, you can still get some extra capability out of your TJ with a
Skyjacker 2.5" Standard Lift Kit, which includes Four Nitro Shocks
(
Part SJ-TJ250KN
). This lift kit is more tuned for daily street drivers who still need some clearance for the weekend fishing trips. It's a best of both worlds type thing. Of course, you still get that great Skyjacker quality and durability. Another hot choice is the
Skyjacker 2" Spacer Lift Kit with Hydro Shocks
(
Part SJ-TJ20H
). If your springs are in good working order, you can add these parts to your TJ quickly, and bolting up your new 32 inch tires in no time!. The tough polyurethane spacers are easy to install, and allow you more clearance on a modest build budget.
Rough Country TJ Lift Kits from $300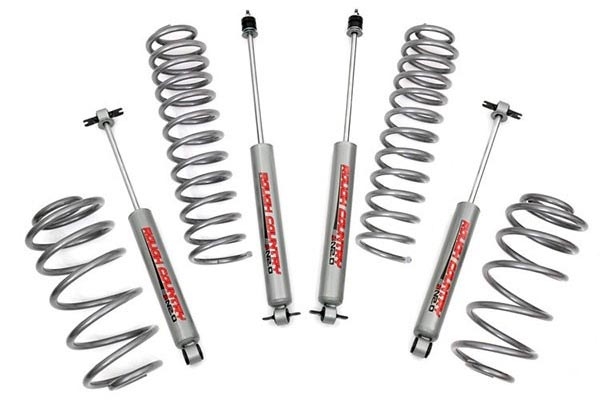 The
Rough Country 2.5" Suspension Lift Kit with Premium N2.0 Series Shocks
(
Part  RC-653.20)
is priced so low, you'll wonder why you ever drove a stock height TJ in the first place. You can still run 31 inch tires, so it's a lift kit you can use effectively, every day. This kit installs in / around 2 to 3 hours, so with some weekend warrior sweat, you can drive to work on Monday with a lifted TJ ! By the way, if you want to run 33 inch tires, bolt up the
Rough Country 3.75" Combo Suspension Lift Kit with Premium N2.0 Series Shocks
(
Part RC-649)
.  It's 100% bolt on, gives you a little more ground clearance than the 2.5 lift kit, and has progressive spring rates to keep you from feeling like you're driving a dump truck. On road or off road, this is a popular kit we sell, and there are a lot of TJs out there running these kits.
Pro-Comp TJ Lift Kits from $423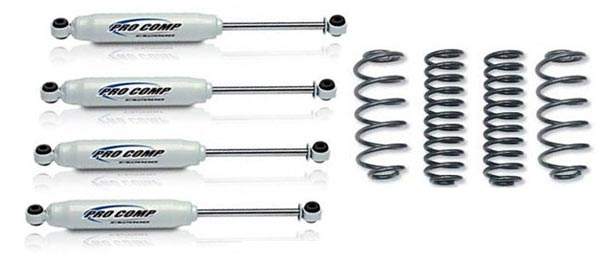 If you're looking for a deal on a five star rated 2-inch lift kit, check out the
Pro Comp 2" Lift Kit Suspension System with ES3000 Shocks (Part PCK3055K
). Made and designed right here in the USA, the Pro-Comp lift kit sets you up with all new coil springs and ES3000 shocks. You can even run up to a 32 inch tire. Great product, great price. Treat your TJ right with this Pro Comp lift kit!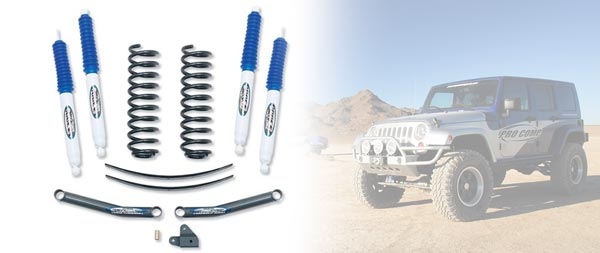 Still thinking you might need more ground clearance? Step up to the
Pro Comp 4" Suspension Lift Kit which also features their ES3000 Shocks
(
Part K3056
).  Just to round out the kit, and allow you to install it quickly, Pro Comp includes
front sway bar links, bump stop extensions, and new tubular lower control arms. At a stunning low price to boot! Pop for this kit, and that bad boy TJ in the parking lot with the 4-inch lift kit running 33" tires could be you!
Driving a Jeep TJ can be frustrating sometimes, because everyone wants to talk JKs. Some Jeep "parts" places only sell parts for "new Jeeps" (aka: JKs) and forget about the older models. We don't roll that way at Morris 4x4 Center. You've got a Jeep TJ, we have the parts. Including some great lift kit deals to get your TJ just how you want it. We speak your language. Rocking a
lift kit on your Jeep TJ
? Share your gear and any advice in the comments section. See ya on the trails !