If you haven't seen the Moab 2016 Jeep concepts yet, you're in luck. Jeep unveiled seven 7 concepts to commemorate their 75th Anniversary, as well as the 50th Anniversary of the
Easter Jeep Safari
held every year in Moab, UT. The concepts are all based on existing models, and allow for an interesting glimpse for "what could be." Among these highly anticipated Jeeps are the FC concept, known as the Jeep FC 150, the Jeep Crew Chief, and the Trailcat - a Jeep Wrangler concept with a Hellcat engine. But let's not spoil the fun for everyone. Below are all of the 2016 Jeep Concepts recently revealed to the public.
The 2016 Jeep Comanche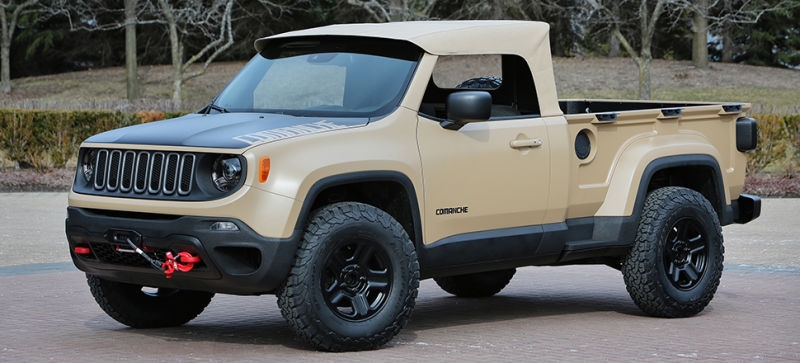 The Comanche is a compact pickup truck based on the subcompact Jeep Renegade. It has a six inch longer wheelbase to accommodate a five foot bed, a 2.0 liter diesel engine, and 32 inch BF Goodrich tires.
The Jeep Shortcut Wrangler
With more off-road additions, this Wrangler was designed to look like the CJ Jeep. Having been cut short buy a foot, its approach and departure angles have improved to take on almost any slope off-road.
The 2016 Jeep FC 150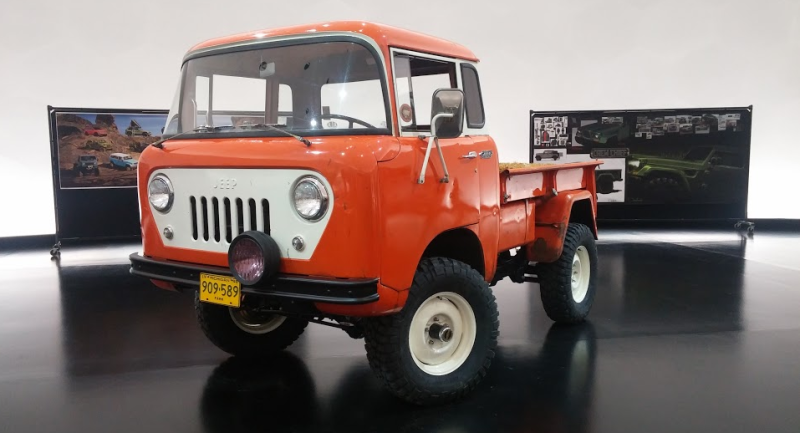 This Jeep Concept is based on the 1960 FC 150, on top of a 2005 Wrangler TJ frame, equipped with an AMC 4-liter engine. With a Dana 44 axle in front, a Dana 60 axle in the rear, a Rubicon 4:1 transfer case, and 33" BFG Mud-Terrain tires, it has some serious off-road ability.
The Jeep Commander Concept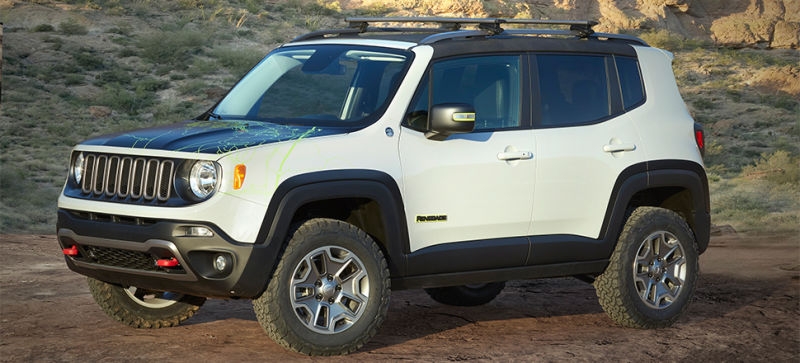 The Commander concept is basically a Jeep Renegade. It features a two inch lift, all terrain tires, and 17" Rubicon wheels. Jeep aficionados consider this to be a pretty tame concept that can be achieved with some aftermarket projects you do by yourself.
The Jeep Crew Chief Concept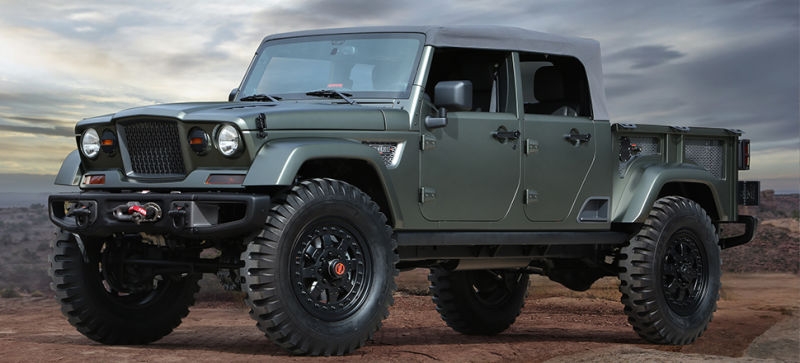 Modeled after the 1960s Kaiser Jeep M715, it's lifted four inches with 40" NDT Military tires and 20" beadlock wheels. It sports a five foot bed, rock sliders, and Fox shocks. The 3.6 liter Pentastar V6 engine comes with a cold air intake and new exhaust system.
The Jeep Trailstorm Concept
Another concept that isn't a far cry from an existing model, the Trailstorm is a Wrangler Unlimited with a lot of Mopar upgrades attached to it. That's not to say it's off-road performance isn't amazing. It sports 37" tires, a two inch lift, Fox shocks, and a big brake kit.
The Wrangler Trailcat Concept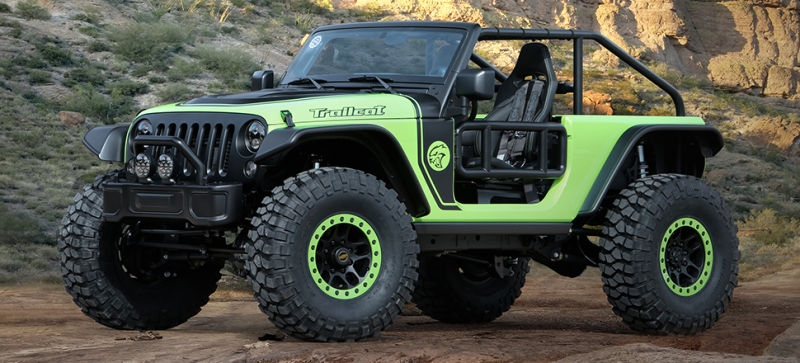 Last but not least, this Wrangler has the V8 Hellcat engine under the hood, with 707hp. It's been stretched 12" and has 39.5" BF-Goodrich tires, Fox suspension, and Dana 60 axles. To
accessorize your Jeep
like some of these off-road performers, visit our online shop.
Read More:
Which of the 7 Jeep Concepts is your favorite? Tell us in the comments section!