If you are going to go big - you have got to go with the Grand Wagoner. This massive Jeep
bus
 SUV muscles it is way into the spotlight with some (possible) new photos and information for its 2018-2019 debut. With its 3-row seating arrangement and every luxury toy you can think of, this is the vehicle you want to drop by the country club or your favorite ski lodge. On the road or off the road, this mountain buggy will get you where you want to go. In a full upscale style. It has already been reported that the Jeep model options could push the price of the Leviathan over the $100,000 mark. However, really, it is a luxury vehicle, and it is a Jeep. The best of both worlds! Few can argue that if you are going to depend on a luxury SUV day in and day out, the Jeep Grand Wagoneer will deliver.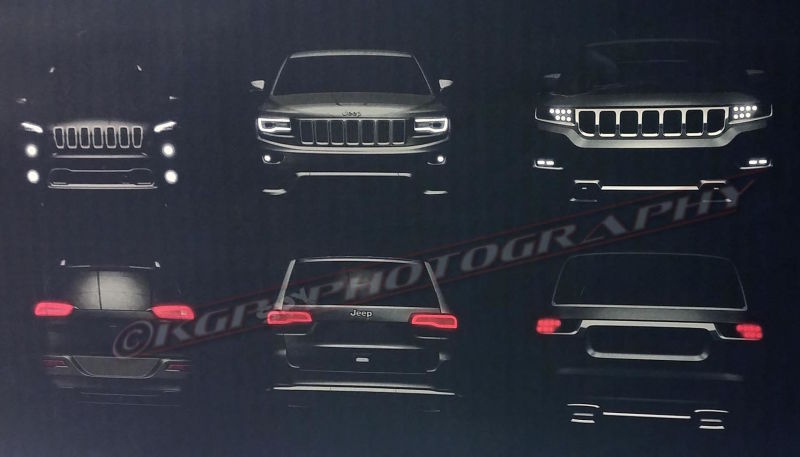 2019 Jeep Grand Wagoneer - First Look
Staying with the Jeep theme, it has a unique seven bulb headlight design, and the rear taillights complement that with seven bulbs also. Of course, the seven slats in front are there, though they are quite beefy and substantial. There's even some bright work trim that's been fashionably added, to add an air of elegance. Supposedly the Grand Wagoner will be built on a stretched chassis, from a next generation Grand Cherokee, but there's no way to confirm that at this point. The images have been screaming across the web, and the originals are supposedly from an FCA "dealers meeting." Or, they could just be a teaser, a distraction, for what it will eventually look like when it arrives (though I suspect we will see many more covert images from the internet in the future, well before it gets here). The Grand Wagoner is meant to compete with Landcover, and other high ends SUVs. However, size-wise, it will probably be larger than any competitor (though a Ford Excursion is pretty big, and the original Jeep Wagoneers were pretty massive too). What do you think? Is the Grand Wagoner going in the right direction? Because what we all want to know is: will outside wood grain be an option?