Bestop's new Pavement Ends Sprint Tops for JK Wranglers are a new and dependable soft top that won't break your budget. If you're in the market for a new soft top for your Jeep, check these out. Bestop has now introduced their
new Pavement Ends Sprint Tops
, featuring the fastback styling that's so popular today. As usual, they've developed an easy to install soft top that continues to incorporate their Flip-back panel for open air comfort.
1. Economical Total Package
Pavement Ends
has been offering soft tops to Jeep drivers for many years. Known for the economical pricing and easy installations, they've grown into a popular choice for Jeep owners on a tight family budget.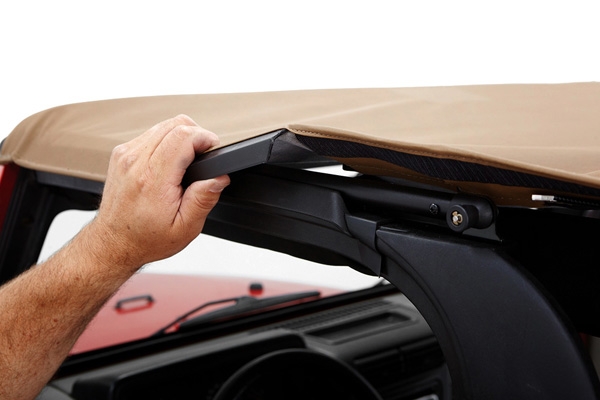 2. Simple Installation
To keep the hassle low, and the price even lower, Pavement Ends allows you to reuse your factory windshield header assembly, as well as the factory door surrounds and tailgate bar. What does this mean to you? It means you just saved a bundle with fewer extra parts to buy with your hard earned money!
The Pavement Ends Sprint Tops
fits factory full steel doors and existing fabric half doors. It even fits Bestop's fabric upper half doors!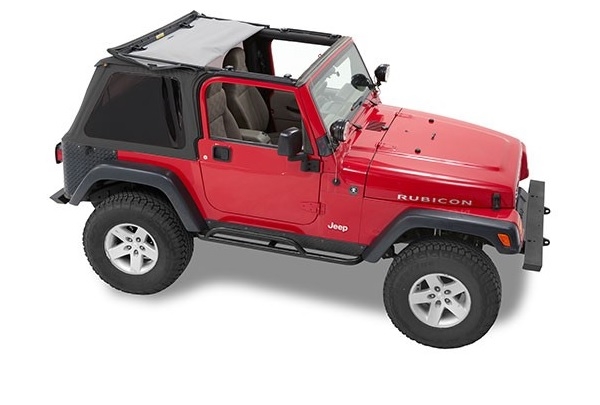 3. Quick Conversion
Pavement Ends Sprint Tops sports a great
Flip Back portion
over the driver and front passenger. Enjoy cool mountain air or catch some sun at a moment's notice. Best of all, you can easily convert to a Safari style Bikini top simply by removing back and side windows at any time. Or quickly add cover when you start to feel rain.
4. Quality Features
Keeping up with the quality you expect, the Sprint soft tops have
DOT approved 28 millimeter vinyl windows
, which are heat sealed against moisture, coming with a 31% tint already incorporated into them to help keep your family cooler. The Pavement Ends
23 ounce diamond-point sailcloth fabric 
is UV-resistant to help prevent color fade. It will even resist stains and mildew, especially in humid climates. The top also doesn't require a top bow.
5. Pavement Ends Sprint Tops Limited Warranty
That's right, Pavement Ends gives you a 3-year limited Warranty  for your piece of mind. That's easy to do on a quality top like these, and Pavement Ends stands behind their products.
The new Bestop Pavement Ends Sprint Top is the top that gives you a great look  and great features, all at one great price. What soft top are you using on your Jeep at the moment?