Bestop Reveals New Trektop Pro Soft Top for Your Jeep Wrangler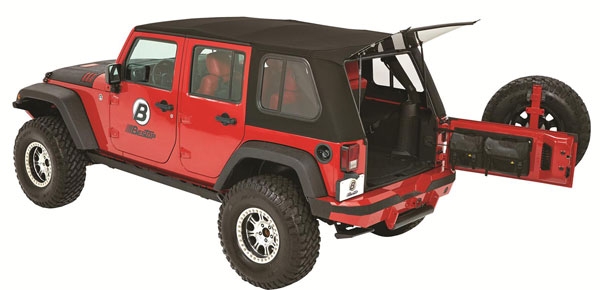 Bestop, one of the leaders on soft tops for Jeeps, has announced a new top for 2007-2015 Jeep Wranglers. This unique product gives you hard top convenience, with soft top versatility.  Now you can have the easy lift rear glass hatch of a hard top that you always wanted, with the features of an ultra
premium soft top from Bestop
. While the Trektop has been a popular and good selling top for years on Jeeps, Bestop now takes it one step further with the integrated rear glass hatch. Combined with gas assist struts, the rear window flips open easily and quickly, much like a typical hardtop. Even with this new option, the whole softop and hatch assembly still weigh in less than a hardtop. Giving you the best of the two kinds of tops, combined in a great new package.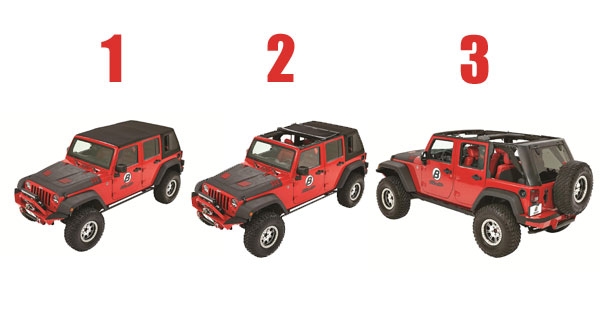 With just a few seconds, you can have that rear hatch open, ready to give you access to your gear, and get you one step closer to doing the things you like to do with your Jeep, whether it's camping, picnics, or kayaking. No zippers to mess with, no tailgate bar! Or maybe you use your Jeep a lot to go to the grocery store, or you favorite home repair center. Now you can load up the rear of your Jeep safely and easily. It's the no fuss alternative!
Some of the highlights of these new tops are:
Patented Sunrider flip back panel. Perfect for open air driving!
Integrated defroster connection, so you can continued to use your factory window defroster.
Gas assist struts to hold window up when you are loading and unloading.
Need to remove the hatch? No problem! It's designed so you can easily detach it (unlike those aftermarket or factory hardtop hatches).
Bestop has included the proper mount to attach your factory wiper motor.
The side windows on the Trektop Pro slide open, giving you more comfortable air for your passengers and pets.
Still want to enjoy the summer with your soft top? No problem! the Trektop Pro allows you to remove the side panels and rear glass, giving you the convenience of a Bestop Safari Bikini!
The Trektop Pro is made from high quality premium 30-oz triple layer twill fabric for a durability, no wrinkle appearance.
Of course, Bestop includes the hardware, door surrounds, rear Halo support module, rear side panels, and the safety glass hatch.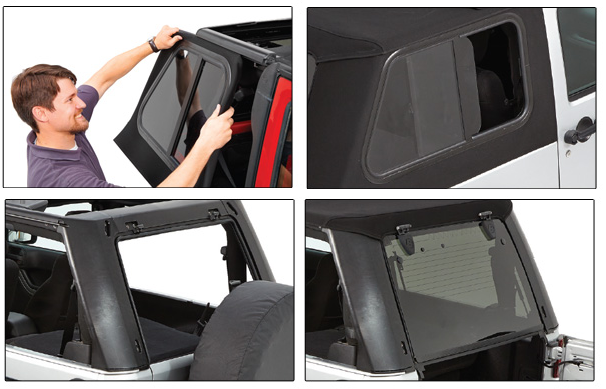 Don't be discouraged if your Jeep didn't have a factory rear defroster. Bestop offers special connectors so you can use those parts on your new Trektop Pro with the rear glass hatch. (and Mopar offers the connectors to install a wiper motor if you did not have one from the factory). Now , you might wonder, why would I want this top? Well, since it's a soft top, you don't need a hoist to get the top off like owning a hardtop. It works like a hardtop, but without all that hassle. It's much easier to remove than a hardtop, but gives you all the features, and some better, than a hardtop has. Sliding rear side windows, glass hatch (which can easily be removed), and a quality light weight soft top. It's the best of both worlds! The back end is like a hardtop, but the rest is all softop, so you can open her up, and enjoy the great outdoors even better in your Jeep, all year long. The Bestop Trektop Pro! The hottest new top going for your
Jeep Wrangler
! At Morris 4x4 Center, your one stop shop for all your Jeep parts!