Soft tops bows got you down? The Bestop twill Trektop NX doesn't have that problem. If you're tired of flipping them up, down, and slinging those velcro straps on, it might be time to switch. Maybe your top is old and the Dollar Store bungee cords and duct tape just don't cut it anymore. You're in luck! You can kiss those Jeep top bows goodbye!
Go Bowless with a Twill Trektop NX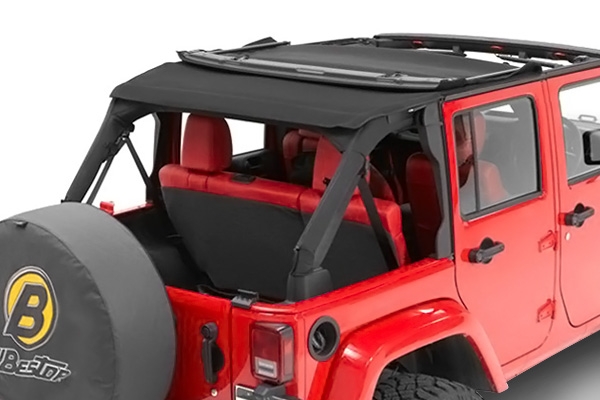 You know if anyone was going to come up with a bowless top, it was going to be a Bestop. But there's more to it than that. How about some style in an all new package to make your Jeep a winner on road and off? The Bestop Trektop NX is a modern style top that goes far beyond any stock top. First of all, it's made from twill fabric. This material is a
30-oz triple layer cloth.
It's very durable, and can maintain it's shape better than any low cost, thin, off the shelf stuff. Bestop puts the top together using 135 gauge polyester industrial grade thread. But the top is still flexible where needed, and is wrinkle resistant. Bestop knows the Trektop NX is rough and tough, and even
gives it a Limited Lifetime Warranty!
Now, you can get a Trekop NX without the Twill material of course. But why settle for less? In the long run, the Twill top will out-last most tops and give you the confidence that the top you bought is the one you can depend on, year after year. Good weather and bad.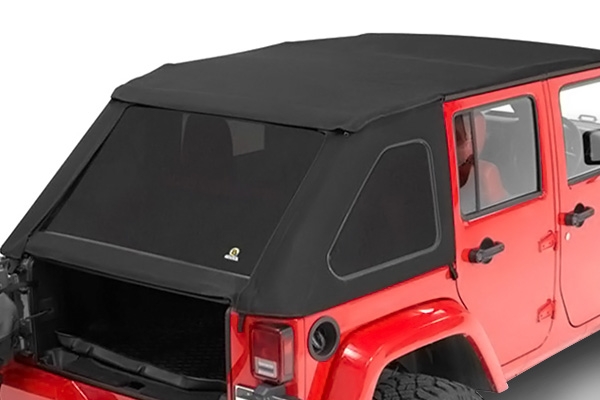 Nothing makes a Jeep owner happier than getting a new soft top on, and Bestop always makes it as easy as possible. The Trektop NX takes around 2 hours or so to get on for the first time. Fortunately, Bestop provides you with new hardware (except in some cases where you can reuse the stock Jeep bolts). Most of the top is installed with bolts, threaded knobs, straps, clips, and zippers. There are two "arches" that stiffen the top horizontally, but are not like a traditional bow. Meaning, you aren't pulling the top back with it hooked up to several bows that fold down like a convertible car. Much less hassle!
Note: No drilling is needed to install the Trektop NX.
Of course, the
Trektop NX
has some great features that make it more than just a soft top. The front upper half folds back as a Sunrider to give you fresh air and some contact with the suns rays. The rear portion does have side windows (which can be removed with zippers to give you even more air inside), and the back has the modern, sloped sport look that Jeep owners like. The rear window can be removed with a zipper as well.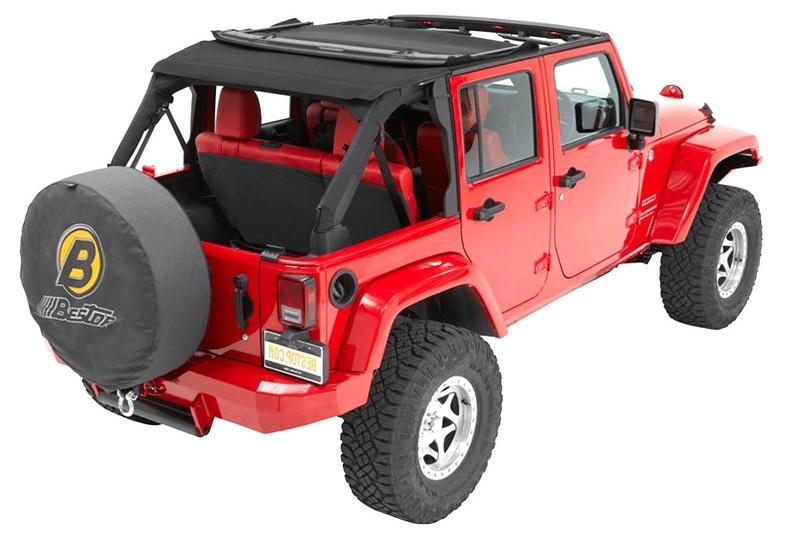 Even with all these highlights, a Trektop NX is designed to be tight when it's on. So you might feel like it won't quite fit when installing it, but that's just because Bestop doesn't settle for second best. Their tops fit right the first time out. Don't forget about the variety of other
replacement soft tops
available for your convenience.
You're getting a soft top with no bows to hassle with, a sport back look, no drilling or fabrication is needed to install, and it's made from durable Twill material. What's not to like? Are you ready to go bowless?