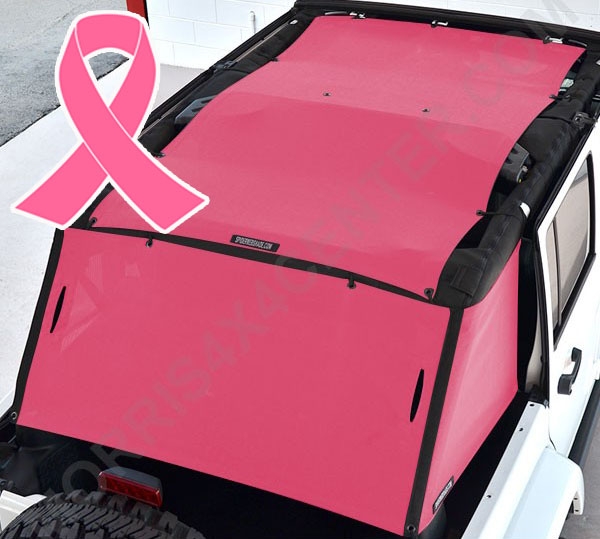 October is Breast Cancer Awareness month, and we're sure you've seen some pink here and there. Regardless of who you are, rich or poor, old or young, everyone knows someone who has been touched by cancer. Jeep folks are no different, and we've all had to deal with the devastating disease in one way or another. Friends, loved ones, it's the ultimate battle to survive.
Jeep Heroes Fight for Breast Cancer Awareness
There are many stories of courage and strength, and like our Jeeps, it always seems like there is one more mountain to climb, and one more sunset to see. Wayne Vining of Decatur lost his sister Christina, 41, to cancer. He
continues to drive a Jeep painted bright pink to bring awareness to cancer year round
. The Jeep was specially built and driven by Christina before her passing on. The Jeep is covered in attention-getting graphics of a female boxer and is emblazoned with the powerful words,
"Fight Like a Girl!"
. October is the month when awareness is at it's highest. But it's a fight that goes on 24/7/365. To support this very worthwhile cause,
Rugged Ridge has announced
it's pledge to donate $5 for any pink items it sells in 2015. This is in partnership with the Breast Cancer Research Foundation.
OMIX-ADA has supported the cause before
, donating $50,000 to the cause in 2013.
Raise Awareness, Go Pink!
Rugged Ridge makes a pair of 
3/4" D-Shackles that are Pink (Part 11235.09)
, and their
Rugged Ridge Ultimate Grab Handles, also in Pink (Part 13505.01)
. This is Jeep gear that not only helps raise awareness during Breast Cancer Awareness Month, it helps support the cause all year long.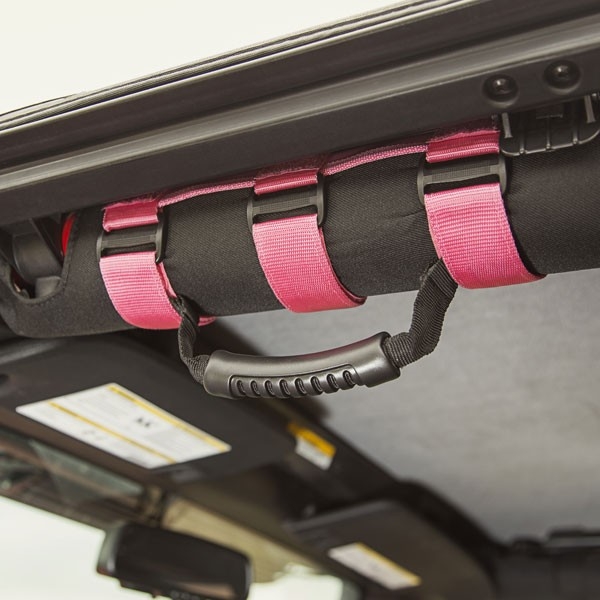 Of course, there are many other ways to gear up in Pink to show awareness, and your support. For yourself, and for your Jeep.
Spiderwebshade makes some nice Pink mesh shade tops
that are quite bright. So they're not only colorful, they're practical too. They offer several designs and versions for different Jeep models.
Steinjager makes some great Jeep Tube Doors
, which are already pre-colored in Pink. There's no need to paint them. If you have a TJ Jeep or a JK Wrangler, grab a set today. How about some more Pink grab handles? We carry several versions, from
Surprise Straps BarStraps
 to Welcome Distributing's GraBars. We have the perfect complement to your Rugged Ridge D-shackles. The 
Daystar 3/4" D-Ring Isolators in Fluorescent Pink! (Part DAY-KU70056FP)
. You won't lose those puppies in the woods, you can see them from miles away! Do they make Pink steering wheels? Why yes they do! Get your NRG classic PINK colored steering wheel for your Jeep and show your love for life and continue to bring awareness all year 'round. If your Jeep's all decked out, we do carry some Pink clothing (including shirts, caps and hoodies) to keep you in style this month, and all through the year. Of course, a couple of Pink Jeep Keyrings are some good reminders to think Pink and remember the cause and the battles in support of Breast Cancer Awareness Month. Get more information and get involved by visiting the Breast Cancer Research Foundation at
http://www.bcrfcure.org/get-involved
. Visit the National Breast Cancer Foundation on the web at 
http://www.nationalbreastcancer.org/breast-cancer-awareness-month
 to learn more about early detection and prevention of breast cancer. We encourage any heroes out there to share their story or stories of loved ones with us.