How to Identify 1987-1995 Jeep Wrangler YJ and Editions
This one should be really easy to identify, being it is the only Jeep Wrangler to ever have squared headlights.
The Jeep Wrangler YJ
is a successor to the civilian Jeep (CJ). The only difference between the Jeep CJ and Jeep Wrangler YJ's suspension, were that the YJ's leaf springs were much wider. Despite the new front grill, the body is very similar to the CJ7's.

Laredo Edition: 1987-1995
Flashy chrome grill, bumpers, and trim. The Laredo came with a hard top and full steel doors. Leather interior was a big attraction to this Wrangler. The body color fender flares and alloy wheels were as well. Also came with a Laredo decal near the door.
Islander Edition:  1988-1993
The Islander came with body colored fender flares and side steps, "Islander" logo on front fenders and spare tire cover, Floor carpeting, Sunset graphics on lower body and hood. This Wrangler YJ  is a hard to find.
Renegade Edition: 1991-1994
Jeep produced an options package on the Wrangler YJ  listed as the "Renegade Decor Group". Initially, all Renegades were White, Black or Red. They also came with Renegade striping (door letters), Floor carpeting, Glove box lock, and 5-hole aluminum wheels. Not to mention the crazy Wide body.
Rio Grande Edition: 1995
Available colors were champagne gold, moss green, and white and bright mango (rare).  Came with a Pueblo themed interior trim package. This package was only available in 1995.
Sahara Edition:  1987-1995
Came standard with most available options, including body color fender flares and alloy wheels. Also included with the Sahara edition are special green trail-cloth seats with storage pockets, interior door panels with pockets, front bumper mounted fog lamps, and plastic ends on the front bumper. Sahara edition logo can be found near the doors.
How to Identify 1997-2006 Jeep Wrangler TJ, 2004-2006 Jeep Wrangler TJ Unlimited and Editions
Jeep thought better, about changing the look of the second generation Wrangler. They reverted back to round headlights. Jeep had regained its heritage with a "very modern looking CJ" now known as the
Jeep Wrangler TJ
. A lot of small body style changes were made. The easiest ones to tell besides the headlights are the turn signals on the front fenders. This updated Wrangler featured a coil-spring suspension. There were 15 different editions of the Jeep Wrangler TJ and
TJ Unlimited.
Mostly different trim options. Jeep introduced in 2004 the Wrangler Unlimited with a 10-inch (250 mm) longer wheelbase. You will notice the rear cab looks larger than a standard Wrangler TJ.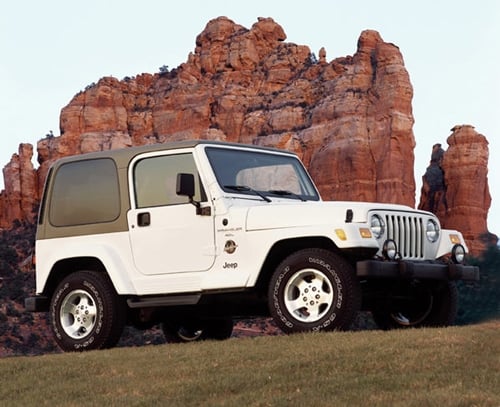 Sahara Edition:  1997-2004
Came standard with 4.0 L, wider body colored fender flares, body colored rocker sills, 30" wheel and tire group and full steel doors. The Sahara also feature exclusive decals, seats and trim. For 2000-2004 they had 16" rims instead of the standard 15". Once again the Dana 44 rear axle, and 3.73 axle ratio was optional.
Rubicon Edition: 2003-2006
The Wrangler Rubicon (named for the famous Rubicon Trail in the Sierra Nevada Mountains) was introduced in 2003. It featured diamond plate rocker panels, 16-inch alloy wheels, and Rubicon decal on the sides of the hood.
Freedom Edition: 2003
Equipped with full metal doors, fog lamp and tow hook group, body colored fender flares, exclusive decals, chrome rims air conditioning, anti-theft system, and fold and tumble rear seat. It only came in four colors red, silver, blue or black with either vinyl or cloth slate gray seats.
How to Identify 2007-2016 Jeep Wrangler JK and JK Unlimited and Editions
The Wrangler JK
was significantly larger than the previous model. Larger tires were available on standard JK models. The Jeep Wrangler JK Grill has a slightly different shape, the Jeep logos was on top of the grill, and the turn signals built in. The JK sports horizontal door hinges, unlike previous Jeep having vertical hinges. The front bumper has fog lights built in. Door handles are horizontal with push button. Jeep Wrangler Unlimited JK came with four-door and a larger wheel base.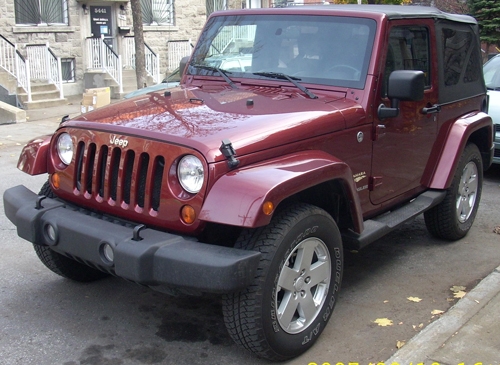 Sahara Edition:
The Sahara model is the "luxury" model offering accessories such as body colored fenders, power windows and locks and a 7 speaker infinity sound system.
Rubicon Edition:
The Rubicon package is the dedicated "Off-road" package. Standard components of the Rubicon package include front and rear generation II Dana 44 axles, Rock-Trac four-wheel drive, rock rails, 32-spline rear axle with an 8.8-inch ring gear, 4.10 axle gearing. This package also includes Rubicon decals on the sides on the hood.

Freedom/Oscar Mike Edition: 2012
Each Freedom Edition Wrangler receives a military-style star on the hood and rear quarter panels as well as "Oscar Mike" fender badges and "Oscar Mike" stitched in silver on the seats' black, tectonic fabric. "Oscar Mike" is military slang for "On the Move." Silver stitching accents the leather steering wheel, door fabric, seats, grab handle, door pulls and dash vent rings.