Choosing a Brush Grille Guard or Pre-Runner for Your Jeep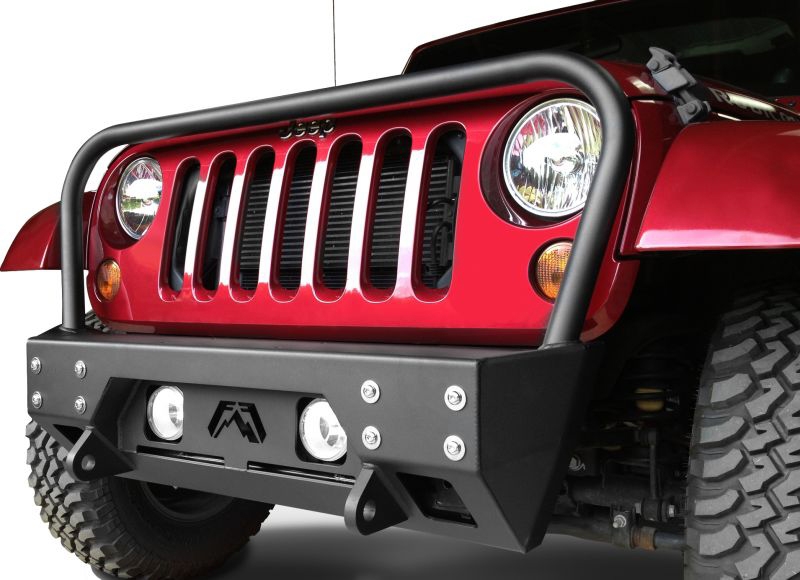 Bumpers generally have a job to do, and there are many choices for different kinds of bumpers, from tube bumpers, to rock crawlers, to even stock bumpers. But a bumper, on its own, can only go so far. While it will protect the very front of your Jeep, and even some of the underside, when it comes to to the total surface area, from the grille, hood and fenders, you want to add some extra insurance so that rough brush and branches don't add permanent scarring to your paint job and your pride and joy.
There are three basic names for these parts, though there is some overlap, and one part can do the work of two. But the three most common are Brush Guard, Grille Guard, or a Pre-Runner. Another name sometimes used will be "hoops". In the end, these are all made to give you even more protection up front. Beyond where a bumper will reach or cover.
Brush Guards - These are generally designed to keep brush and low branches off your vehicle. They can extend out from the center to protect the fenders, and in most cases, the front headlights. They tend to be about the same height as the hood once installed. No low branch is likely to hurt your front bumper, but one good whack to a headlight and you might be out a couple of hundred buck for a HID setup. Most manufacturers that make them for Jeeps usually incorporate them into a bumper, unlike say, a pickup truck, where the Brush Guard bolts to the front bumper on it's own.
The styles vary widely. For instance, this Brush Guard from Warrior fits a Cherokee. Notice how it covers the entire front grille, but also extends out to protect the headlights. Since it's part of the Warrior bumper, it's much stronger than just an average "add-on" guard held on with cheap bolts. In the case of a Wrangler, Aries Automotive makes one that covers the headlights as well, and gives you the full coverage you need, all the way across the vulnerable areas on the front of your Jeep. Got a Grand Cherokee? No problem, Rugged Ridge has you covered. RealWheels makes one for the ultimate protection on your JK Wrangler.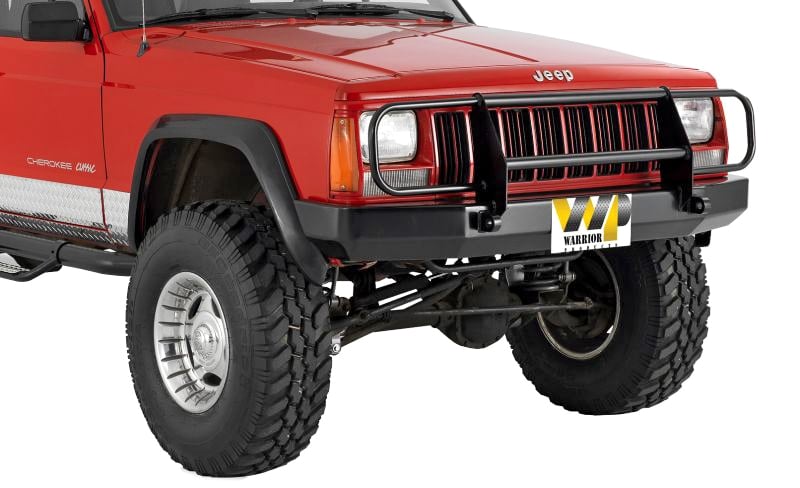 Grille Guards - These do what the name implies, they guard the grille of your Jeep from brush and low branches, but sometimes can even protect you from larger objects. While protecting the grille is one thing, and that's cosmetic, when off-roading, you want to protect what's behind the grille, the all important radiator. Poke that puppy with a thick branch or loose rock and you'll be dead in the woods and looking for someone to tow you home. Especially on a JK or modern Jeep with aluminum heads and engine parts.
Grille Guards on a Jeep are usually part of an aftermarket bumper, or will be designed to fit a specific brand. So it's something you want to think about when you purchase a new bumper for the front of your Jeep. We carry Grille Guards in several brands, such as Warn, Bestop, MBRP, FabFours, and many others.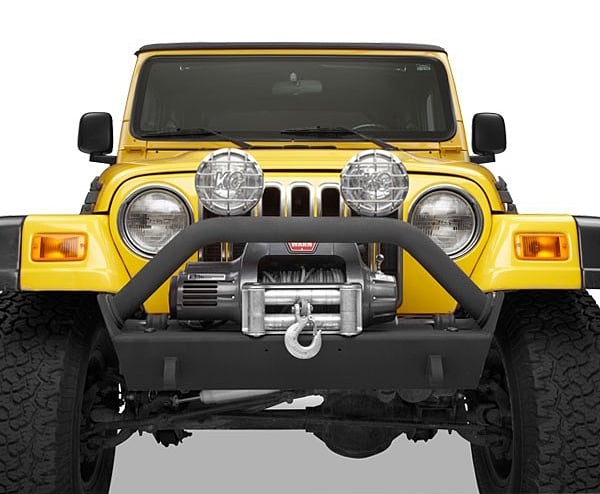 Bull Bars -  If you ever saw a bull or cow standing in your way on a country road, you know how you might need that bar. In older days, I imagine it was used on ranches and farms to herd cattle around. I'm sure that was a lot easier than getting out and trying to nudge that bull on your own, and safer too. But whatever you call it, it's usually centered in front of the grille and hood. Typically this will attach to the front of the bumper, but may extend slightly below it. Most have a curve that shapes them up and over the front of the lower bumper.
They won't be quite high enough to protect the grille in most cases. A Bull Bar can be used to push other vehicles while you're off-roading, for instance, if they get stuck, or to push large objects out of the way. We carry a variety of Bull Bars in different brands such as, Rugged Ridge,  Westin, ARB, and even some for trucks, such as this Smittybilt example. Don't let those bulls push you around, now you can push back!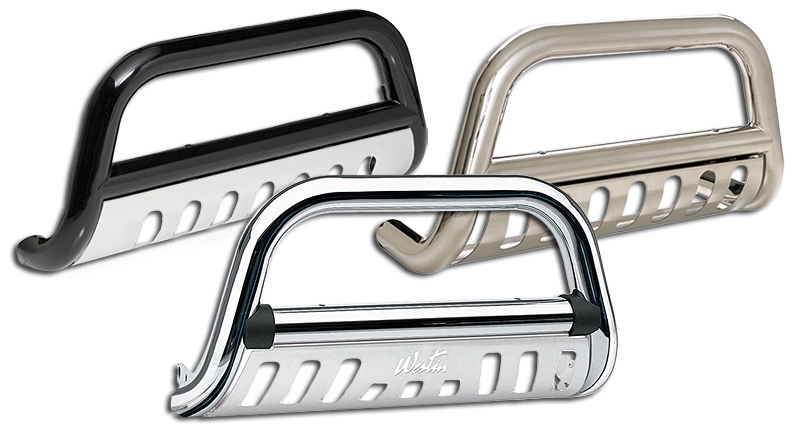 Pre-Runners - A Pre-Runner is almost a combination of different kinds of guards. They vary in shape and size, and some will cover just the grille, or all the way to the fenders and beyond. They can take on some wild shapes and sizes. Just by the definition, the "Pre" title means they will come in contact with something before your Jeep does.  N-FAB's Pre Runner covers a wide area, giving any thick brush a wide berth from touching your Wrangler. Warrior makes one that's more compact, but still offers some great coverage.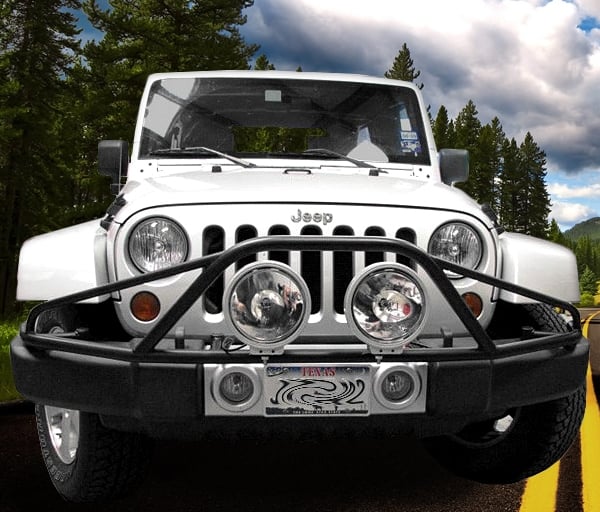 No matter which type of protection you use to keep your Jeep safe while off-roading, (because these are generally a part made with steel tube fabrication), you can also add a lot of accessories to them. Everything from extra lighting to a camera mount. So they can be very useful, even if you rarely trail.
These are just a few of the options that will come up when choosing a bumper. Like anything else on a Jeep, there are different styles and combinations, so you can build your bumper, and the front of your Jeep, to meet your needs and allow you to get the cool look you want. How much protection do you need? Now you can decide from the various options.
See ya on the trails!