Choosing the Bumper That's Best for your Jeep Style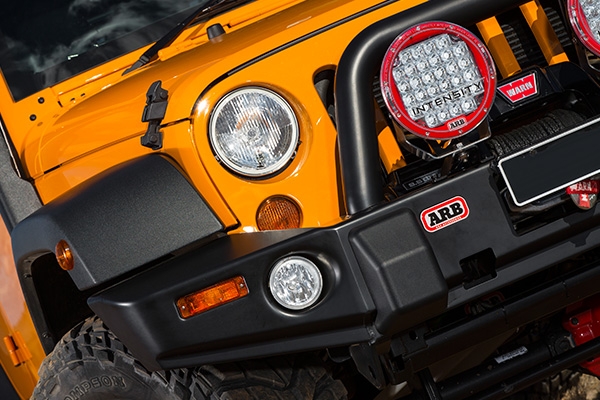 One of the first things a Jeep owner wants to do is change the front bumper. There are a lot of reasons to do this, and why it's one of the first purchases made. A big reason is because so many other parts attach to the bumper. From your winch, to off-road lighting, to mounting your Hi-Lift jack. The bumper becomes an integral part of the entire Jeep, and more than a fashion statement, it traditionally has a hard working life ahead of it.
Let's take a look at some different types of bumpers with different uses:
The Rock Crawler - The Rock Crawler style bumpers are the workhorses of the bumper line. These bumpers are beefy, rugged, and battle ready. You can bang into rocks, slide around on boulders, and generally beat the heck out of them, and they will take the punishment (instead of your Jeep!). Some are known as "shortys", meaning, they normally don't extend out in front of the tires. Their width is short, about as wide as the front frame, and between the wheel wells. These allow more room for bigger tires, and more flex when you need the room.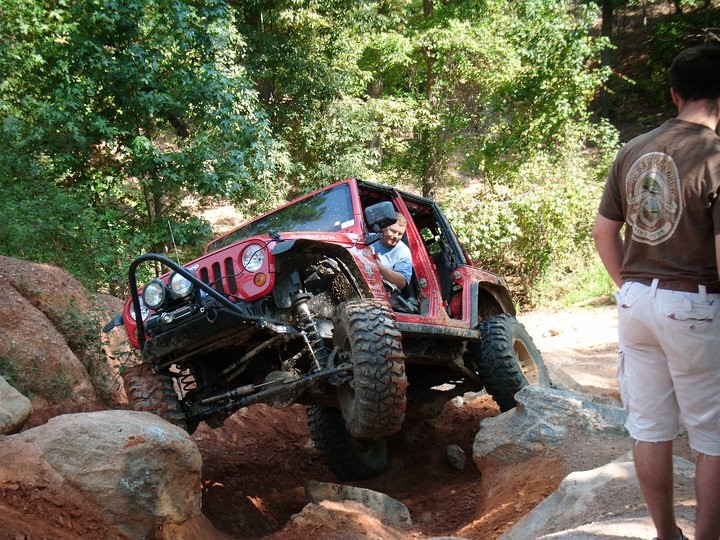 Whichever style Rock Crawler you use, they generally allow you to hook up all the things you need to survive the trails and keep your Jeep going. Winch plates allow you to mount the strongest winch. Strong steel fabrication allows you to mount D-Rings for towing and winching. Most have a slanted underside to allow your Jeep to slide up over large obstacles that you might otherwise get stuck on.
Some Rock Crawler bumpers are known as "high clearance", and tend to be mounted and designed to be higher than most bumpers. These are to give you even more clearance underneath the front of you Jeep for driving where this mode is needed.
Many have features that allow you to mounts a Stringer or extra lighting. But the important thing is that they are traditionally the bad boys of the bumper clan, and can out perform the stock bumper in so many ways.
---
The Tube Bumper  - Like the name implies, Tube Bumpers are made from tubular shaped materials, usually steel, but sometimes aluminum and stainless steel. They have a very distinct look that's popular, especially with older Jeep owners. They are usually easy to install, and are available in a multitude of finishes. From chrome, flat black, gloss black, to a textured finish. So it's not hard to find one that looks good on your Jeep.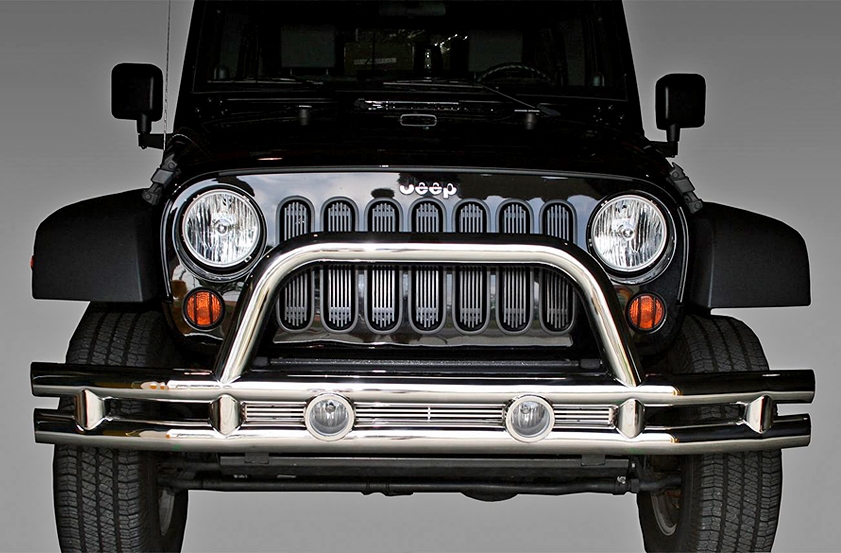 They can vary in styles and functions. Some are a single tube, with one tube section end to end. Some are double tube, one tube on top of another and integrated together. Some of the newer Tube Bumpers have other tubes added for extra protection for your Jeep, sometimes know as "hoops". These bumpers go beyond just the decorative styling, and allow for more parts to be added to them, from winches to accessory lights. Just about all the tube bumpers are designed to be the same width as your Jeep, running from tire to tire, so that can limit some off-roading conditions where extra flex may be needed.
---
Modular Bumpers - This is where the front bumper modification takes on a whole different approach. A modular bumper is one where you can add (or later remove) different components to get the most out of what you want to do with your Jeep.
The basic bumper to start with is normally a stubby.style. They can be steel, stainless steel, or even aluminum. This is the base on which you build your ultimate trail bumper.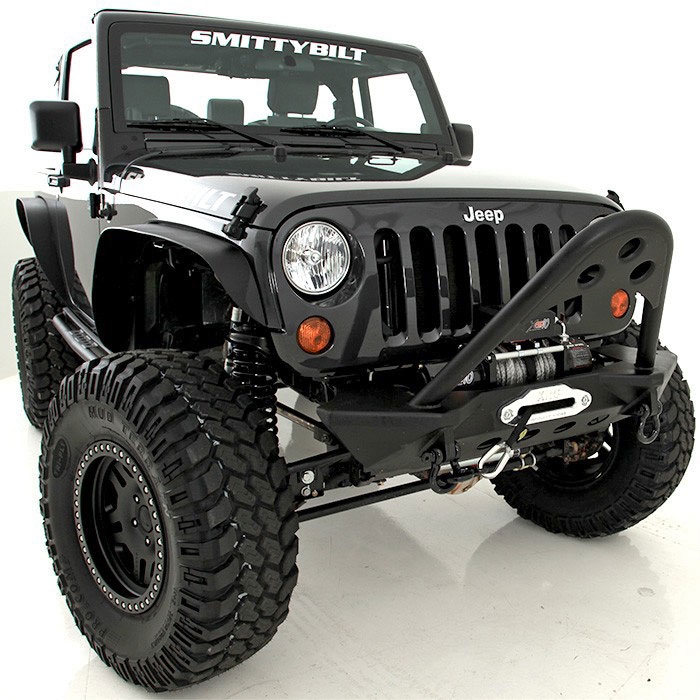 From there, you will choose parts such as a winch and D-rings. If the bumper has cutouts for lighting, you might decide to add those as well. These tend to be stout bumpers, so load it up with whatever you think is needed to get you in and out of rough terrain.
Next up, you may want to add a hoop or Stinger. Added pieces which can further protect your Jeep's body from large obstacles, brush and trail debris.
Another step you can take is if you want your bumper to go beyond being the stubby style base. Most modular bumpers have an option for adding end pieces, to bring your bumper the whole width of your Jeep, and to further protect your tires and fenders. The ends can be metal, boxed, tubular, or even tough plastic.
Modular bumpers are very popular. Not only because they are versatile, but they allow a Jeep owner to get just what they want, without having to settle for a bumper that may have some options they won't need, and don't want to pay for.
The end result is that you can build a bumper to suit your style, look, and the kind of trailing you do. When choosing a bumper, it's a matter of what kind of driving you do, and what you think your needs will be on the trails.
Think of a bumper as a tool, think of it as the one of the most important parts you'll add to your Jeep, because you'll depend on it. You'll beat it, rock it, scratch it, and maybe destroy it, because that's it's job! To work hard like you do, to protect your Jeep and probably, your life.
---
Brush Guards/PreRunners - These are bars that are usually wider and cover more area to protect the front of your Jeep or Truck. They protect not just the grille area, but usually the headlights, turn signal lights, and can even wrap a bit around a fender or wheel flare in front. Traditionally they are made from a tube material, with plenty of locations points to mount accessories, like accessory lighting or cameras.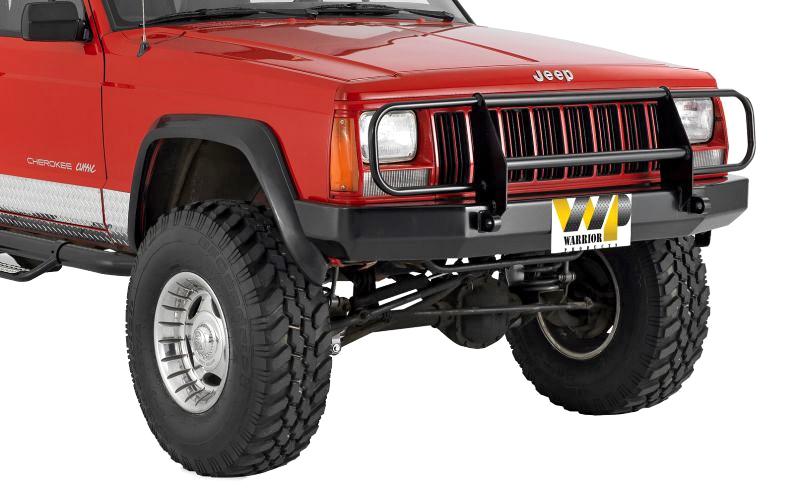 ---
Whichever style your choose, or a combination of several bumper types, it's an important parts of your Jeep for trailing and surviving the great outdoors.