Covercraft has been making quality covers for cars, trucks, and Jeeps since 1965. Always striving to build better products for their customers, you can now get their quality designs and experience in a new line of seat covers.
Covercraft Jeep Covers for Jeeps
Covercraft Jeep covers
are designed to fit your specific Jeep. Meaning,  they're not a "universal" cover you have to bend or stretch to try and make fit. That's so 1970s. To ensure high quality, and make their covers durable, Covercraft Jeep covers  incorporate overlapped, double-needle stitched seams, and urethane elastic that's sewn into the front and rear hems for ease of use. The grommets, always a contention with car owners, are made from a reinforced non scratch-material. The material, a bi-component technology, blends polyethylene for softness and polypropylene for strength to assure a gentle protection on your paint finish. With 4-layers of thickness, the fabric absorbs impact to help protect the finish from nicks, dings, dents and scratches.
Breathable Covers for Jeeps
At first glance, many people want a cover that's waterproof, 100%. But that's the wrong idea. You can get a cheap plastic tarp at a big home improvement chain store, but that would be the wrong move. By trapping moisture between the cover and the vehicle, you're holding the water up against the paint. This, coupled with heat and cold, expands the waters properties, and allows it to seep into every crack. It also holds moisture to where it can start the mold process,or even worse, rust.
To protect your vehicle, you need a cover that is durable, and acts as a barrier, but it has to be able to BREATHE.
This allows moisture to evaporate away from your vehicle and off the paint. Covercraft covers don't allow moisture to be absorbed by the material. This helps any moisture that comes in contact with the cover, or heat under the cover, to easily escape. So while it's moisture resistant, it's not waterproof (because that can be a bad thing). That doesn't mean you don't get plenty of protection against air borne pollutants, bird droppings, and tree sap. Those will all ruin your paint in a hurry! Also, the cover helps protect against harmful UV rays from the sun, which can heat up your interior, and fade your upholstery.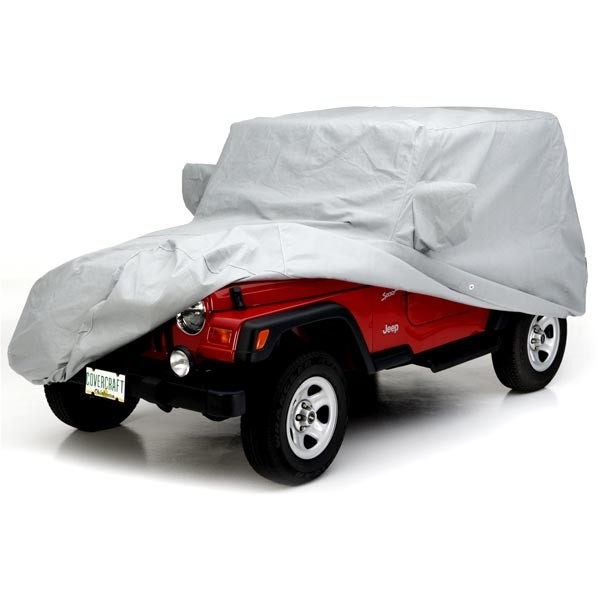 Covercraft Jeep Covers for Seats
To continue it's line of protection, Covercraft has expanded it's product line to include Seat Covers. Now you can protect your
1997-2006 Wrangler TJ & Unlimited
or
2007-2015 Wrangler JK & Unlimited
seats all year 'round. They're specifically made to fit your Jeep, and are not universal. They feature overlapped double stitched seams, headrest covers (where applicable), armrest and console covers (where applicable), and sewn cutouts for seat belts or seat controls. These covers are meant to be taken off and on, as they are machine washable. If you drive your Jeep with the top off, you know you'll get them dirty, and you know they'll need to be washed. That's no problem for a Covercraft seat cover. These seat covers breathe and protect your seats from UV rays, animals, spills, mud, and just about anything you can throw at them. Don't ruin your factory seats. If you really plan on using your Jeep and taking it off road to long lost adventures and exotic locations, it's gonna get dirty, there's no two ways about it.
Jeep covers and seat covers. Double protection from Covercraft.
After all, if you're going to use a cover, go with a Covercraft. They're made in the U.S.A, and will do an excellent job at keeping your Jeep looking it's best for years to come.