When it comes to engine parts, and engine accessories, few companies are as wide known as Edelbrock. Since developing their first engine manifold around 1932, they've been producing some of the highest quality engine parts you can install on your car or truck. Now Morris 4x4 Center has included the Edelbrock line to our growing list of Jeep and 4X4 parts. While
Edelbrock
makes hundreds of parts, we want to carry the parts we know Jeep owners like you can use and will rely on. Featuring engine heads, superchargers, and water pumps, and a few others parts to give you the performance you want, we are excited to bring these into our fold of great Jeep products.
Performer Cylinder Heads For Jeep 4.0l Inline Six -
The 4.0L inline six has been a staple power plant for Jeep for years, and
Edelbrock's Performer Cylinder head
replaces heads from 1987-2006.  This is not a direct copy, or OE style head,. It has been upgraded and modified to give the best performance and improved reliability. Now you can get an engine head with better flowing intake and exhaust ports. The combustion chambers have been modernized, with backcut and swirl polished valves, but retain the stock valve angle and pushrod length. The valve covert rail has been kept original too, so that you can still use your stock bolt on components and other accessories. The 4.0L head does feature larger reinforced rocker bosses for higher rpm, and Heli-Coil threaded inserts in the manifold bolt holes for even more added strength. It has a 3/4" deck throughout the head to promote durability. The head has been machined to accept either a distributor or coil pack ignition. Edelbrock offers an engine head that is bare (in case you already have your own performance components) , but the complete one is the popular choice, and is already equipped with Edelbrocks engine components such as  springs and  valves.

Performer Aluminum Cylinder Heads For AMC / Jeep V8 -
Engine swaps are common, and just about any engine has ended up in a Jeep at one time or another. But many Jeep owners want to keep their Jeep all Jeep (or at least, all AMC parts). So many are still running an AMC 304, 360 or 401 V8, the same engine that their Jeep received from the factory. Edelbrock offers engine heads for the 1967-1991  - 343, 360, 390 or 401 AMC V8 engine.blocks.  They are available as bare or complete head. Some of the features are adjustable rocker studs and guide plates which are set up for common small block Ford style adjustable 1.6:1 ratio rockers. The heads have been modified with an intake flange which is dual drilled to accommodate early and late model intake bolt patterns. The dual-quench combustion chambers produce approximately 9.5:1 compression in 401 V8 engines. The 45° intake seat angle offers improved mid- to high-lift flow over the stock 30° angle. If you ever wanted to update your V8 with reliability and performance, the Edelbrock heads are the way to go.

Edelbrock High Performance Aluminum Street Water Pumps - 
Now you get performance and reliability in an aluminum water pump from Edelbrock. The water pumps  fit all 1968-72 AMC 290-401, 1971-72 Jeep 304 and 360 V8 engines, and 1973-91 AMC 304, 360, and 401 V8 engines.  These pumps are built from high quality parts with an aluminum housing to save weight and a 5/8" shaft.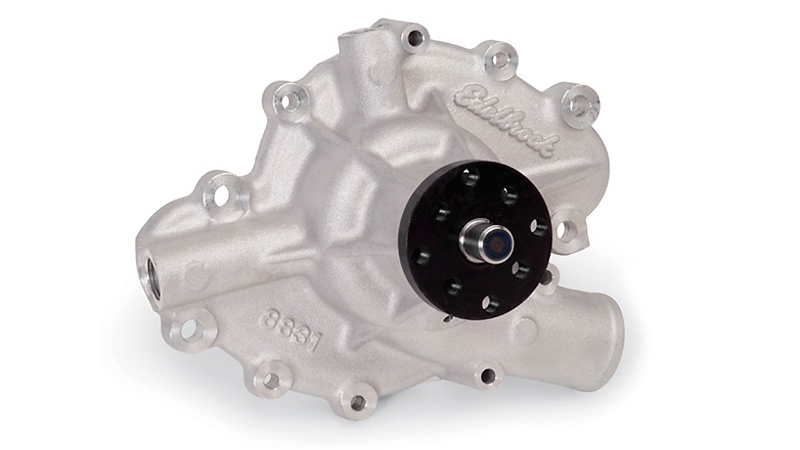 Edelbrock E-Force Superchargers For Jeep Wrangler JK -
You may think Edelbrock has forgotten newer Jeeps, and just make parts for the older ones. But Edelbrock has always offered new technology and products for new vehicles, and Jeeps are no exception. The
Edelbrock E-force Supercharger
is designed for JK Wranglers with the 3.6L engine. This new product is designed to increase your torque and off road performance when you need it, right at the end of your foot pedal. This supercharger has been produced from the ground up, and features an Eaton 1320 TVS rotor assembly for maximum efficiency. The manifold assembly has a dual pass intercooler to give it the optimal air temperature. Edelbrock didn't forget to give you some sharp looks with this products, as it features a black powdered finish with machined highlights Even an Edelbrock logo to give your Jeep's engine bay that unique appearance any time you open it up.. This highly engineered kit, once installed,  will look factory, but of course, will out perform a stock Jeep at a moments notice.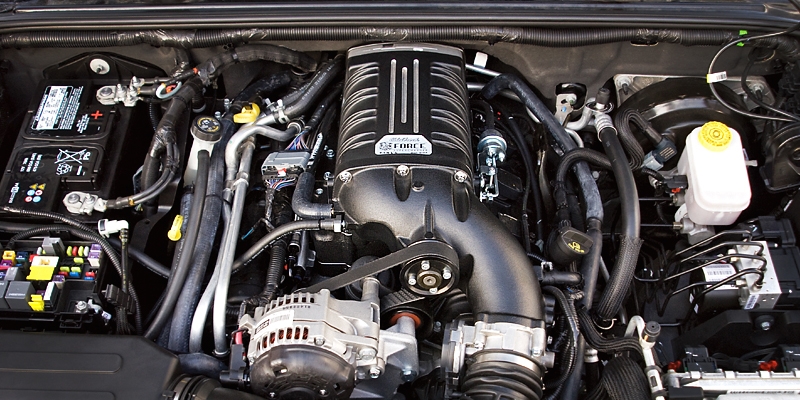 Edelbrock Pro-Flo® 2 EFI Systems For AMC & Jeep -
If you are running a 304, 360, 390 or 401 in your Jeep, and you want to move on from using carbs, then the
Edelbrock Pro-Flo EFI system
may be for you. It's a kit that can get you up and running in no time. With EFI, your engine will be more reliable, even at altitudes and adverse weather conditions, better than a carb. You'll get excellent throttle response and better fuel economy.  This kit includes new distributor, so it's pretty much ready to go. And with Edelbrock, you know all the parts are designed to work together and will give you a reliable system to keep your Jeep running for years to come.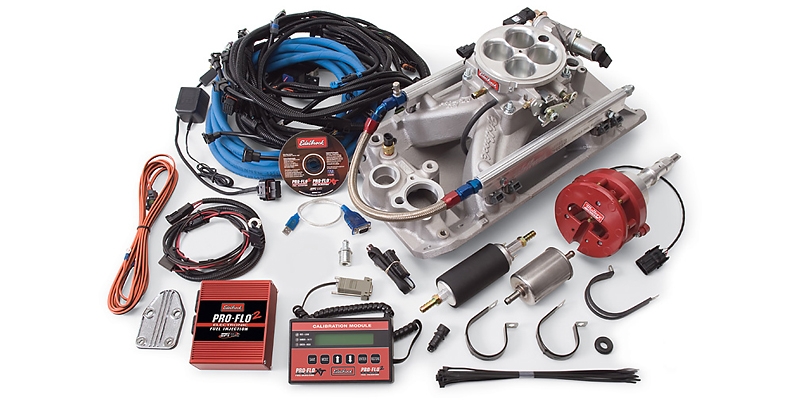 As you can see, we've gathered some great products for Jeep owners, and we look forward to working with Edelbrock. So we can keep bringing our Customers the parts they need and rely on,  to  keep their Jeeps alive and well. See you on the trails!