What is our most common question? "What Jeep Accessories should I get?"
Of course we need some simple questions answered before responding: how do you want to use your Jeep accessories? What are you looking to spend on Jeep accessories? Then again, many times customers just want to know which brands and Jeep accessories we prefer. Here it is: We are always happy to help make your Jeep even better. We've listed the top 5 Jeep Accessories brands to show you what our customers are buying the most of. These are some of our customer top favorites! Leave us a comment and let us know what your favorites are!
Best Jeep Accessories from MOPAR
You can't go wrong with a factory 
MOPAR part
. Even their accessories are well designed, which is not surprising, since they designed the Jeep vehicle to begin with. You can count on the parts fitting well, with engineering you can depend on. We sell a lot of MOPAR parts, and here are some favorites with our customers. The 
MOPAR Sunrider Design Soft Top Kit (Part 82213652-M
) is made from Black Premium Acrylic Fabric. Of course, it fits and works like an original top, only better, so you don't have to worry about any modifications, or worrying that you need to call NASA to figure out how to get it installed. One of their hottest accessories lately is the 
MOPAR Rubicon 10th Anniversary Power Dome Hood (Part 68184708AB-M)
. It's an easy way to upgrade the looks of your Jeep, but keep it somewhat all factory Jeep. It looks great of course, and the price is a bargain. AWESOME PART AHEAD! Really, these are extremely popular. The 
MOPAR Molded Cargo Area Tray (Part 82213184-M
). It features the Jeep logo, but more importantly, check out the tread pattern molded into it. Is that cool or what? Go ahead and say it!  you want one, you need one ... and you can't beat that low price!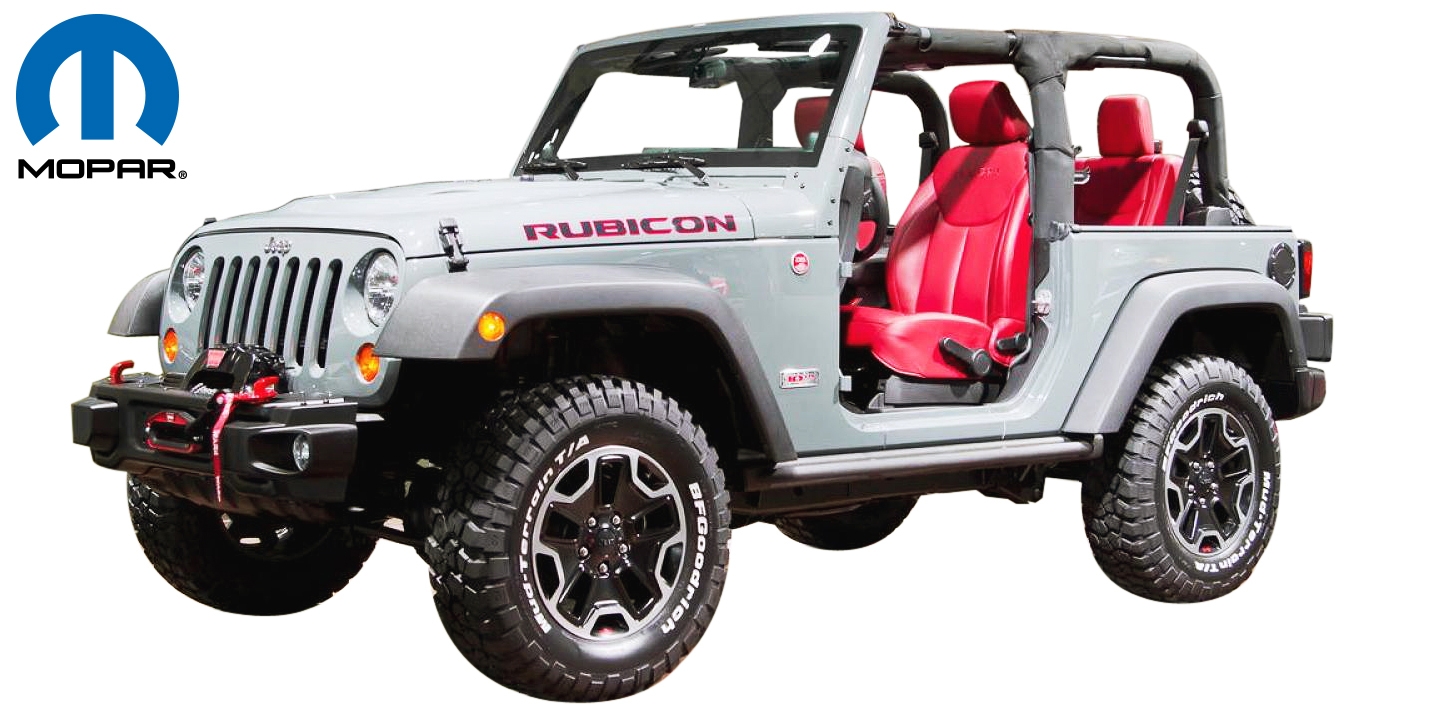 If you're going off road now and then, you've probably looked at the 
MOPAR Factory Style Side Steps (Part 82210565)
. Your factory side steps (or lower sheet metal) get beat up quite a bit offroad, and a new MOPAR set can quickly freshen up your Jeep to the original look and feel. (also, see the 
MOPAR Factory Style Side Steps (Part 82210571
 ) for another popular choice for Jeep owners. One hot item is the 
MOPAR Non-Locking Fuel Door (Part 82210285
) It even features the Jeep Logo. It's easy to install, and doesn't require any drilling.  (also see Part 
82210609, another MOPAR Fuel Door
). You probably think of MOPAR parts as just replacing a part that is the same, ie., taking an old one off, and installing a new one. But they also make accessories and practical upgrade parts, like their MOPAR 3" Stage 3 Lift Kit with Fox Racing Shox (Part  P5156140-M ). Now you can get a lift kit from the same folks who designed and engineered the original Jeep suspension in the first place. You also get FOX shocks with external reservoirs, allowing you to install up to 35" tires, and really take to some serious off roading. Still rockin' the old CJ? Maybe you're looking to spice it up with some flash? MOPAR actually makes a 
Chrome Overlay for the Grille (Part 82208105
). It will certainly catch everyones eye! There's no doubt that owning a Jeep Grand Cherokee means packing up the family and hitting the outdoors, from parks, to lake fishing, to picnics. In cases like those, you probably use the roof rack a lot. For ease and convenience, check out the 
MOPAR Removable Roof Rack (Part 82212072AB-M
). It can be locked, and features  t-slots for mountinM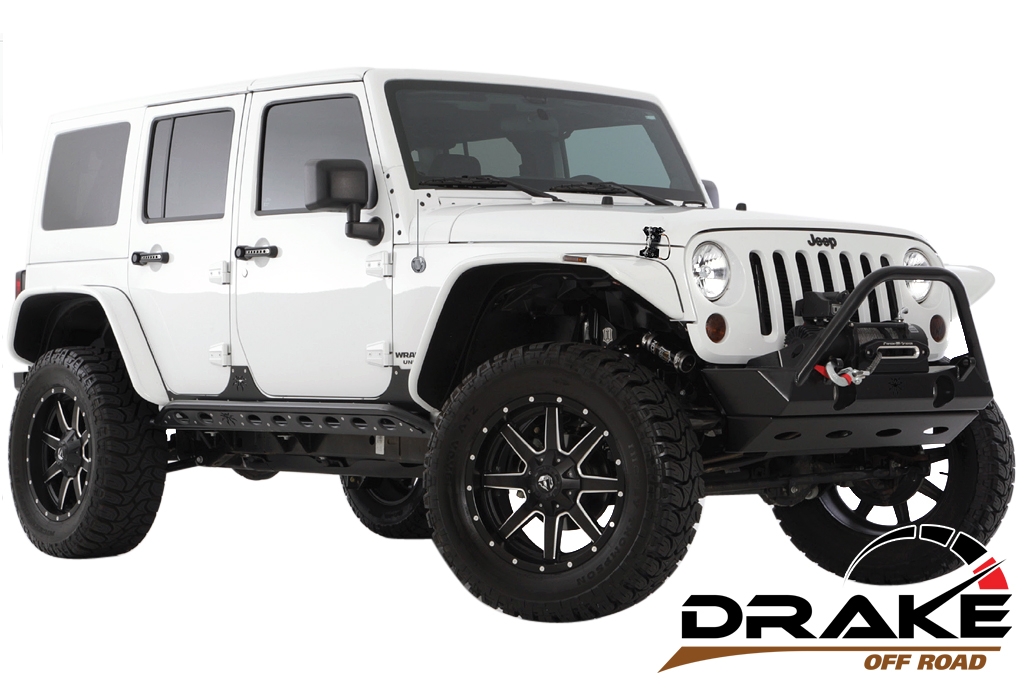 Best Jeep Wrangler Accessories from Drake Offroad
Drake Offroad  products
seem to be hot all year 'round. But one of their best sellers is their
Drake Off Road Locking Hood Hold Downs (Part JP-190001-LK
). This pair of hold downs feature heim joints and a security lock feature. Even if you have a stock Jeep, these will deter someone from grabbing anything from under the hood, especially the battery which is a common (expensive!) theft item. These also do a better job than the stock hold downs at keeping the hood shut tight at highway speeds. (the
Drake JP-190021-LK
hold downs are popular also). While maybe not quite as practical, you can't beat the design and style of their
Drake Off Road Fuel Doors (part JP-190004-BLACK
or
JP-190024-BLK
). These give your Jeep that high tech look like no one else can. Want to accent more of the outside of your Jeep? Go with the
Drake Off Road Billet Aluminum Grille Inserts (Part JP-190018-BLACK
or
JP-190010-BK
)
. Easy to install, they can update the looks of your Jeep in minutes.
Messed up your antenna on that last offroad excursion? Don't sweat it. The
Drake Off Road OE Style Replacement Antenna (Part JP-190012
) works just like the original and it's easy to install. Presto! - now you can catch your favorite tunes or get the latest weather report. If you want to go with a non-stock antenna, more suited for offroad, check out the
Drake Off Road Billet Antenna Base and Mast (Part JP-190012-BK
). If you want a tech design look on the inside of your Jeep,
Drake Off Road Door Handle Inserts with Holes (Part JP-190015-AL-5)
are the winning ticket. Featuring a brushed aluminum finish, they're sold as a set of 5. Best of all, they install in just a few minutes.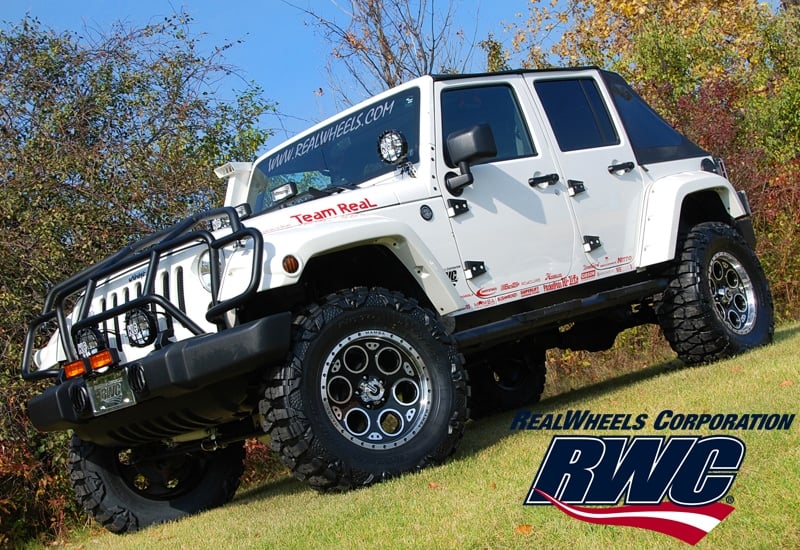 Top Jeep Wrangler Accessories from RealWheels
Looking for something with more offroad appeal? The
RealWheels, Enforcer Grill Guard (Part RW-3003BPJ )
is a great add on. It's not only functional, it features mounts for auxiliary lighting and a black finish. It's a bolt on part (no drilling!) so you can update the front of your Jeep in a short time. If you want something a bit smaller, but just as robust, check out the
Realwheels Pre-Runner Bar With Light Mounts (Part RW-31025BPJ )
. Once again, no drilling is required, which might be why this is a very popular choice with Customers. (another popular
Realwheels Pre-Runner bar is their RW-3101BPJ
). Maybe you want more than the blacked out look? A little flash to add to your custom Jeep? Look no further than a pair of 
RealWheels Rear Tail Light Armor (Part RW-3061J)
. They not only look great, they're functional as well, since they protect your fragile taillight lenses. But who says you can't do that and look good too? (don't worry, we carry the black ones too, Realwheels Part
RW-3061BPJ
). Looking to mount some auxiliary lighting, but space is limited?
RealWheels Windshield Light Mounts (Part RW-6042J)
can help. Made of stainless steel, they mount with existing holes, without drilling, so you can install them in just a few minutes.
Like driving with the doors off? Want to stretch your leg some? The
Real Wheels Foot Rest Driver Side (Part RW-2361BPJ
) allows you to rest your foot outside the door opening. It installs on the existing door hinge, so it's simple to add, but comes in handy. It's made from a solid block of aircraft quality aluminum too. Looking for some protection and style to cover your headlights? The
RealWheels Factory Fog Light Guards (part RW-2271BPJ )
are made from precision machined solid aluminum. Stout and robust, they offer some good protection against stray brush and branches. And they look good!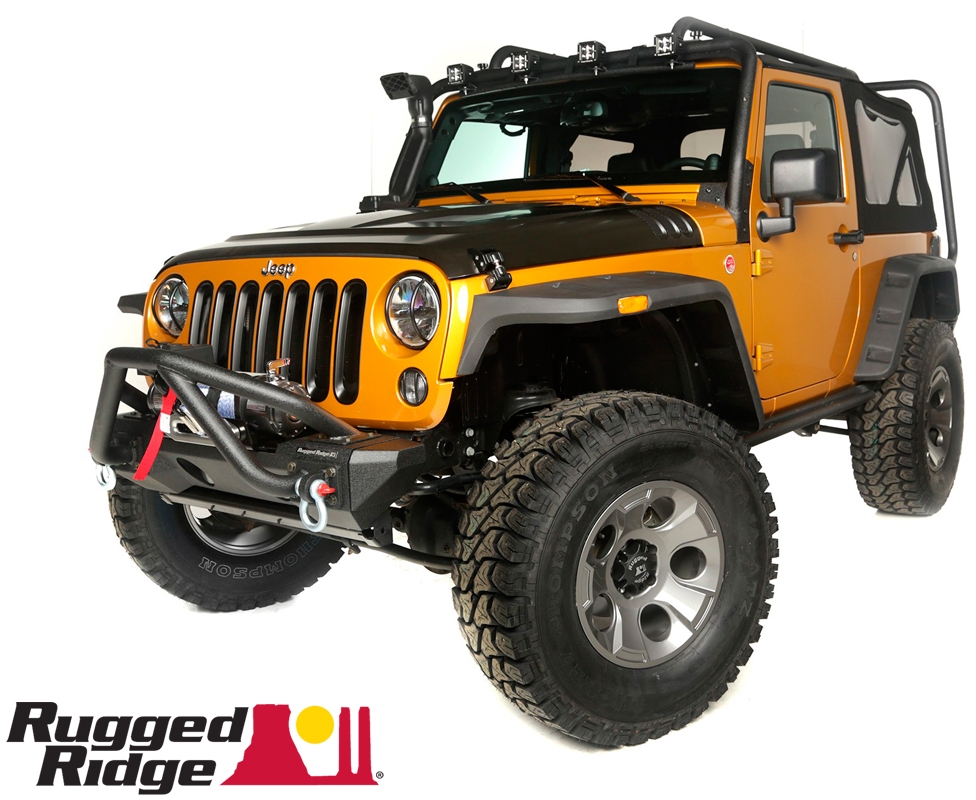 Top Jeep Accessories from Rugged Ridge
You can't go wrong with accessories from
Rugged Ridge
. With their wide selection for just about any Jeep model, they've got something for every ride. Their
Rugged Ridge RRC Side Armor Guards (Part 11504.21)
are a great feature to add to your Jeep. They are a bolt on design, so you don't have to hack up your sheet metal or do any welding. While they make a lot of hard core functional parts, they also offer many parts to customize your Jeep into your own style. Such as the 
Rugged Ridge Billet-Style Grille Inserts (Part  11401.02)
. The best part is these just snap into place. In seconds. How's that for a hot accessory? You may also want to grab another popular shiny accessory, the
Rugged Ridge Locking Fuel Door (Part 11134.03
). Or, if you want to tone things down just a bit ,grab the
Stainless Steel Rugged Ridge Locking Gas Cap Door (Part 11134.04
). Looking to add some bumpers to your Jeep?
Rugged Ridge's package includes a Front Bumper, Rear Bumper with a 2" Receiver Hitch, and Side Nerf Bars (Part 11501.04)
.  Now that's a sweet combo. The best thing is, you can save money getting them all at one time and you get that great Rugged Ridge quality all the way around. If you're driving a Cherokee XJ, you can bolt on a 
Rugged Ridge's Front Double Tube Bumper with a Hoop (Part 11560.80)
. No drilling is required, and this kind of 3" tube bumper lends it self to bolting on all sorts of other cool Jeep accessories. We all know Jeeps never die. But sometimes the seats do, especially the drivers side. Duct tape just doesn't cut it anymore. Throw that thing away and hook up a new seat (or seats ) from Rugged Ridge. Your back will thank you! Get one, or two, of these
Rugged Ridge Front Standard High Back Bucket Seats (Part 13401.37)
and you can be riding in comfort once again. A real popular seller for mirrors on CJ's is this set from Rugged Ridge, Part 12650.03. You get a pair for one low price, and they include new brackets and hardware. Who knew you could update your Jeep so fast and make it look so good? If you like trailing, you can use this great set of tube doors, the
Rugged Ridge Front Locking Tube Doors (Part 11509.20)
. These allow you more line of sight when hitting the trails offroad, so you don't get into trouble or stuck on a boulder. They also add more protection than just going door-less. This model can also be locked. You won't believe the low price we have on these. Looking to toss a 4-inch lift on your
CJ
? The popular selling
ORV by Rugged Ridge 4" Leaf Spring Lift Kit with Nitro Shocks (Part ORV-1841515 ) is a hot setup. With new U-bolts, polyurethane bushings, and hardware, it's a kit ready to go and get you setup for some new 33" tires.
If you're looking into adding some auxillary lighting, look no further than the
Rugged Ridge 6" Off Road Halogen Light Kit (Part 15207.51
)  With 100Ws, Black finish, and included wiring harness, you can light up the night on those long mountain roads. Nobody wants bugs on their Jeep, You can keep those pesky critters at a minimum out front with the
Rugged Ridge Wraparound Bug Deflector . (Part 11350.01
).  Made from tough smoked acrylic, it can handle the biggest bugs! Need somewhere to add some accessories on the back? Check out this
Rugged Ridge Rear Double Tubular Bumper with 2" Reciever Hitch (Part 11570.04)
. Now you can use the receiver for added equipment, or do some light towing. And you get a new good looking bumper! If you have a Rugged Ridge XHD bumper (doesn't everyone?), you want to add these 304
Stainless Steel Rugged Ridge D-Rings (Part 11540.17)
. They're super strong, functional, and good looking. The best Jeep combo!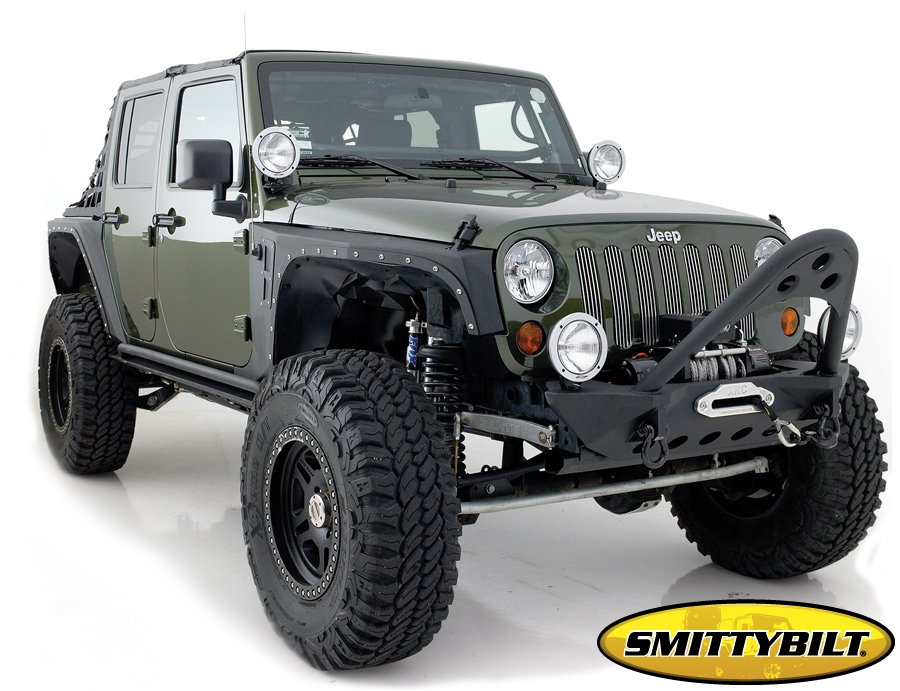 Best Accessories for Jeep Wrangler from Smittybilt
Our Customers are big fans of
Smittybilt products
. Great accessories, great prices, and the parts that every Jeep oner can use in real life. Here's some of their favorite picks! The
Smittybilt X20-10 Comp Gen2 Waterproof Winch with Synthetic Rope and Aluminum Fairlead
, rated at 10,000 lbs (Part SB-98510), is super hot. For one great price, you get everything, every feature, you could want in a winch.  Made with a 6.6 hp motor, waterproof 500 amp waterproof solenoid, and much more, it's the top dog on the Smittybilt list.  (the second best seller is the Smittybilt XRC-9.5 Comp Gen2  9,500 lbs. winch, Part
SB-98495
). Hopefully you have a Smittybilt bumper to attach that winch to. No? Take a look at the
Smittybilt XRC Front Bumper with Built-In Winch Plate (Part SB-76806
).  The XRC is engineered to provide maximum clearance for rock crawling. But it will work just as well for mild trailing. The important thing is that it's one tough bumper, and allows you to add other accessories, along with your new Smittybilt winch. Looking to replace your front seats with a high back version?  The vinyl
Smittybilt Standard Front Bucket Seat (Part SB-44901
) can freshen up your interior easily. Out with the old mildew, moldy seats and in with the new! This bucket seat uses the same mounting hardware and bolts from the original seat. (if you prefer low back seats instead, see the
Smittybilt Low Back Bucket Seat (Part SB-44801
). As long as your replacing the seats (or your old seats are fine), don't forget the
Smittybilt G.E.A.R. Front Seat Covers (Part SB-5661001
). The storage pouches, located on the back of the cover, are great for tools, flash lights, and first aid equipment. Its a tough, military, tactical look that Jeep fans like, but it's also very practical since room in a Jeep is at a premium. You need to use every bit of space you can find for gear. (and to get even more gear in your Jeep, check out the
Smittybilt G.E.A.R. Tailgate Cover (Part SB-562301). I find this useful for packing snacks and water for the kids (or the dog!).
Did you know we sell a lot of Smittybilt soft tops? Like the
Smittybilt Replacement Soft Top with Upper Doors and Tinted Side and Rear Windows (Part SB-9970235
). It's a complete OE replacement for your worn or torn soft top. It even fits over original factory OE hardware and  framework. Check out the reviews on that setup and you'll see why it's a five star top and a Jeep fan favorite! Looking to take out that new JK to the trails, but don't want to beat up your lower body sheet metal? Protect your sides with the
Smittybilt
Wheel To Wheel Nerf Step Side Bars (Part SB-J0764). They feature welded step plates with cleats, one piece welded construction, and fresh hardware. Not only do they protect your Jeep, they look great too! If you want something maybe a little sleeker and tighter to the body, check out the Smittybilt SRC Side Armor (Part SB-76634).
As long as you're gearing up to hit the trails, with your new Smittybilt rockers, bumper, winch and accessories, you might as well install the
Smittybilt XRC Fender Flare Kit (Part SB-76837). The kit includes all four fender flares, and these can be painted if you want. These use bolts to secure them in place, in your existing flare holes, so they're easier to install than most kits. Maybe that's why they're so popular.
Whew! Are those some great products or what? These are popular for a variety of reasons, and Jeep owners know what works best. These are some of their top favorites, and we know they will be favorites with you too! See ya on the trails!