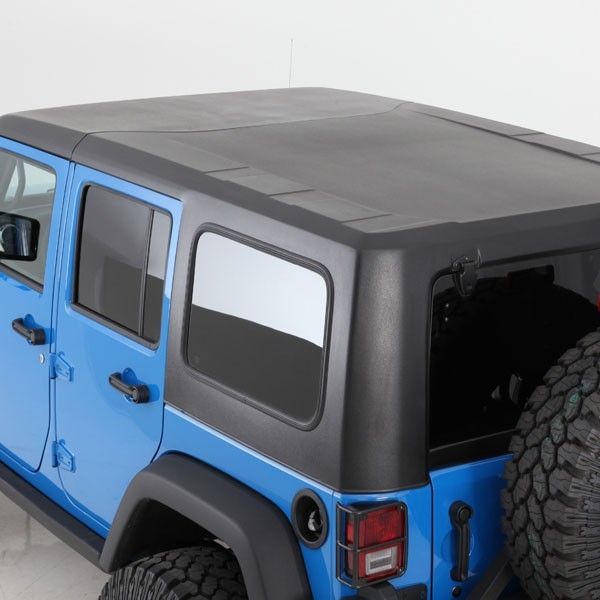 Today's
Jeep Wrangler hardtops
are, in many ways, vast improvements over previous generations. Material is lighter and more durable. Installation is easier. And with proper care, these tops are able to withstand the elements and last the life of your Jeep. When it comes to getting the hardtop that works best with your Jeep, there are certain considerations to account for depending on your Jeep model.
Jeep enthusiasts
 will tell you that
ordering the right Jeep parts
for your rig means taking a number of things into consideration. Having every detail handy will ensure you are looking at the right hardtops for your specific Jeep.
Choosing a Jeep Hardtop
You might be looking for a new hardtop for a number of reasons. Your old hardtop has some, well, bad issues, that you just can't tolerate anymore. It's time to put it to rest and get it replaced. Or maybe you bought a Jeep used, and the original hard top is long gone. Maybe you live in Montana and it's 40-below, and you're tired of getting an arctic wind blasting through your 20 year old soft top.
Yeah, a new hard top is looking better all the time.
To start with, different kinds of hard tops are known as a one piece, two piece, or a three piece (no, we're not talking bikinis here ladies!). The one-piece hard top is just that, the entire hard top comes off the Jeep as one unit. Most stock or factory hard tops are a one piece. The two piece tops have two main parts. The rear section that covers the back of the Jeep, and usually some of the back seat (if you have an Unlimited). The rear portion typically resembles an everyday hard top. The second piece is over the driver and passenger seats, and can be removed. This allows you to get extra air, almost like on a soft top where you can flip the front portion back (though the front panel is entirely removed on a hard top). The three-piece Jeep hard tops have just that, three pieces. The rear is similar to a stock hard top, but the front sections, over the driver and passenger area, can be removed. Sort of like having some 1970's T-Tops, there are two of them (and the rear portion makes 3 parts) altogether. It really comes down to which appeals to you most. A one piece is more likely to be sealed from weather better, but it's heavier to remove. While a two or three piece allows you to change the top and get more air, and allows you to remove the top's separate parts easier because they're lighter and smaller. But there are more seams, more joints, and more chance of wind noise or leaks over time.
Let's break it down by model, and see what the options are.
Jeep JK Hard Tops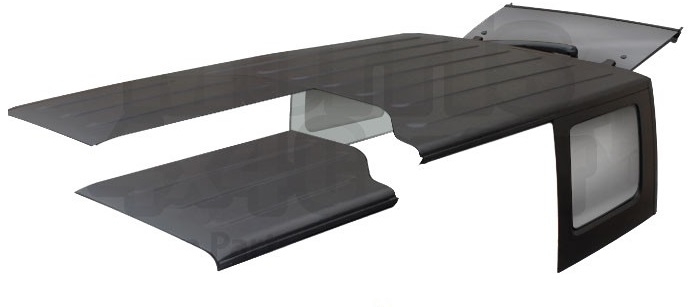 The one piece designs include Rally Top's Hardtop line. If you have a Wrangler JK, that's 
Part Number XTR-WRANGLERJK2DR-01
. These tops have real tempered glass on the sides and the back window. You get a mildew resistant carpet interior and weather guard insulation. If you prefer the fastback look, check out the DV8 Off-Road Fast Back Hard Top
(Part Number DV8-HT07FB22
).Of course, MOPAR makes a
3-Piece Freedom Hardtop
with several options, including one that's textured black, one with a clear coat, and one with that is available in primer so you can paint it to match your Jeep color. These make it easy to remove the two front sections and enjoy your Jeep outside in the open air.
---
Jeep TJ Wrangler Hard Tops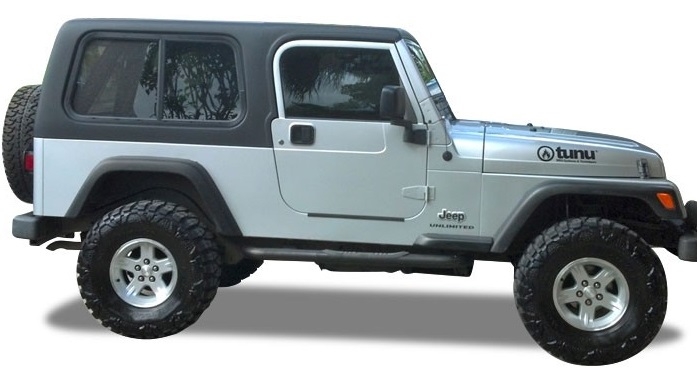 Rally Tops one piece hard tops have that fit and finish that makes you think your Jeep was born with their top.
This hardtop with standard solid windows
features locking, sliding side windows. UV resistant paint, and insulation against weather. Smittybilt's hard top (
Part Number SB-519701
) installs with no drilling and no modifications needed. It has a strong textured finish to look right at home on your modern Jeep. The Smittybilt tops are known as some of the quietest on the market when driving.
---
Jeep Wrangler YJ Hard Tops
Rally Tops didn't forget the YJ owners out there. They offer great
one-piece tops for your Jeep YJ
. They make them to be used with half doors and full doors.
---
Jeep CJ Hard Tops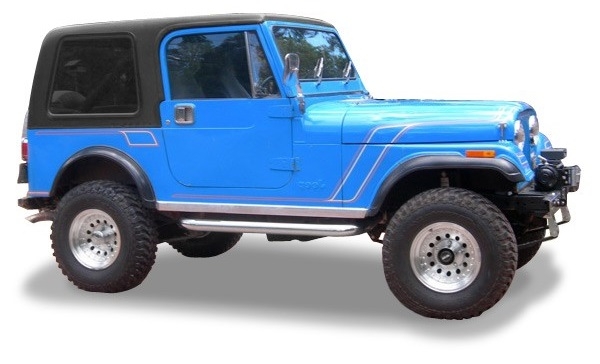 Rally Tops has been making hard tops for the CJ Jeeps for decades. Unlike a stock Jeep top for the CJ, they can incorporate several options for you, such as a sun roof, roof rack, or a dome light. If you drive a Jeep CJ7, check out their
black hard top (Part Number CJ7HTB
). Those are some options for getting the kind of top you're looking for. If you need some exra help getting the top off, be sure and check out the
Lange Originals Hoist-A-Top products
. They can really make a difference, and you're a lot more likely to take the top off and on and get more enjoyment out of your Jeep.