Get Your BedRug Interior Packages from Morris 4x4 Center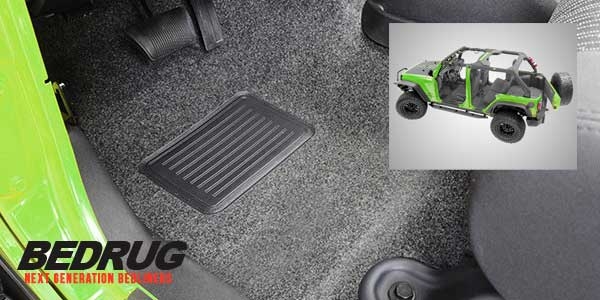 This time of year, either in the snow, of coming out of the thaw, it's likely you'll be tracking plenty of mud and debris in and out of your favorite Jeep. Of course, you know Morris 4x4 Center is looking out for you and your ride, and we have a perfect solution. The BedRug Premium floor liner kits. These are a great replacement for your stock carpet or interior materials. They are custom molded
specifically for your Jeep model.
They are also a die cut kit, and are made with 100% polypropylene (essentially a type of plastic), carpet-like material that gives you the ultra-plush yet ultra-tough protection you need and deserve. There are some serious benefits to chucking out that old floor liner and installing one of these interior packages from us. Just a few of them are:
Looks (and even smells!) like carpet.
Custom molded for a perfect kit (not universal!)
Slip and skid resistant fiber surface
Easy to install (and remove)
100% waterproof
Insulates from noise and heat
No need to remove seat brackets or the center console to install
Resists harsh chemicals and will not stain, stink, mold or mildew
Can be removed for easy cleaning (you know, from that mud you're always finding!)
Really, with all those features, it's no wonder so many of our Customers choose BedRugs to keep their Jeep looking good year after year. At Morris 4x4 Center, we sell them in several ways and in different packages for every budget. You can just swap out your front interior, or just the rear cargo area, or both. How's that for selection? Check out your Jeep and see how your floors are holding up. Moisture is the worst, because it can hide underneath and you won't even know it till it's to late. It can get quite nasty under there. Mold, mildew, maybe even some rust. It may be time to get a new BedRug from us and put your mind at ease and get your Jeep looking great. These can also be installed as a preventive measure. If you work and travel a lot outdoors, put a new BedRug in now to make sure your floors are protected for many harsh years ahead. Why take a chance? The first time the floor gets nasty and you can simply pull out the liner and wash it, it'll be worth every penny you spent for that one moment of ease. You owe it to yourself, and to your Jeep. Go with a BedRug today from Morris 4x4 Center!