Get Your Jeep Packed Up With Rightline Gear Storage Bags
Let's face it, you didn't buy a Jeep so you could run around in the city to puddle jump your rig and run over a few potholes. You drive a Jeep to explore, to get out of the city, and get to places most people will never see. The Morris 4x4 Center and Rightline Gear want to help you enjoy your time away from civilization and get your gear there too with a minimum of hassle. We now feature the
Rightline Gear
accessories to get you closer to the great outdoors, and make it it a little easier to do. Everyone knows that room in a Jeep is at a premium. Packing up to hit the outdoors on a trip requires some creative engineering. The next thing you know, you're wondering if you shouldn't hitch up a couple of pack burros to help you out with your gear for those mountain trails.
But there's an easier way.
Rightline Gear Storage Bags will allow you to store more on your Jeep, especially if you're running a hardtop. These modern storage bags are made from a heavy duty, PVC coated mesh. They feature a re-enforced nylon zipper, with urethane coated zipper flaps, and welded seams, giving you weatherproof protection. There are three ways to hook up with Rightline Gear bags and pack your Jeep full:
The Top Carrier
  -  These bags can be mounted on your hard top, out of the way for driving. Don't worry, these are weather and water proof. Just pack'em and strap'em. They are designed so you can use multiple bags. A 2-door Wrangler JK can hold up to 3 bags, an Unlimited JK can hold up to 6 bags!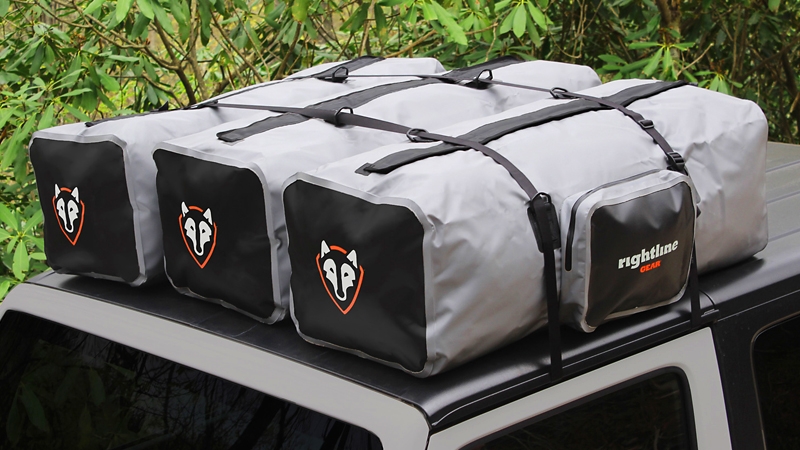 Each bag features a pocket on the side, so you can store the restraining straps for the roof, and the removable shoulder strap each bag comes with for carrying by hand.
The Rear Storage Bag
- These bags are designed to fit in the rear area of your Jeep. Even if you have an Unlimited JK with a rear seat, you can pack this bag vertically in what little space there is against the tailgate.  Space that you probably thought was useless, but now is put to good use. No rear seat? Lay them flat and use two or three for some well packed gear on the go. These are perfect for a recovery bag full of gear to get you unstuck or ready to help out a fellow Jeeper in need. Or just pack it with the kids summer sports gear for the weekday ball games. Within seconds you can have this Rightline Gear bag in and out of the Jeep Of course, the bag features their re-enforced strap for easy support and allows you to carry it conveniently.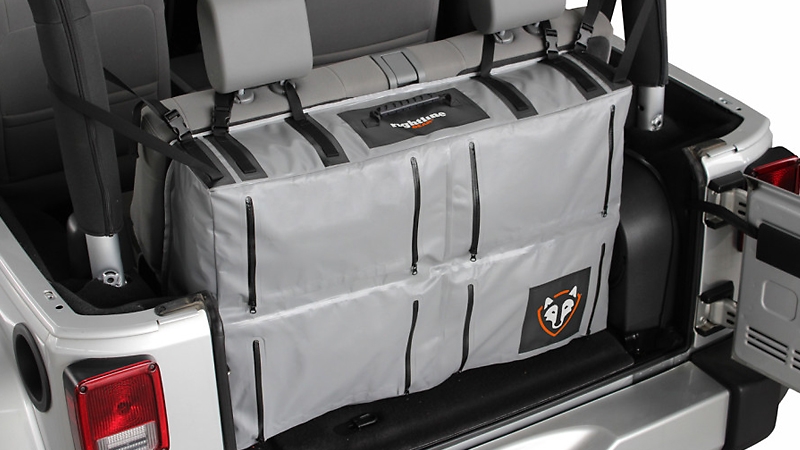 Side Storage Bag
- Make us of even more room in your Jeep with a side storage bag. This fits just over the rear wheel well. It features all the same Rightline Gear quality and properties of their other bags, but now fits a space that's not used too often on a Jeep. It's perfect for the kids snacks, toys, or gear when they're riding in the back.
Roll Bar Storage Bag
- These bags are quick to mount on your roll bar if you have the top off and you're hitting the trails. They're larger and more spacious than other low quality brands, plus they're weatherproof.
These work on YJs, CJs, JKs, and TJs. Well, just about any Jeep or vehicle with a roll bar actually.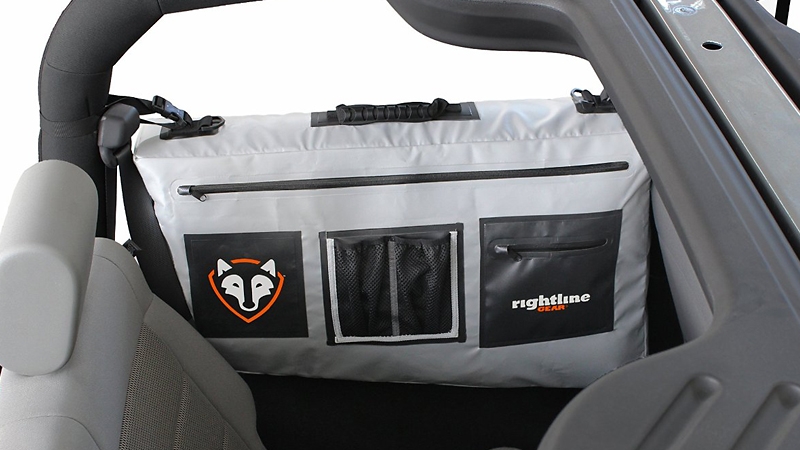 But there's more! Rightline Gear doesn't stop at just storage. Their bags wil get your gear to that sweet fishing spot up in the mountains, but what do you do when you get there? You unpack your Rightline Gear Tent!
The
Rightline Gear Popup Tent
features a condensation vent that prevents moisture from accumulating on the tent's inner walls. More features include no-see-um mesh windows,  doors with glow-in-the-dark zipper pulls, and storm covers that can be closed for weather protection and your privacy. The Rightline Gear Popup Tent is water resistant and a perfect way for introducing kids to camping. Of course, it holds up to two adults as well. Rightline Gear makes it easy to transport and store with a handy carry bag, so you'll always be ready for that quick trip at any time.
And there you have it. When it comes to packing up your Jeep, you know you need to take advantage of every space you can find. And now, with Rightline Gear storage bags, you can increase the storage capacity on your Jeep very quickly. Right here at Morris 4x4 Center. Make it easy. Get some Rightline Gear for your Jeep today!