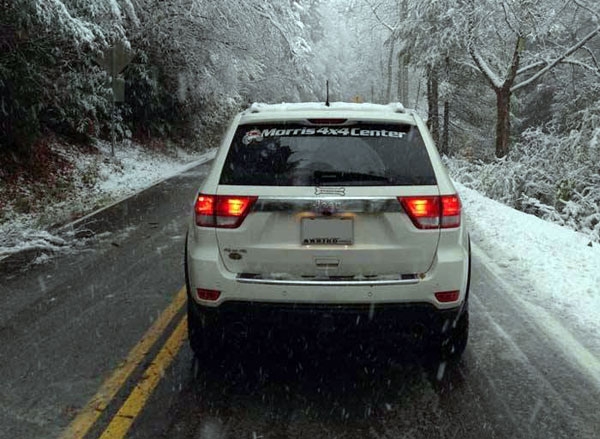 Fall is that time of year where the heat of the summer starts to fade away, and we start getting that sweet spot weather. Where it's not too cold and not too hot. The right kind of weather to enjoy the outdoors and hit the parks and trails. Getting off road with old friends and making new ones. It's also the time of the year where you want to check your Jeep from top to bottom. You may have let a few things slide during the summer. But with bad weather around the corner for winter, you want to be sure that when you depend on your Jeep, it'll be ready. Nobody wants to work on their Jeep under six feet of snow or -40 below. Now is the time to button up your ride, and gear up for whatever mother nature throws at you after fall.
Winterize Your Jeep Wrangler
Let's face it, if your
soft top leaks
during Summer, you were probably more than happy to get that extra breeze inside. More than likely you took the entire top off anyway. But during Winter, to much code is a whole different story. In extreme cold, it could even be deadly.
Now is the time to check out your soft top
. Does it fit tight? Does it have any rips and tears? Is it just plain road trip ragged and looking like it just made it through an apocalypse? Not exactly the best idea on a sub-zero Winter night is it? Sure, maybe you have some heater action going on, but bleeding all the nice warm air out of your soft top is not the way to go. Check out our Soft Top savings for Jeeps. Considering the deals that are going on, now is the time to replace and upgrade your top, and get that bugger boot tight and ready for whatever Old Man Winter can toss at it. It's also best to keep your top in good condition all year 'round with
cleaners and conditioners
.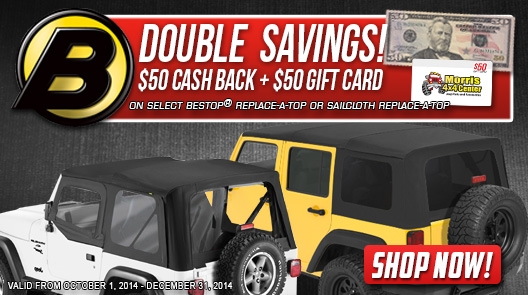 Jeep Wrangler Hard Tops in Winter
It's going to pretty much be the same story for Jeep hardtops. The seals will get dry, old, and cracked. If the top's not already making noise from air getting in, it'll probably get plenty cold when the Winter weather hits it. Or, you may even want to switch from a soft top to a hardtop. But the thing is to check over your hard top now, and look over all the seals on your Jeep. We also carry some hardtop insulators, than can help keep the cold out, and your warm toasty air in. A soft top is only going to seal as good as your doors. If the doors are soft doors, they can be notorious for leaking air when they get old. The good thing is, soft top door skins are easy parts to change out. Make sure they seal tight, that the
zippers work well
, and that can truly button up your Jeep. Lower doors use seals, and they should be looked at as well. If it's a hard door, then you may only need to replace the seal itself if the old one is not up the job, and reusing the door itself. Check your chemicals. Make sure you have antifreeze in your cooling system. How does it look? Coolants and antifreeze have a finite life expectancy. They are also very specific to the vehicle if you have a modern Jeep, and are usually color coded (green, orange, pink, and so on). Flushing should be done every so often, depending on what your owners manual says.
Check Your Wrangler's Heater Core and Heating System for Winter
Now is a good time to fire up the heater in your Jeep. Does it work properly? Since you don't use the heater during most of the year, the water and coolant settles and lies stagnant in the heater core. That usually leads to them leaking. Try your heater ahead of time, and by doing that, your system will flush out the old water and antifreeze and replace it with fresh fluids. But this will also let you know now if you have a heater issue, or if it's leaking. Since it's only Fall, you can deal with it now instead of in the middle of the first snowfall.

When was the last time you checked other parts you rely on? Things that might need greasing, like the wheel bearings, U-Joints or front end parts. What about lubrication? Making sure
everything works smoothly and evenly
, like hinges and tire carriers. Is your windshield washer bottle filled with
De-icer washer fluid / solvent
? All the fluid levels check out? from the transfer case to the differentials?
Check Your Wrangler's Battery Before Winter
It might also be a good time to have your battery checked, to make sure it's up to the task during a cold winter snap. Batteries have a limited life. You will depend on that probably more than any other component on your Jeep during chilled weather. If you think it's even the slight bit weak, now's the time to
swap it out
. Winter can be an unfriendly comrade when it comes right down to it, and it's up to you, and your Jeep, to be ready to take it on and survive. No one wants to have a Jeep down during winter. It's not only convenient, it can be dangerous. By taking a few hours to check your Jeep out ahead of time, it will give you piece of mind, and save you some unwanted problems later when you least expect them. We know you rely on your vehicle, but that will only get you so far, you have to take care of it and give it the attention it deserves this time of year. So take a look at the parts on your Jeep. If you do find an issue, there's plenty of time to order up from Morris 4X4 Center and get the parts well before Winter strikes. Plenty of time for you to upgrade and install what you need to. We want our Customers to be safe, and ready for anything mother nature can throw at them this season.