Great Poison Spyder Interior Accessories Mega-Pak from Morris 4x4 Center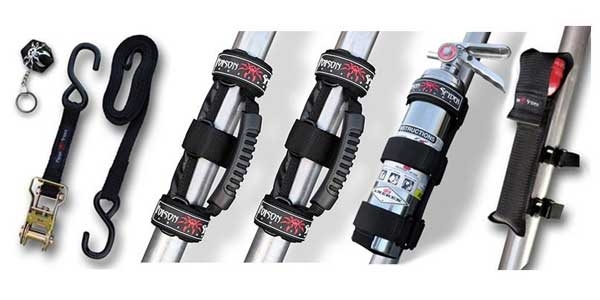 Wow that's a long title! But sometimes we get so excited around here about
Jeep accessories
and great deals, we just want to shout out to all our Customers and let them know there's something big going on over here at Morris 4x4 Center. Oh yeah! What's the excitement about? How about
Poison Spyder's Mega-Pack of interior accessories
for your Jeep. What kind of Jeep? Your kind of Jeep. Because this kit pretty much works on all the models with a roll / show bar, it's not even vehicle specific. The real exciting part is the savings for our Customers. This bundle will save you, well, a bundle. It's also convenient. One purchase gets you some great Poison Spyder products all at one time rather than buying them individually. Let's take a look at what's included in this Mega-Pak of Jeep gear:
Medium Duty Ratchet Strap
Flashlight Holder (3-Cell)
Fire Extinguisher Holder
One pair of Grab Handles
Bombshell Keychain
That's the lineup. Five great products from Poison Spyder for one low price. This is the perfect starter product for all your Jeep gear needs, or even to expand the gear assortment that you have now. You know when the product is made by Poison Spyder it's quality and made to last. We also carry a Poison Spyder Mega-Pack with a 2-cell flashlight holder as an alternative. So join in on the excitement, and order your Jeep interior Mega-Pak today! From your one stop shop,
Morris 4x4 Center.