Hushmats Protect Against Heat Sound and Vibration in Your Jeep
You hear about it all the time. Folks driving a Jeep, especially older ones, and saying it's to noisy inside, or the floors are to cold, or there's to much heat coming from the floorboards. In the past, you just had to put up with it, or fabricate some kind of duct tape, Dr. Frankenstein, super-glue it in place, Fang-doodle-bobble to fix the problem. Not any more.
Hushmat material
can help solve many of those floorboard issues. And the materials can reduce noise as much as 50%, and reduce heat as much as 70%. At Morris 4x4 Center, we are proud to include  Hushmat to our long list of manufacturers. They are the #1 rated sound deadening, and thermal insulation material. Not only that, the products are made right here in the USA! Even though the materials can be purchased several ways, in more generic bundles. Hushmat now has some vehicle specific kits, which has us excited, because we can now carry their kits that are made just of Jeeps. Which means no special tools are required. They can be cut or modified with a utility knife or scissors.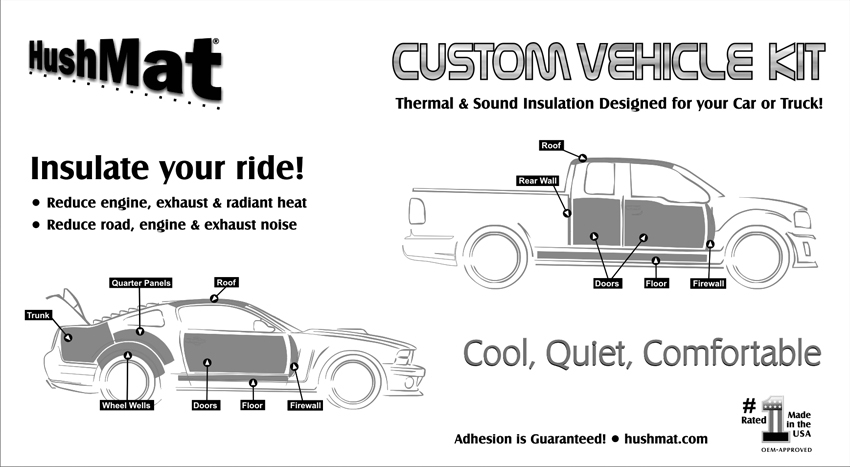 If you've swapped your old 4-banger or six cylinder for a V8, especially a Chevy, then you know all to well there's a serious amount of heat wave coming from the firewall and the floorboards. Now there's a safe solution, a product that's actually MADE to cure those problems. HushMat products are the simplest materials to install. They are super flexible, easy to cut and require no surface prep. 
.
 Just peel and stick -  even in the harshest climates! What this means to you is that you don't have to spend countless hours prepping your Jeep with scraping, paint stripping, acids, or special chemicals. If you have a worn, used floorboard, it shouldn't be a problem to install the Hushmat. Since 1988, Hushmat has been a leader in the insulation against heat, noise, and vibration. Their products are designed to be installed and used in engine bays, hoods, and firewalls, or anywhere else that engine heat is an issue. In cases where you want it to match, it can even be painted. Another benefit is that up to even 300 degrees, the materials Hushmat uses will not crate any unusual odors. Huhsmat materials install with an industrial grade  "peel-n-stick" backing.  The HushMat Ultra products have passed over 25 years of rigorous in-vehicle validation of performance in every climate on the globe. Including extreme cold and extreme heat. Place you might be taking your Jeep, so you can rely on the Hushmat products.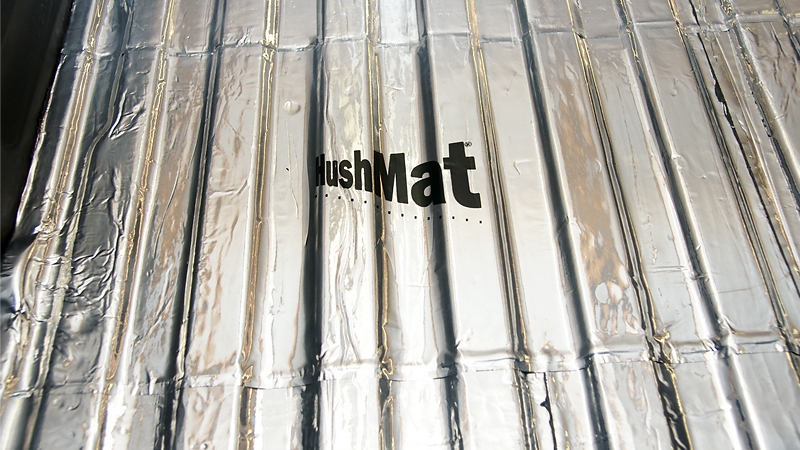 Sound deadening can be an issue on a Jeep as well. So not only do you get the benefits of insulation against heat, you're also getting great sound deadening material at the same time. Hushmat materials have reduced interior noise by up to 10 dB, though 3-5 dB is readily attained in most installations.The product eliminates the structural vibration, or engine road noise, so you can experience the pure sound of your vehicle and mobile electronic system. It's not uncommon for a vehicle with a complete HushMat surface coverage to achieve up to a 15-20 dB reduction in structural vibration generated noise and road noise. You no longer have to put up with engine heat, vibrations, or  noise issues. With Hushmat available now at
Morris 4x4 Center
, you can make your Jeep even better and more comfortable to enjoy, off and on the trails.