Jeep Angry Eyes Spreading Worldwide
They've been described as Angry Eyes, the Jeep "Angry Grille", an Aggressive Grill, the Jeep "Eyebrow Grill", or the Angry Bird style. No matter what you might call it, or refer to it as, it's a popular accessory for JK Jeep owners. Part of the "Angry Eyes" title comes from a reference from Pixar's first Toy Story movie. One of the toys is Mr. Potato head, who of course, if you ever played with one as a kid, includes many different accessorized parts to make many different faces. When he gets angry in the film, he threatens, "Don't make me put on my Angry Eyes!".
Then, as you probably already guessed,  the "Angry Bird" reference is about the very popular digital game. If you aren't familiar with it, one look the cartoon birds, with their slanted eyebrows, and you'll see the resemblance right away. On a
JK Jeep Wrangler
, the front grille, as much as an icon as the first Jeep with seven slats, is different from all the earlier Jeeps as it's not a 100% steel part, and is more cosmetic in nature than the sturdy metal grilles of old. But the positive side to this is that the grille can be modified, changed, and  swapped out easier (no welding!) to customize your Jeep even more. The grilles can be replaced entirely, or can use an overlay.
The "Angry Eyes" grille look has an aggressive stance and attitude as well. It gives the face of your Jeep some character. But it can also be functional when done properly, as it can add extra air flow to the radiator and condenser. Some of the "Angry Eyes" are less functional, being just some slatted or angled headlight covers which only cover the headlights. Those are more geared towards older Jeep models where the grille is an integral part of the body work, and swapping out the grille, or adding an overlay, just isn't practical. But usually when you hear the term from a JK Jeep owner, they're referring to the grille products and accessories.
Now, the whole "Angry Eyes" concept and idea has spread worldwide, and there are several companies that make various grilles and styles. Many of them, some from overseas, are your typical cheaply made knockoffs. The kind of parts that take some fussing to make them fit, if they fit at all. Different companies have slightly different names for the grilles and overlays, but it will usually fall under one of the popular references.: Angry Eyes, Angry Grille, Aggressive Grill, Eyebrow Grill, or the Angry Bird style, etc.
At
Morris 4x4 Center
, we carry the "Aggressive Flare Grille" from Wild Boar Products. It not only has the angry look JK owners are looking for to give their ride some style, but it improves air flow, and it's designed and engineered to fit your Jeep exactly as it should. Wild Boar is known for it's high quality, and this is one of the best "Angry Eyes" style grilles you can get in the market today. Not to be outdone,
Rugged Ridge also makes a Spartan Grille
, which also has an aggressive look, but also a larger opening to keep your Jeep's engine cooling system working better. You can also leave off the Jeep emblem to get a super smooth look.
A unique feature to their grille is that the center opening can be swapped out for optional logo designs. For instance, the designs include
Monster Teeth
,
Allied Military Star
, and our favorite, the
American Flag
. As always, Rugged Ridge continues to make these accessories that are not only functional, but allow you to customize your Jeep the way YOU want to.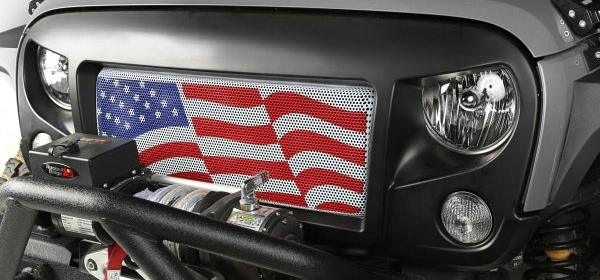 Some Jeep owners don't care for these grille styles, and since older Jeeps use a steel slatted grille, those owners can seem a bit jaded against them. The "Angry Eyes" grilles are usually only available for the JK models. But making your Jeep over to fit your personality is one of the fun things about owning a Jeep, no two are exactly the same, so we say, hey, if you like the style and aggressive look, go for it!
Show some attitude, on road and off! Check them out -
Either choice will make your Jeep stand out, and give the bad boy attitude offroad look you want! See ya on the trails !
Join Us on Social Media:
Read More: