We all want to start our kids out on the right path. So what's a better path than the Jeep Path, right? When I was a kid, go karts were all very similar. They were usually made from a rectangle of tubing, with a single seat, and a honking noisy engine on the back that would probably get you killed on the street sooner or later. I was more than happy to flip that thing in a turn - on asphalt - to try and set the speed record (my cousins and brothers too - we used to time ourselves on who could go around the block in the fastest time). Helmets? Are you kidding? It was the 1970s.
Jeep BFR-3 Go-Kart at a Dealer Near You
Speed the clock up to today, and it is a whole different approach. Introducing a new Jeep Revolution BFR-3 kart. While it is not gas powered, I would say it is a bit safer than that and more environmentally friendly for sure. Jeep officially licenses this Jeep kart, and it is perfect for off-roading. As a Jeep, it is all about the gearing. This puppy has three forward gears, plus a reverse gear (yes, you do get a shift lever!). You can pedal both forward and back, so if you do get a bit stuck, or need to turn around, you have some options.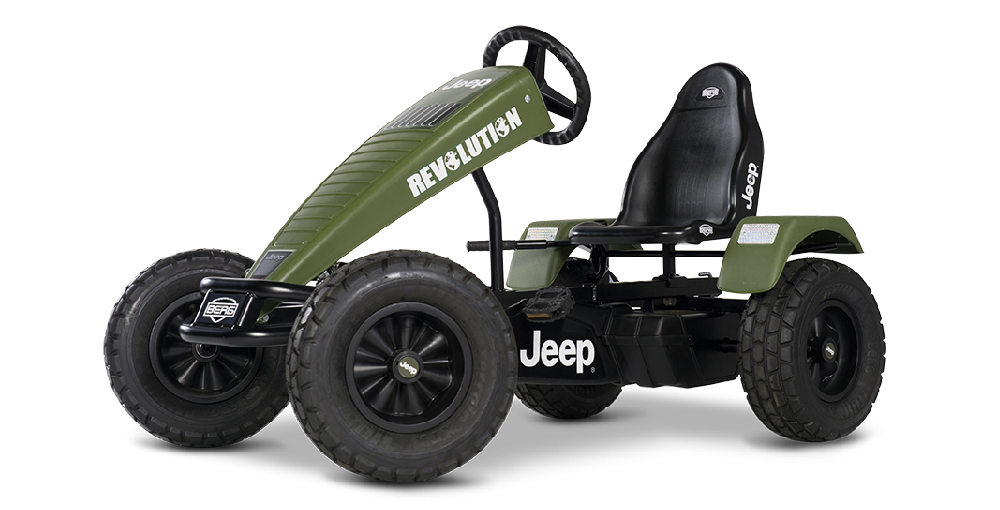 The Jeep Revolution BFR3 has inflatable offroad designed tires and some good ground clearance, this allows the kart not just to navigate smooth roads, but get off in the weeds. It also features a swing axle to make it more stable, and double ball bearings. The rear has mud flaps (ok, fender flares) over the rear wheels. The whole thing comes in at just over 100 pounds, so it is lightweight and easy to toss in a truck for camping or to take to a beach. Now, being a Jeep, you know that that means, options and accessories! The Jeep Revolution is available in several colors (yep, including green). However, it has different accessories available too, such as steering wheels, roll bar, farm exhaust, spare tire, and more. So you customize your Jeep Go-Kart just the way you like it. Hey, a few
Jeep stickers
would not hurt either, right? Get your youngsters living the Jeep life early!