Jeep trunk storage is usually limited. So anything that can maximize Jeep cargo space is helpful. It's not easy to give everything a place of it's own, especially when it comes to gear you need access to readily. Whether you work out of your Jeep, use it as your mobile office, or even if you camp and trail a lot, a Jeep trunk organizer or cargo net can go a long way. Many of the manufacturers we carry have some clever storage solutions, allowing you to get more stuff into your Jeep than ever before.
Jeep Enclosures
Tuffy is one of the best known companies for not only providing storage options, but also security. Not everyone wants to unload everything out of their Jeep all the time, and if you do leave your Jeep, you want to make sure you're stuff stays secure. The rear of a JK Wrangler already has a small enclosure in the floor (primarily for the wheel jack). But it uses a flimsy cover that's merely cosmetic. The
Tuffy Locking Cubby Cover
(part 143-01) is made from steel, with a water seal and la Pro Guard lock. No drilling is required to install the cover, which makes it a very popular part for Jeep owners.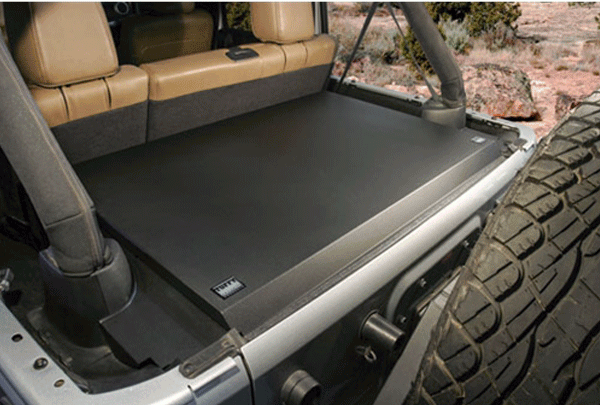 If you're looking for more room, but still need security, Tuffy has you covered. Literally. The
Tuffy Security Deck Enclosure
(part 173-01 or 326-01) mounts higher up, level with the top of the rear tailgate. Enclosing the area from the backseat to the rear. Of course it can be locked, and it's made from welded steel. The top can even support weight, and has a convenient tray for safe keeping small objects. No drilling is required to install it. The top can be easily removed for more space when security is not needed, or you need room for larger gear. By the way, Tuffy didn't forget the YJ Wrangler (part 297-01) and TJ Wrangler (part 240-01), they've got security enclosures for those too.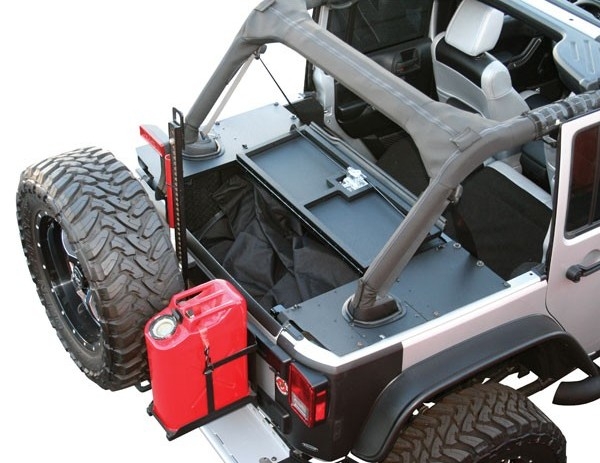 Another good choice for a JK Wrangler is the
Aries Automotive Security Cargo Lid
(part AAA-ALC25001/AAA-ALC25000). Made from strong yet lightweight aluminum, it has a black texture powder coat, and it can support over 200 lbs. Note that the plates encloses the back (behind the seat), the sides, and the top. Fully encasing the rear area of your Jeep for security. No drilling is required to install, and it includes a lock and rubber seals to keep the box weatherproof. For the Bestop fans, they offer an
Instatrunk Modular Kit
(Part 42704-01). This enclosure for the back of your Jeep is made from 16-gauge steel in a matte black finish. It's only accessible when the tailgate is open, so there's only one access point which can be more secure, especially if you drive topless. (YJ Jeep owners use part 42700-01, and Jeep TJ's use part 42701-01).
---
Jeep Storage Vaults
For those who use their Jeep daily, especially on a job site, the
Smittybilt Rear Security Storage Vault
is what you're looking for. Made from cold rolled 16 gauge steel, the heavy duty drawer can support up to 350 lbs. It has a smooth slide and a positive stop (so the drawer doesn't come out, though it can be removed when needed). Now you can load up the tools in your Jeep securely for whatever task is needed. You can strap gear on top of the enclosure since it has four flush attachments. The
Smittybilt Ratchet Tie Downs
are handy for holding down gear (part SB-18602).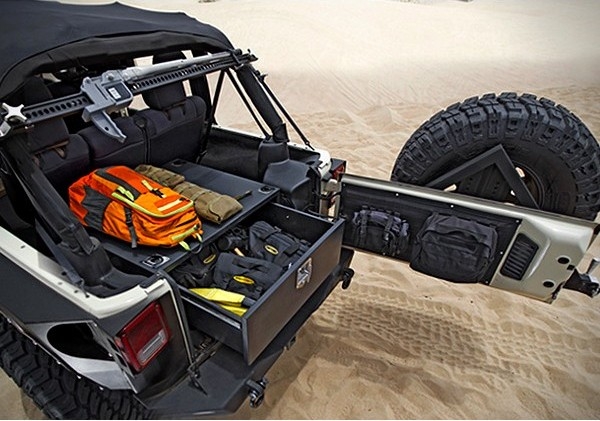 From the Land of Down Under, we carry the ARB Outback Solutions Roller Drawer Floor Kit (part ARB-5032020). The drawers are modular, meaning they can be mounted side by side, one one on top of the other, depending on your needs and the room you have. The drawers can be locked, and include nice large handles to open and close them easily, no matter how much you load them up.
---
Jeep Storage Bags
The
Rightline Gear Trunk Storage Bags
parts RLG-100J72/ RLG-100J72-B ) is a good lightweight solution that fits neatly up against the back seat. It's specifically made for the Jeep, and when loaded, takes up every available inch of space, and puts it to good use. While it's good for gear such as tow straps, gloves, and off road tasks, it can just as easily carry snacks and toys for the kids on an out door excursion or a day at the beach.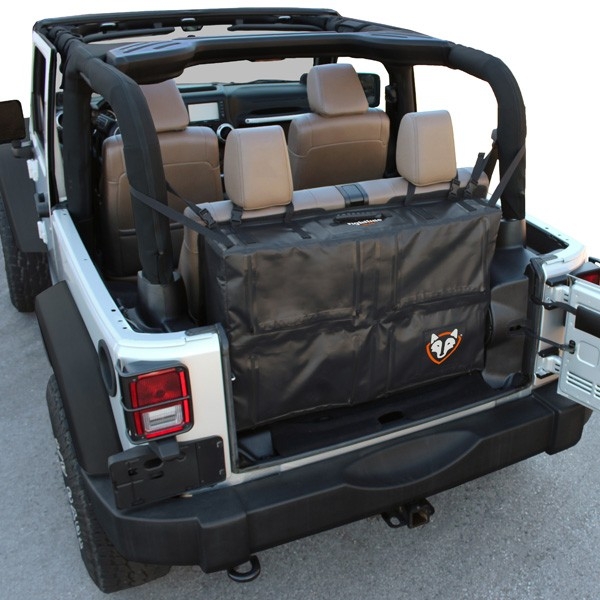 Got more gear than you know what to do with? For a quick storage solution, check out the
Rightline Gear Cargo Saddlebag
(part RLG-100B90). With it's universal approach, it can be used on nearly every Jeep ever made. The preferred mounting is hanging off the back, which is a great feature for Jeep SUVs, from a Compass to a Grand Cherokee. Naturally it's waterproof and has heavy duty zippers. Think of all the gear you pack in this bag that WON'T be INSIDE your Jeep. Wow, what a space saver. Let's get creative with some storage ideas. The
Bestop Saddle Bags
 are perfect, especially if you have a 2-door Wrangler, which has almost no room to begin with. They fit the sport bar opening just behind the doors, in a space that's usually not being used at all. It uses easy loop and strap fasteners, so it's secure, but say to take off and on.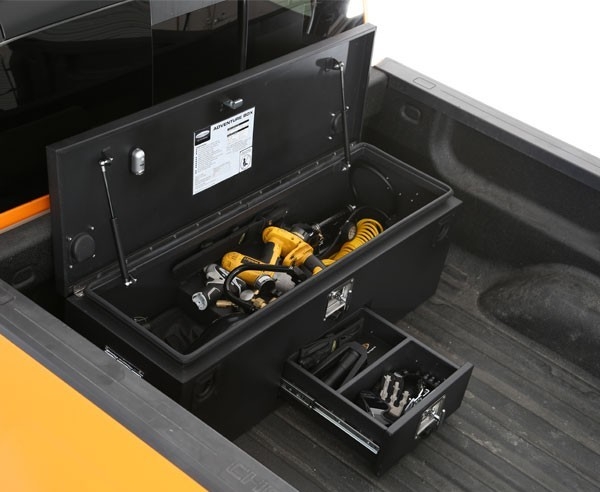 The
Smittybilt Adventure Box
(part SB-18605) is universal, so you can use it in almost any Jeep (or truck and SUV) that has the space (the box measures 48 x 18 x 18). Made from 16 gauge steel, and using gas charged struts for the lid, this box keeps your gear protected and locked. But it's more than just a standard "tool box." It features an interior LED light and several spring loaded D-ring anchor points. The center section has a drawer for smaller items. Versatile? You bet! Maybe you want something more flexible, lightweight, and portable? We have some choices for you. Try the
Bestop RoughRider Cargo Trunk Organizer
 it has a bunch of compartments for different tools, groceries and more! For a quick way to store some gear, the
Mopar Portable Cargo Tote
 is a simple yet effective solution. Rugged Ridge makes a similar but thinner rear
cargo bag
(part 13551-01) . It's made from durable vinyl with a zipper top and removable dividers. It even has a shoulder strap. It's just the right size to keep in the back of your Jeep Wrangler for tossing tools, groceries, or kids stuff in a hurry. Just pack and go!
---
Jeep Cargo Racks
We carry so many different kinds of Cargo Racks for Jeeps it's a tough call on which ones to mention. But here are some popular choices. First, since we're talking about inside storage, here's a handy piece, the
Rampage Rear Sport Rack
. It adds a quick solution to add more gear in the back of your Wrangler with no fuss. It's lightweight but very practical. It uses two gas struts so you can flip it up if you have gear that's taller, so you don't really have to remove the entire rack, just flip it up.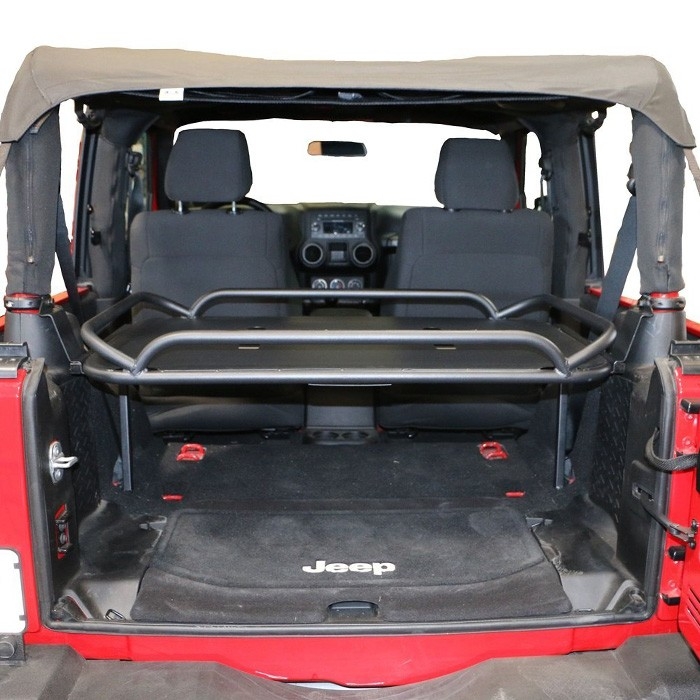 Teraflex offers an aluminum
Cargo Utility Rack
for the rear interior (part TF-4820000). It's sturdy, good looking, and features a netting cover to keep gear in it's place, but you can also strap some gear underneath it's base (the base is made of steel). Pretty cool! It's height adjustable, so you don't have to worry about seeing out the back of your Jeep. Bestop makes a "universal"
Highjack 4X4 Lower Cargo Rack
(part 41444-01) that can be used on almost any Wrangler. Made from Thermo-formed plastic, it's lighter than steel and it more impact resistant. You would need a Bestop bracket kit if you want to install on a particular Jeep model, but overall, you have more choices on where and how you want to mount the rack on your Jeep (or truck, SUV, or whatever).
---
Jeep Cargo Protection
Since the back area of a Jeep Wrangler isn't that big, you'll be using that area for everything, from a trip to the home improvement store, to getting feed for the horse, or maybe even riding with your favorite hunting dogs. Whatever you do back there, it might get dirty quick, and the last thing you want to do is have a disaster spill back there. A good solution to protecting that area is a
Rugged Ridge C3 Cargo Cover
(part 13260.02). It's made from water resistant material, This is not simply a sheet you toss in the back, it's specifically made to fit a Jeep Wrangler. It covers the back of the seats (which can act as a barrier if you have pets in the back), and covers the sides as well, protecting the full interior area. It can easily be removed to clean off when needed.
DirtyDog makes a 4X4 Cargo Area Crash Pad, perfect for Jeep pet owners. It not only protects your Jeep's interior (it's water proof too), it's padded to make your pet's trip comfortable and pleasant. It's easy to clean, and easy to install and remove. If you have a JK Wrangler, you want the part DDOG-PP3726BK. For the Jeep Cherokee, the DDOG-PP3932BK, and for the Grand Cherokee the DDOG-PP4138BK. Since these are specifically made to the fit the vehicle. there's no cutting or fabrication needed. They fit like a glove.
---
Jeep Cargo Liners
Now we're getting into the heavy duty stuff. Liners are traditionally tough, waterproof, and easy to clean. Most are form fitting, and fit tight to the contours of the floors. We carry a wide variety of styles, made specifically for your model Jeep. Universal fit? These companies don't play that game. Quality is the only way to go.
With so many options, we carry lines for almost any Jeep by these top brands:
Bestop Cargo Liners
Rugged Ridge Cargo Liners
Weather tech Cargo Liners
Aries Automotive
Nifty
---
Jeep Cargo Nets
Cargo Nets
are a good way to keep gear inside your Jeep, especially when driving at highway speeds, or on inclined trails where gear may be loose inside your Jeep. The last thing you want is something to fall or fly out. The advantages of a Cargo Net is they're lightweight, easy to install or take off, and offer higher line-of-sight visibility when driving. While they are generally Jeep model specific, they are made in a wide variety of configurations.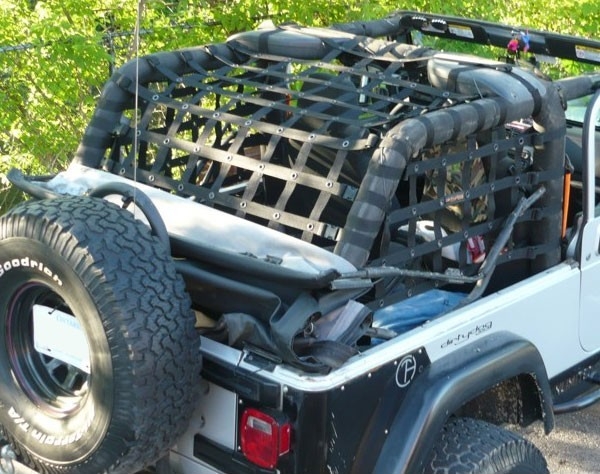 We carry Cargo Nets by manufactures such as:
Smittybilt
Dirty dog
Safari Straps
Rugged Ridge
Spiderwebshade
makes a Cargo Shade (part SW1-CSJK4D-TMR) that shades the cargo area of your Jeep. In high heat areas, this can be useful to keep temperatures down where your gear is, or if you have a pet in the back. It's easier to use than a full soft top, and much easier to install and remove. Best of all, it's available to match your Jeep in several colors, including Black, Blue, Green, Pink, Tan and Yellow.
---
Jeep Deck Covers
If you just want to cover the rear cargo area with it's own softtop, you can do that with a "
Duster
" cover (also known as a Deck Cover, or Tonneau Cover). These covers keep dirt and debris from flying into your Jeep and making a mess. They can also hide any gear stowed there from prying eyes, and may even give you some more aerodynamics when driving on the highway.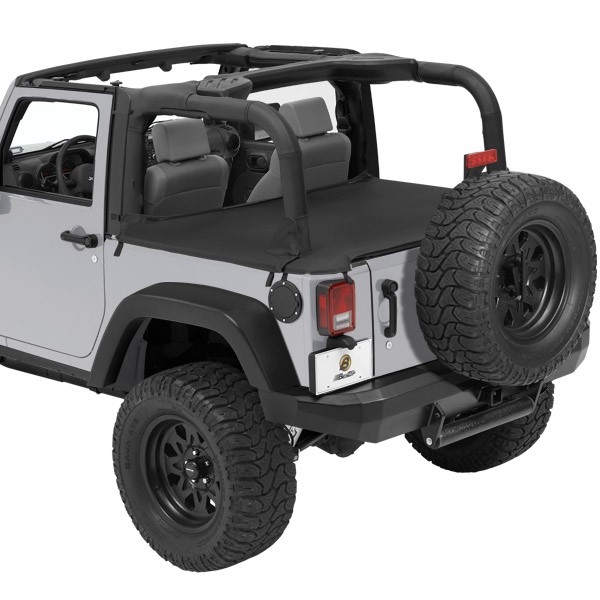 Dusters are made primarily for Jeep Wranglers, including the JK, YJ, TJ models, as well as the CJs. Bestop makes more styles than anyone, with different types, designs, and colors.
---
Jeep Cargo Pet Dividers
Taking your favorite pet on a Jeep excursion is popular. After all, he/she's part of the family, why not? You may want to use a Pet Divider to keep them safe, and also keep them from trying to assist you while driving. A popular choice is by 
Safari Straps
 and  DirtyDog. Their Cargo Area Pet Dividers require no drilling to install the net, and it covers from the roller to the floor. It works with a soft top or a hard top. We like the bright red color, and large squares that make visibility easier (both to see the pets and out of the Jeep).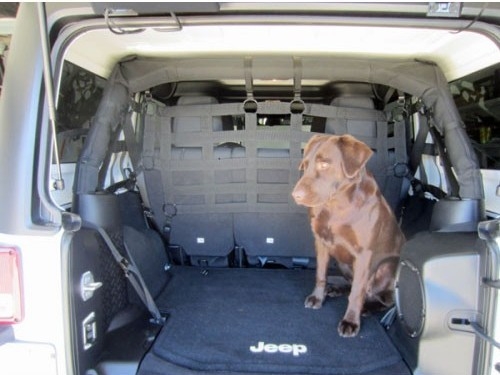 So what do you think? You probably never knew how many ways you can stuff a Jeep full of gear, and believe us, this is just a drop in the bucket. We carry hundreds of different storage solutions for Jeeps. Far to many to list them all here. But these will get you going as far as thinking of the best solution for your Jeep.
---
Click to Share!
Follow Us!
Read More: