Let's talk about the Jeep Cherokee 2016 model. The Jeep Cherokee has had a complicated life. After being the 4x4 SUV everyone wanted to trail with for decades, from the 1970s to around 2001, Chrysler-Jeep decided to make it into a
luxury vehicle in 2014
. With this change of venue and type of customers, the Cherokee continues it's aristocratic life in 2016 with a Trailhawk version. Of course, Jeep Cherokees are popular world wide, and have caused Jeep to start making them all around the planet, from
China's manufacturing Jeep plants
to five other countries. The brand, and the demand for vehicles like the Cherokee, drive Jeep to make even more of them for global consumers.
The Trailhawk Jeep Cherokee 2016 Edition
The new Trailhawk is Trail-Rated, so it does have some capability for off-road use. It also has a 1-inch lift for more ground clearance (it has a total of 8.7 inches of clearance) , more than a standard Jeep Cherokee. There are are two engine sizes offered: the 2.4L 4-cylinder, and the 3.2L V6. (sorry, no V8 for pulling your cabin cruiser boat). The 2.4L is rated around 184 horses, while the V6 kicks the HP rating up to 271. Both use the 9-speed automatic transmission. This 2016 Trailhawk Cherokee still retains the controversial, and much maligned front end that, for the lack of a more subtle term, has been coined as "just being ugly," back in 2014. Maybe two years makes a difference, as Jeep continued to sell more Cherokees each year, so its looks must be growing on the public. Some of the fun stuff for the Trailhawk includes the flat black panel on the hood. The red tow hooks in the front (is Jeep trying to tell us something?), and grey grill accents. Jeep steps up the 4WD with an electronic rear differential. There's also a SelecTerrain feature that allows you to choose a driving mode, such as snow, sport, sand, mud, or rocks. The added skid plates are a welcome addition too.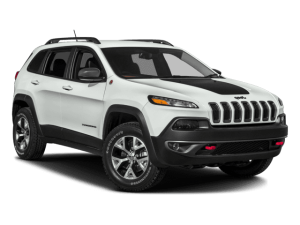 While this is a Jeep, and it's 4x4 abilities are a given, it's the luxury features that take center stage. The Cherokee, even the Trailhawk version, has more than enough high end pampering accessories to make even the most luxurious car maker envious. The interior is covered with soft materials to give you comfort while you're on the highway or trailing. Leather seats and a steering wheel make you feel like you've just stepped up to some European style, and some red accents on the dash and seats make it real. The center of the console gives you a display for driver information, shown in color, and is programmable. UConnect becomes your information hub at a touch of a finger and keeps you informed of traffic, weather, and other things that can affect your driving experience.
Depending on your options, you can load up on a navigation system, park assisted warnings, universal garage opener, power lift gate, 9 speaker stereo system, even blacked out 17-inch wheels. Of course, no luxury SUV vehicle would be complete without 4-doors, and in this case, the Cherokee Trailhawk delivers with a fair size area for gear and picnic supplies. Depending on how many options you choose, your Cherokee can run from a base price of $30,000+ to more than $40,000+. Nifty extras? How about USB ports, and a surprise storage area hidden underneath the passenger side seat cushion.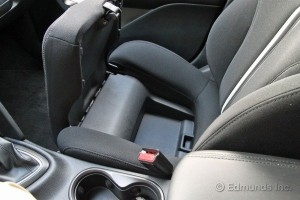 It's still not a
Hellcat version of the Cherokee
. Those are supposed to be out in 2017, there's still a year to go. But the Trailhawk (which is Trail-Rated, and probably more suited for off-roading anyway) can be a good filler until the Hellcat arrives.
Read More:
Is the 2016 Jeep Trailhawk for you? What do you think?