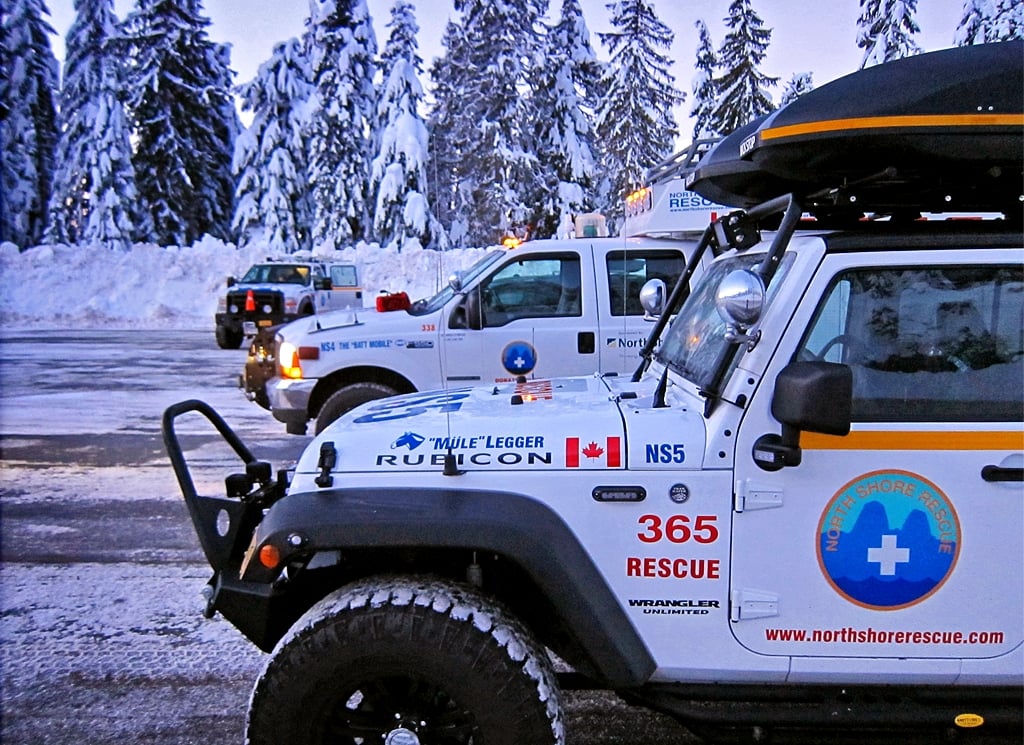 For most of us, using our Jeep on a daily basis revolves around simply driving to work everyday, or maybe dropping the kids off at school. That's not much workout for a Jeep. But don't mention that to the crew at the North Shore Search and Rescue operation in Vancouver, B.C. (British Columbia, Canada). They've got a
Jeep JK Wrangler
that's on a mission.
Honoring a Hero
Their JK Rubicon, nicknamed "Mule" (
an honorable tribute to Johannes Müllegger
, who died in a mountaineering accident), is geared up to provide vital rescue operations, and go where most vehicles are unable to reach. Obviously in the dense northern woods and mountain terrain, a stock Jeep just wouldn't do. Lives are depending on the crew and their Rubicon on a daily basis. This JK is built to perform a specific task, and it's loaded with the goods to deliver. It's armor plated, lifted, and fitted with a winch and larger tires and rims. To punch through the winter weather and ice cold nights, it's outfitted with powerful auxiliary lighting. Knowing they'll be miles from any nearby civilization, they've installed two Yakima boxes on the roof to carry much needed supplies, not only for the crew inside the Jeep, but for rescued or injured people.
Quite the Team
Of course, they have other vehicles in their barn, and even a helicopter, which sees a lot of well deserved use. But for obvious reasons, we're fans of the Jeep. It's one good looking and functional machine.
North Shore Search and Rescue
is manned with around 40 volunteers, men and women. They perform an average of 90 rescues per year, and also help with local emergency programs an civil organizations. If you live in their area, get familiar with them. Support them as you can. And if you're the mountain and outdoors type, maybe volunteer. Either way, it's a worthwhile cause. Stay safe and we'll see you on the trails!