Have you ever wondered where you're supposed to put your Jeep side mirrors when the doors are off? Everyone knows space can be hard to come by on a Jeep, and that statement includes both the interior and exterior. So when it comes to where to place a side view mirror, well, the door seemed like a good idea at the time. But we're talking about Jeep here. Going doorless is a big thing to a Jeep driver. So where else can you hook up your ride with some great mirrors?
Relocating Side Mirrors on a Jeep JK Wrangler
Most JK Wranglers have doors usually from the factory. But we all know that trailing is a lot more fun with them off. Often times, that means the mirrors go with them. If that's the case, you might get a ticket, or worse, have an accident. But it's really easy to remedy that situation, and with some simple tools, you can have some spanking new mirrors on your Jeep in a flash.
Lange Originals
makes several kinds of universal mirrors that work on the left or right side of your JK Wrangler. You simply bolt the mirror into place, adjust it to your liking, and use a set screw to tighten it down. Boom, you're done. Now you're off to the mountains. Another way to have mirrors off the doors are relocation brackets. These types of brackets allow you to install (mount) the mirrors in a different location, but reuse stock bolt holes (and often the stock mirrors). For instance, the
Rugged Ridge Mirror Relocation Brackets
( Part 11025.04 ) uses existing holes on the windshield frame (also known as the "A" pillar). While these are primarily designed to be used with your doors off, you can leave them in place, even when you slip the doors back on. Another benefit is that you're using your factory mirrors, so there's no new mirrors you need to buy. Just the relocation brackets. The pair also includes nice filler plates to pop in the hole left in old location on the door. Note that
MOPAR
makes a mirror relocation bracket kit (Part 102504RR-M) as well as
Crown
(Part 102504RR) for your JK Wranglers. Or-Fab makes a set for JKs, in Wrinkle Black (Part 87025). Made from 10 gauge steel, they have a unique design and look to them.
---
Where to Mount Side Mirrors on Other Jeep Models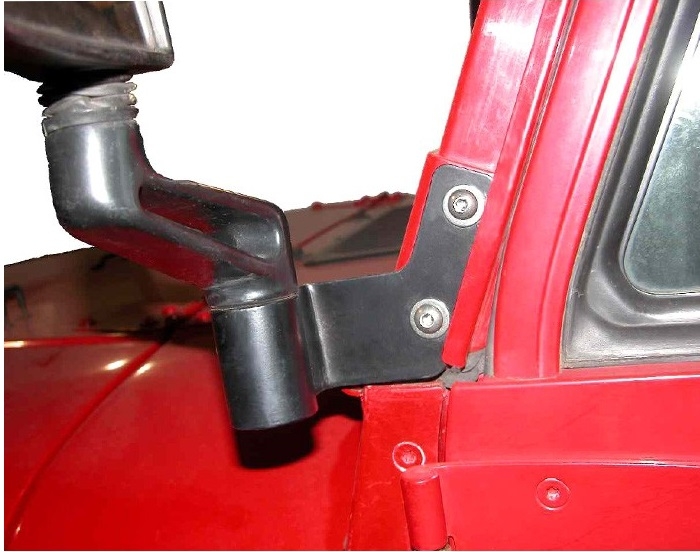 If you have a TJ, YJ, or even a CJ series, you can relocate the mirrors much like a JK. In fact, the
Lange Originals mirrors
work on the TJs very well. (Part LA-025-692). One mirror will mount on either driver or passenger side. These bolt up to the existing windshield hinge mounts. These are black, but they're also available in polished aluminum (
Part LA-023-693).
Some other options for mounting mirrors on doorless Jeeps are from Rugged Ridge, like their
Quick Release Relocation Mirror Kit
, made from Stainless Steel (Part 11026.11). The mirror has a quick release feature, that by turning a knob with your hand, you can loosen the mirror head, and take it off in seconds (in case you're in some heavy brush or severe trailing where they might not be needed, or where they might get damaged). If you're rocking a TJ, check out
Skid Row Offroad's mirror location brackets
Part SR-JP-0013. You can reuse your original mirrors, which saves you some cash and hassle. It also has a quick release feature to remove them for heavy trailing. We dig the signature logo in the tough steel plates, and it looks good from every angle. Warrior Products makes a
set of brackets for TJs
, Part WAR1500, as well as
Kentrol
, (Part 30542). Another one for the YJ owners,
Kentrol makes a Stainless pair
, (Part 30533). These relocate your mirrors to the windshield hinge as well. There's not much in the way of relocating mirrors for a CJ because many of those never even had doors. But some of these kits (like the Lange Originals) can be used to mount your mirrors on the windshield frame. We carry so many different mirror brackets and setup, we can't list them all here. So here's some short cut links to get to where you can see all the great mirror options:
Read More:
Have you relocated your mirrors before?