Jeep Spare Tire Accessories
We've been focusing on the back of your Jeep for a bit now, mainly because it's one the few places that you can do so much with. That's where the tailgate is, so if you're camping, cooking, fishing, or just grabbing some gear, the back of your Jeep is gonna to be a busy place. With storage space at a premium, especially inside, the spare tire ends up living on the back of your Jeep. That's nothing new. The 1940's MB and Willys Jeeps had a spare on the back. (usually on the passenger rear side to offset the weight of the driver).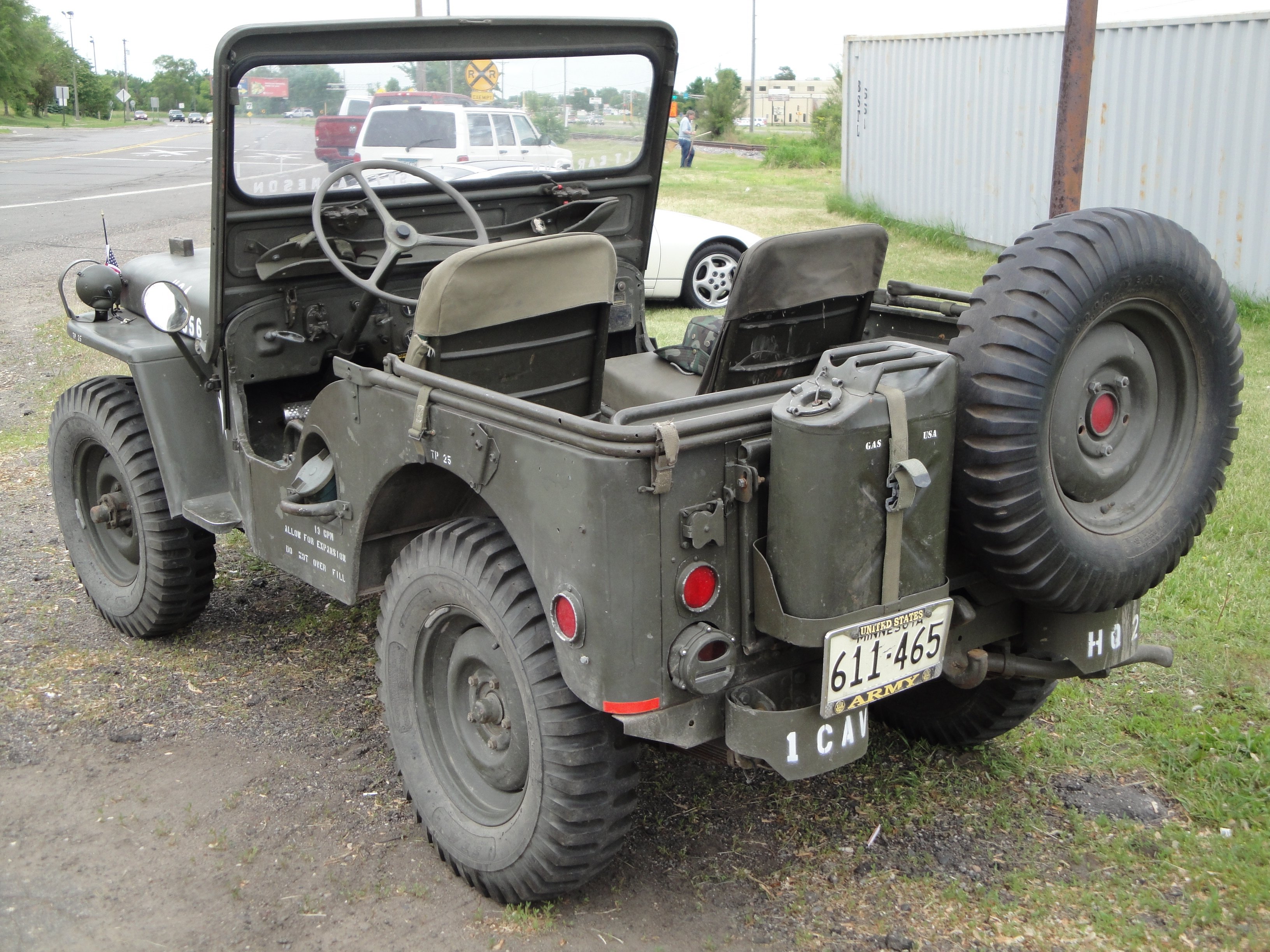 We realize some Jeepers don't carry a spare. That's fine in the city. Where a tow truck or gas station is on every corner. But once on the trail, out of cell phone range, when your new best friend goes by the name of "Sasquatch", you could be in trouble. You know, the kind of trouble even duct tape can't get you out of. But this doesn't apply to you. You're a true off road Jeeper. You've embraced the spare tire. The tire and you have become one. You wear a spare on the back of your Jeep with pride and off road honor. So for you - we've got some accessories you'll be interested in to deck out your Jeep and and get the most out of your machine. First up, we want to mention the
MBRP Spare Tire Reinforcement Kit
. These brackets are designed specifically to reinforce the rear door on your JK under the stress of a full size spare. The bracket is designed to take the concentrated leverage from the oversized spare bouncing around on the street or trail and spreads the load over a much larger surface adding strength and security. This will protect your tailgate door, but also give you more piece of mind when loading up the rear of your Jeep and any added stress.
Jeep Spare Tire Covers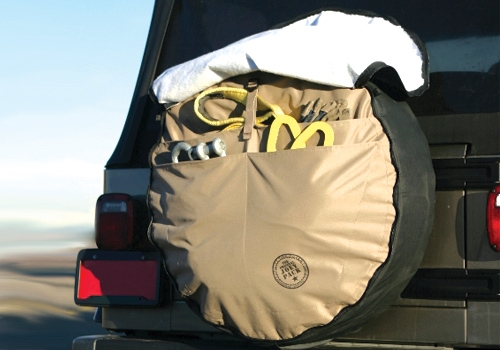 For instance, there's the
Joey Pack from Boomerang
. It's not just a tire cover. It more for utility use, and has three large compartments in it for more storage on your Jeep. It covers the tire, but makes use of the space on the inside of the rim/wheel. It's made from Heavy Duty, UV resistant vinyl materials, with a nylon inner lining. Store your out door stuff in it - muddy clothes, tow straps, or gator bait. It's up to you. Boomerang also makes some
rigid spare tire covers for Jeeps.
They install like a soft cover, but have a round ABS face plate, which stiffens the cover and helps it keep it's shape. Like other Boomerang products, these are made in the U.S.A. The American Flag design is a popular one we sell. Be sure and grab a
Bomerang Cable Lock
to secure your cover. Note that we carry many
spare tire covers
for Jeeps, and we think we have one that will go good with your Jeep style. There's a
Tiki Jeep one
, the
Adventure Starts Here MOPAR cover
, one that says
Rubicon 4x4
, a
Call-to-Duty cover
, and many that have a Jeep logo. Soft covers or hard covers, we carry them both for Jeeps.
Spare Tire Locks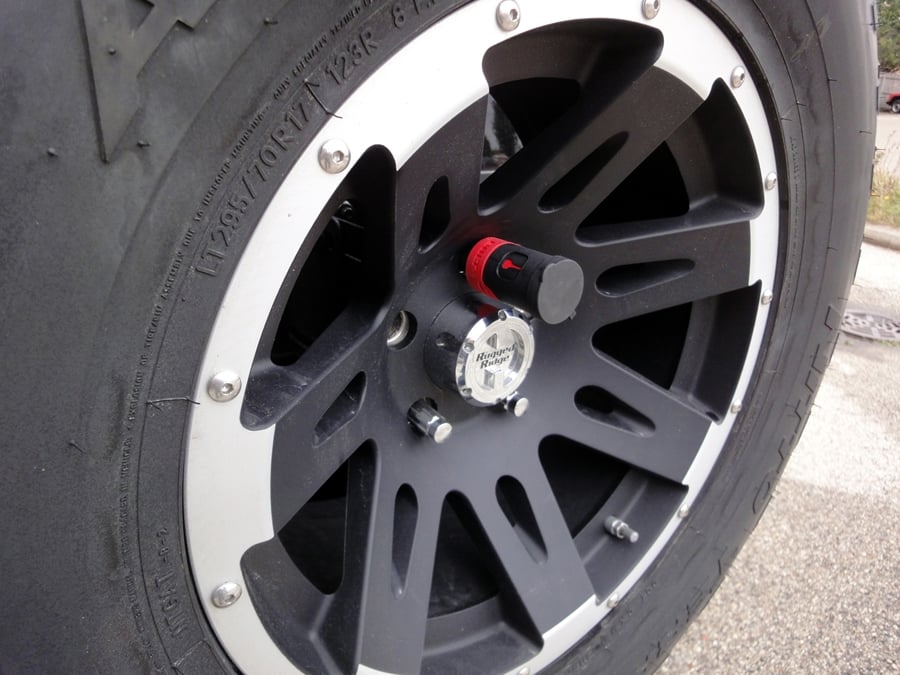 BOLT
makes a lock to secure your spare tire to the carrier and Jeep. The great thing about a
BOLT lock
is it uses your existing Jeep key! So you don't have to add an extra key to your ring. If you have your Jeep key, you can unlock your spare. If you run a larger than stock tire (though it works on stock tires as well),
Trimax offers a Spare Tire Cable Lock
. It runs around 36 inches long, so you have more room to loop it around and through a rim and a larger spare. The 12mm cable is also braided, making it extremely difficult to cut with a typical bolt cutter. It can lock right through the wheels lug stud hole for security.
Jeep Spare Tire Spacers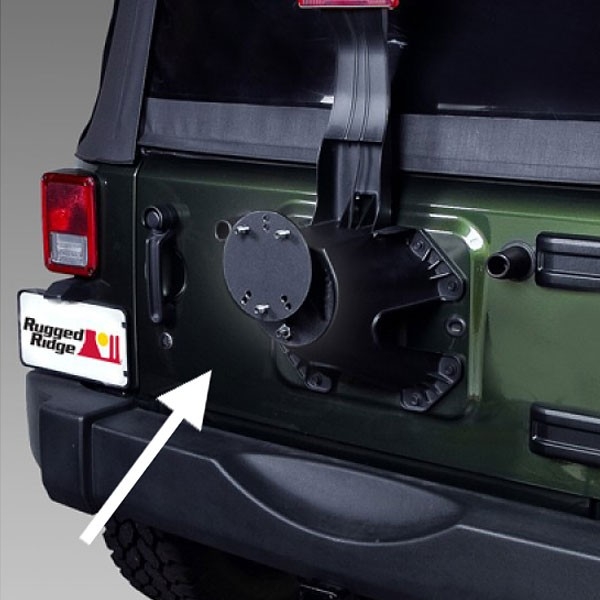 When running a larger tire, you need more room to mount it on the back of your Jeep. Meaning, where you bolt the actual rim to the bracket may not reach, because the wheel is deeper and the tire is wider. In cases like that, you need a
Warrior Tire Spacer.
This will bring the tire out and away from the tailgate (and the top if you have one) and allow for a bigger tire to be mounted. It's made from heavy duty steel and it's powder coated. Warrior makes these spacers for
CJ-series,
TJ and YJ Wranglers
, and even
JK Wranglers
. Other companies we carry make these type of spacers too, such as
Rugged Ridge
,
Rampage
, and Teraflex. If you need to clear the bumpers on a
JK Wrangler, Synergy makes a Spare Tire Relocation Bracket
. It mounts like a spare tire spacer, but offsets, or relocates the tire in a different position to clear the bumpers with larger tires.
Tire Carrier Linkage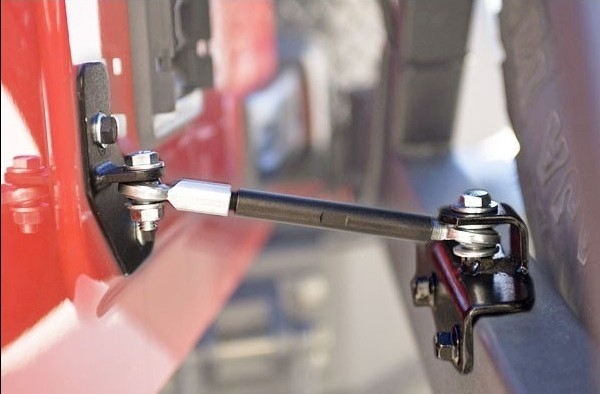 If you've mounted a swing out tire carrier, it can sometimes be a hassle to open the tailgate and wrestle with the tire carrier at the same time. But Rugged Ridge has cleverly found a way around that issue. The
Rugged Ridge Tire Carrier Linkage kit
attaches to two together - the tailgate and the carrier. That allows them both to open in one fluid motion, rather than a clumsy movement of juggling both.
Tire Carrier Mounts and Organizers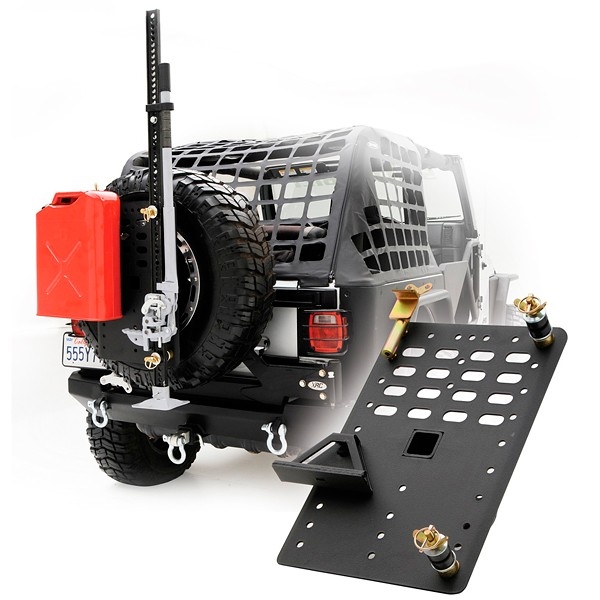 Looking to add more gear to the outside of your Jeep and free up some room inside? The
Smittybilt Intelligent Rack Mounting System
allows you to do just that. It includes mounts for Jerry Cans, but you can add a
HiLift Jack
, tools, bags, or just about any gear you can think of. Load it up! Made out of 1/16" steel, it's a versatile rack that attaches to your spare tire mount for strength.
Teraflex also makes an Accessory Mount for gear,
and will accept
RotopaX containers
and a HiLift Jack. This version fits the Teraflex hinged tire carriers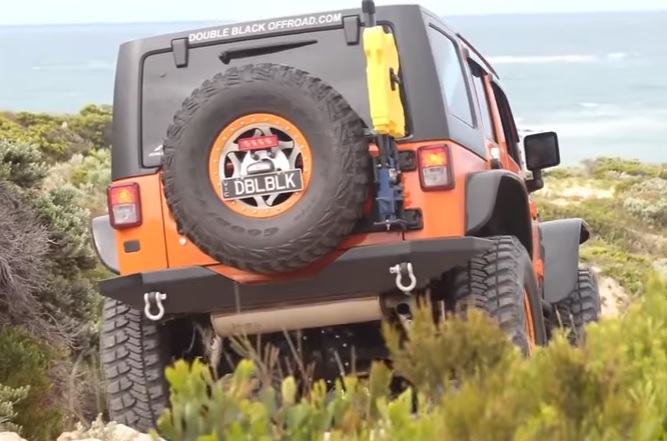 Spare Tire Storage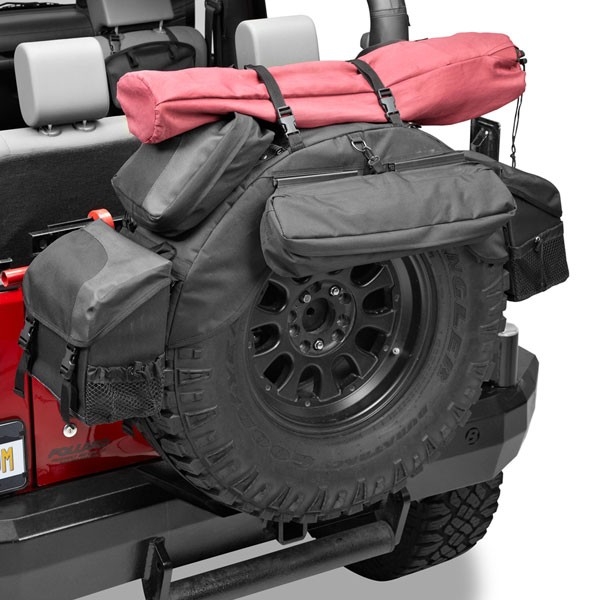 To add even more gear, and use of the space around the tire, you want to check out the
Bestop Rough Rider Spare Tire Organizer
. Made with Bestop high quality Soft Top fabrics, it's very tough and durable. The half cover adds straps and has individual pouches to keep things handy around the rear of your Jeep. (hmm, snacks?) If you have a tire carrier with a triangular frame (such as a RRC and a Classic Rock Crawler carrier),
Rugged Ridge makes a Triangular Recovery Bag
to fit exactly into that normally wasted space. It makes for a great place to store gear. It's made of weather resistant material and features a zipper flap.
License Relocation Plate on Spare Tire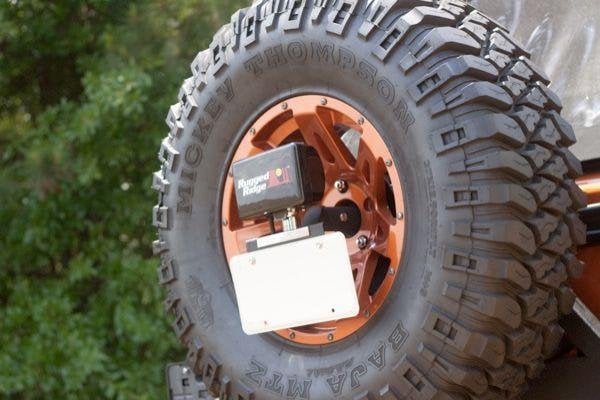 Tired of nearly ripping off your license plate? I mean, it's a Jeep, why is it mounted off to the side down low so it will catch on ever shrub, rock, and low lying tree limb? If you use a
JKS Spare Tire License Plate Mount Kit,
you can relocate your plate to the center of your spare tire. Out of harms way. It also gives your Jeep a cleaner look from the back, and makes use of that empty space in the center of your spare tire. It's a win all around!
Bike Racks for Jeeps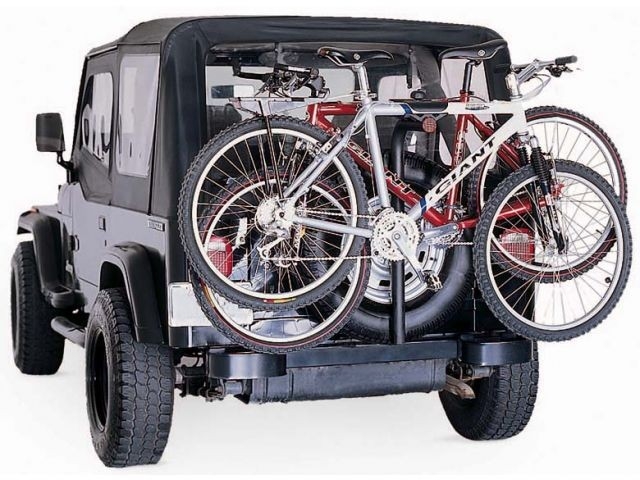 If you like to trek on mountain passes on your bike or follow a trail, you can easily attach your bikes to the back of your Jeep.
MOPAR offers a Thule Spare Tire Mount Bicycle Carrier
. In fact, the carrier allows you to carry two bicycles. Why throw them in the back of your Jeep inside, when you can hang them off the back? (Mopar also offers a
Thule Ski and Snowboard carrier
for northern folks). Another handy
bicycle rack is made by Rugged Ridge
, and it also hooks up to your spare tire carrier. It allows you to carry two bikes. Made of powder coated steel, the bike clamp features rubber pads to protect your bike. (you can lock your bikes up on this rack too).
Jeep Tire Carrier Racks for Gear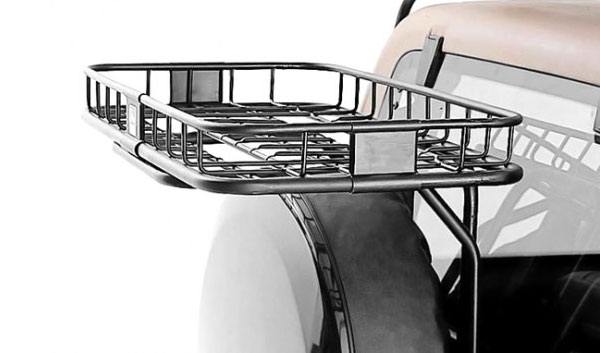 If you're driving a YJ or TJ Wrangler,
Rugged Ridge makes an Easy Load Trail Rack
. This will allows you to carry plenty of extra gear. Best of all, no drilling is required. It can hold up to 50 pounds. If you drive a CJ-series Jeep, you may want to look into the
Warrior Adventure Rack
. This also mounts above the spare, and even supports 200 lbs.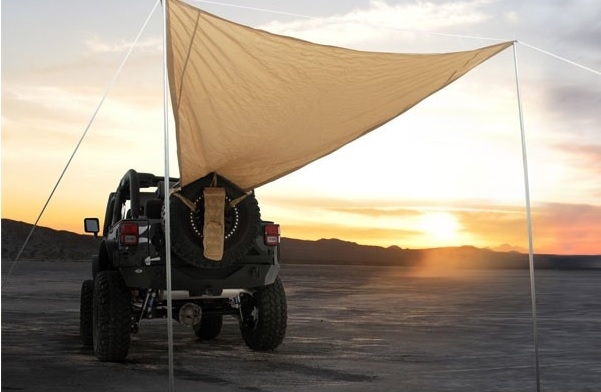 If you're going to be around the back of your Jeep, especially in desert or Southwest area, you might want to beat the heat by using the 
Smittybilt G.E.A.R.Trail Shade
.  Made of light weight materials, it can expand out to cover a 10' x 6' area. It also  includes a storage bag to stow on your Jeep when traveling, but can be set up in seconds. As you can tell, there's plenty of opportunities to advantage of the spare tire carrier and to add additional storage for more gear in the back. The more you can add outside your Jeep the better.
Follow Us!
Read More: