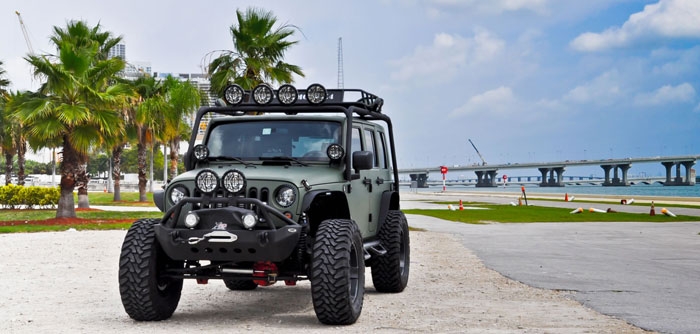 So we all know the most popular modification to make to any Jeep are Wheels, Tires, and Suspension Lift Kits, but what about after all that? Simple bolt-on's and accents can really turn a Jeep into a work of off-road art and can also give your Jeep its own personality. Not everyone will agree with the same mods, but that is a beautiful part of the Jeep culture and owning a Jeep. We all have our own style. So we listed some simple aesthetically pleasing, yet functional modification you can add on to your Jeep to give it some extra flare and personality.
Wrangler Lights And Lighting Accessories
I've never heard anyone say "I have too many lights on my Jeep."  Front bumper lights, rear bumper lights, interior lights, HID lights, halo lights, and light bars; there is no such thing as too many lights on an off-road vehicle!
Click Here To View Lights And Lighting Accessories
Morris 4x4 Center Exclusive Hi-Lift Package
Let everyone know you got a hand on any situations requiring lifting or winching with a Morris 4x4 Center Exclusive Hi-Lift Package! The Hi-Lift Jack is a rugged, highly versatile jack that is made with a two-piece handle and socket design, built for extended life. This exclusive package comes with a Hi-Lift Jack, Jerry Can, mounted on an Intelligent Rack Mounting System.
Click Here To View Exclusive Hi-Lift Package
Wrangler Mud Flaps
An easy and simple mod, Mud flaps can give mostly any jeep an over all tougher and rugged look. Mud Flaps create a barrier against road hazards like rocks, gravel, and excessive mud.
Click Here To View Mud Flaps
Wrangler Corner Plates
These corners
have a material thickness of 1/8", and not only provide structural support to the corner of the chassis, but also enhances the appearance of the vehicle too. Morris 4x4 Center has corner plates for all types of Jeeps like CJ, YJ, TJ, and JK. Easy installation, corners have pre-cut holes for the gas tank and tail light openings and are available in four exterior finishes.