There are quite a few ways to upgrade your tail lights on a Jeep. Some reasons are aesthetic based, but many steer more towards a practical application. Especially if you drive an older Jeep, or go off-road frequently. Sometimes it's a combination of both. Tail light covers are very popular, not just because they 're made in dozens of different designs, but they protect your fragile, and often expensive taillight lenses.
Protective Tail Light Covers are Stylish and Functional
Lighting is a big part of a Jeep's life. Primarily for safety, since going off-road has it's own set of criteria, and watching out for dangerous obstacles, from road debris, to wild animals, even other Jeeps, is a big deal. That's one of the reasons at Morris 4x4 Center we carry one of the largest selections of
Jeep lighting products
there is. So protecting those lights, even the rear tail lights, is important. But don't worry, we've got you covered. Check out some of these! If you're running a JK Wrangler, a popular set are the
Jeep Tweaks Cross Axle Tail Guards
. They're available in black, have a nice diamond plate texture to them, and who can resist the Jeep silhouette? (Actually, you can flip these over and the other side has a smooth finish - if you're not into diamond-plate).
Jeep Tweaks has several options for Taillight Covers
, and all that would look great on any Jeep.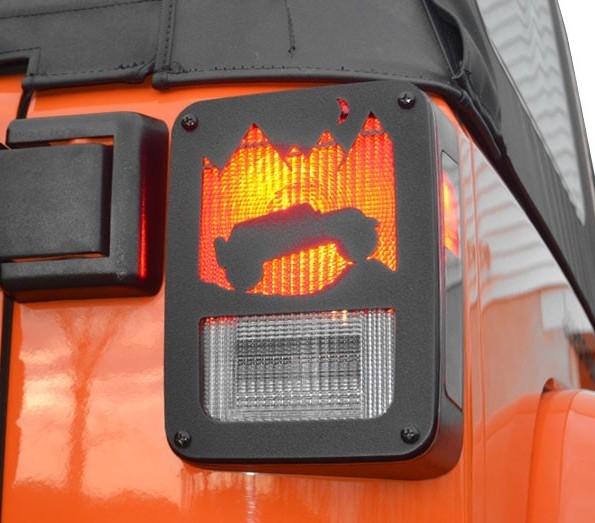 Rampage Taillight Guards
are like mini roll cages. Protecting your taillights, but still allowing plenty of visibility when the lights come on. They have a bit of Euro style to them too. These protect the side as well as the face of the light, and we like that feature. Another similar
Taillight Euro Guard set is made by Rugged Ridge
. These have a black finish to them so they will go with any color Jeep. Note the side protection they offer.
Check out all the Rugged Ridge products
to get your Jeep just the way you want it. If you want to go beyond just protection for the tail light, they make some body armor to cover the entire corner, which would protect the body as well.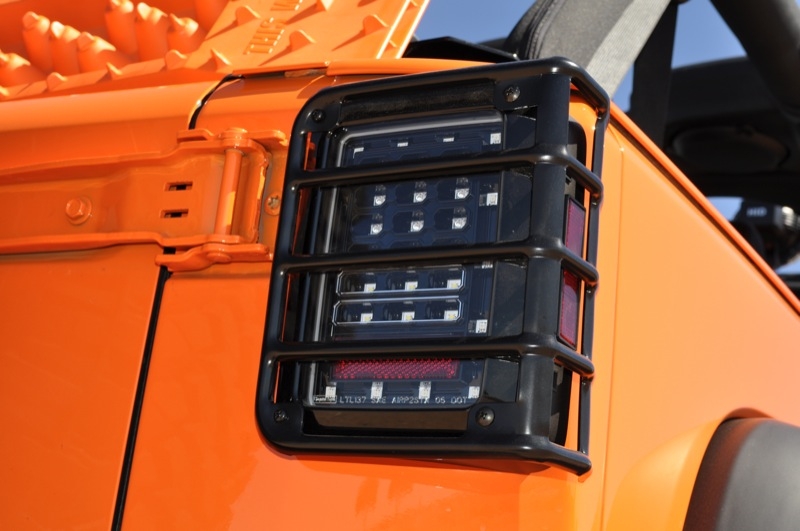 Kentrol makes a set of Taillight Guards
that are made from stainless steel, and have a black textured finish on them. The stainless steel makes them unlikely to see any rust, and should be quite durable in the long haul. We like the way these fit flush around the edge of the lens, giving it a tight, square look.
Real Wheels makes a set of Tail Light Armor
that is hard core protection from debris and branches. It covers most of the light in it's own armor shield, keeping the lens from catching on something or sustaining any damage. These are made from black powder coated steel.
Body Armor offers a Flat Design Tail Light Guard
. With a black powder coated finish, and rounded edges, it not only looks more modern, it offers good protection for the lens and housing.
Check out all the Body Armor products
to get in top shape for the hills and trails. If you're wheelin' an older Jeep,
Crown makes a set of Euro style Tail Light Guards
. Powder coated in black, they have some beefy brackets to secure the covers well, and some large cross bars to keep those big objects far away from your pristine lenses.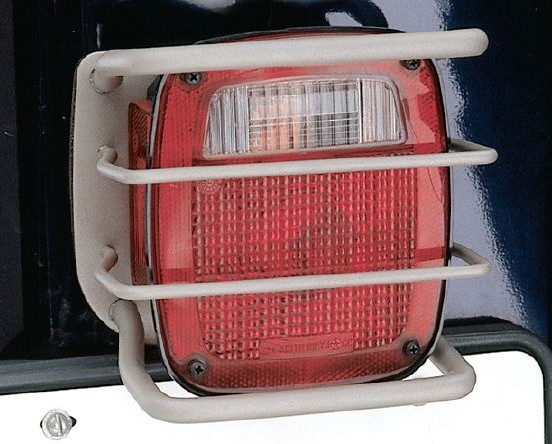 Rampage offers a Euro style Tail light Guard set with a Titanium finish
. They're still tough enough to keep your lenses safe from big debris, they just have a lighter and more metallic look to them. Rampage is no stranger to lighting products. They make
protection guards for the front headlights, as well as offering Driving Lights
. If you're looking for some
stainless steel Tail light Covers for your Classic Jeep, RT Off Road makes a set
. These covers offer rear and side protection. They encompass the whole tail light assembly in it's own little safety cage. For a one of a kind design,
Ventshade offers some nice slotted Tail Light Covers
. Made from tough ABS materials, they perform and look good at the same time. Another great feature about these is they can be painted to match your Jeep's color. If you're rockin' some chrome on your Jeep,
Rugged Ridge makes a set of Tail light Guards that are chrome plated
. These will look especially good if you have a chrome grille , helping to make the rear better match the front. They fit more flush than most covers, but still look good at any distance. (If you want to go with nearly 100% protection,
Rugged Ridge makes Tail light Blackout Covers
that cover the entire light. While probably more for cosmetic looks, they do cover the entire lens). Still looking for more accessories? Drop by the Drake Off-road collection and see all they have to offer for your Jeep.
Their JK Wrangler Tail Lamp Guards are especially popular and a unique design.
 Made from stainless steel, and available in black or a polished finish, you can't go wrong with either one.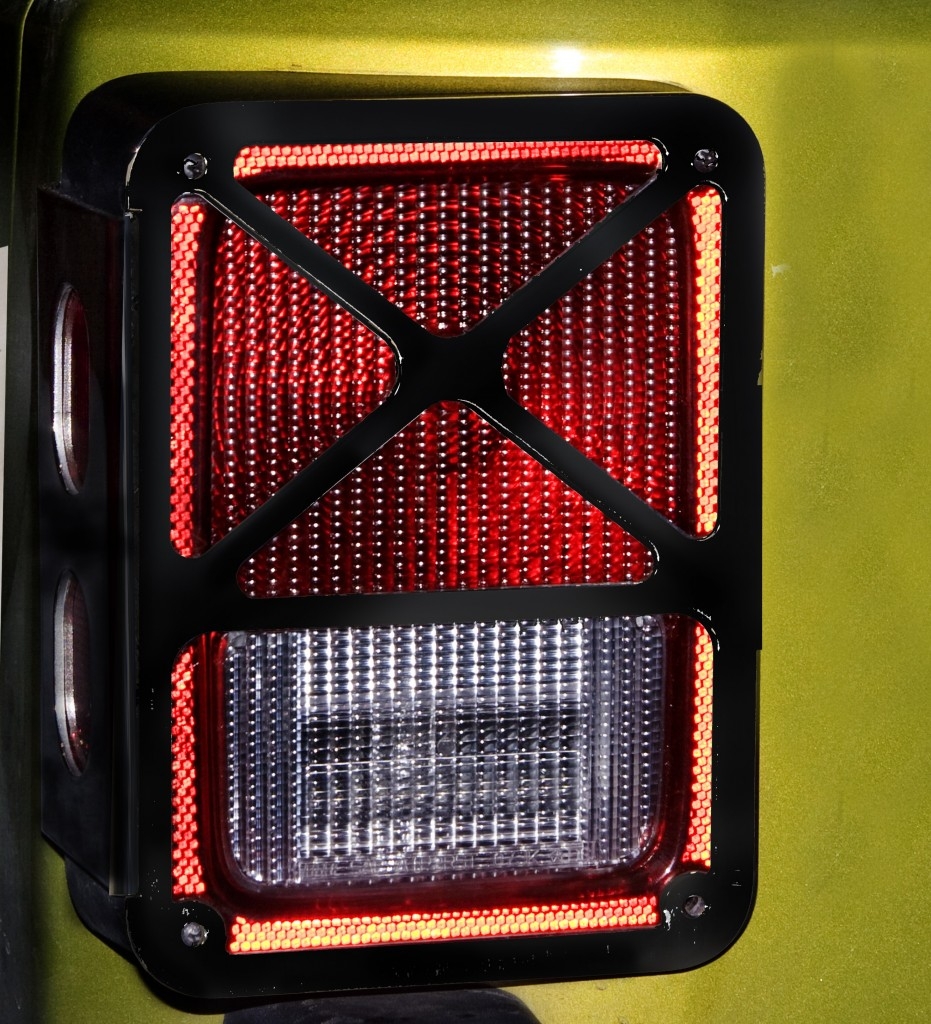 Also, just to mention it, if you want to mount extra backup lighting to the rear,
Rigid Industries makes a handy bracket kit to mount a light just on top of your tail light
. You get to choose the light you want to use, but the bracket is designed to make the mounting of a light as painless as possible. And it looks good too. These are just some of the Tail Light Covers we carry. One great thing is you can hook your Jeep up with these items for only a few dollars,
and most attach with nothing more than a screwdriver.
In mere minutes you can upgrade your Jeep, and get those lenses properly protected from rough trailing. Why bust your lenses and spend money when you don't have to? Protect them!
Follow Us!
Read More: