Because space on a Jeep can be so rare, tailgate accessories can really help to create space for more gear. The type of gear you need to get lost, to go for the mountains, to get to that far away fishing spot no one knows about except you. Camping, hunting, fishing - you've got stuff to do, and gear to pack. Because room is at such a premium, there are some useful items you can add to your Jeep, especially to the tailgate. Granted, some are more accessories than space savers, but there's plenty of action back there, and you might as well take advantage of it. First of all, let's make sure your tailgate is up to the task. We carry new tailgates for various Jeeps. Brands such as OMIX, who make new tailgates for the
CJ5
,
CJ7 and CJ8 Scramblers
. They also do one for the Jeep Wrangler TJ and the mighty YJ models. Hey, we even carry a 
MOPAR Tailgate for your JK Wrangler
here at Morris 4x4 Center. So there's no excuse to run a missing, beat up, ragged tailgate. If you're not into the stock look, we carry
Poison Spyder's Aluminum Trailgate Kit
. This is a custom, lightweight tailgate that folds down instead of out sideways, like a pickup truck, making it more useful when living the outdoor Jeep life.
Jeep Tailgate Accessories That Pull Weight
A popular move for Jeep fans is to remove the rear spare tire. We know, that's a good campfire argument right there. To ditch the spare or keep it. We see two sides to the story. One: you have a spare so you're ready at all times. Two: you gamble one of your friends will have a spare with the correct bolt pattern, offset, and size so it bolts up to your Jeep and gets you home. Hey, either way, if you run without the spare hanging off the back, then you want to freshen up your tailgate with a Tramp Stamp.
Vent Plate Covers for your Tailgate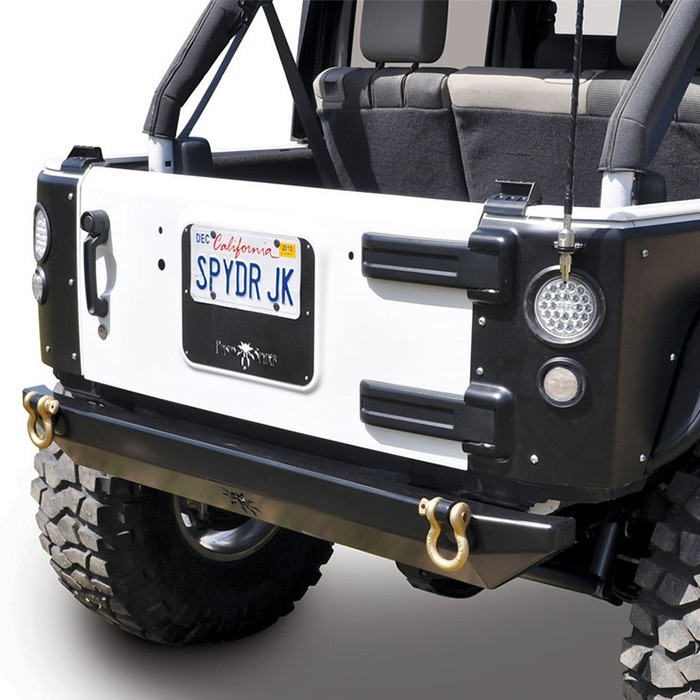 A
Poison Spyder Tramp Stamp
  covers up the odd shape and vent in the middle of your tailgate. Most covers allow you to put that wasted space to better use. For instance, the Poison Spyder cover allows you to position your license plate to the middle of your Jeep's tailgate. This makes it better looking, and more pleasing to the eye. It also moves the license plate off the fender - you know, where it usually gets ripped off or mangled when you trail. Note that we carry dozens of tailgate covers (by companies such as in Or-Fab,
Rancho
, and
Warrior
) in different styles, different finishes, and most are more than just a cosmetic piece. (This
River Raider Champ Stamp with the skull detail is pretty popular!
).
Tailgate Armor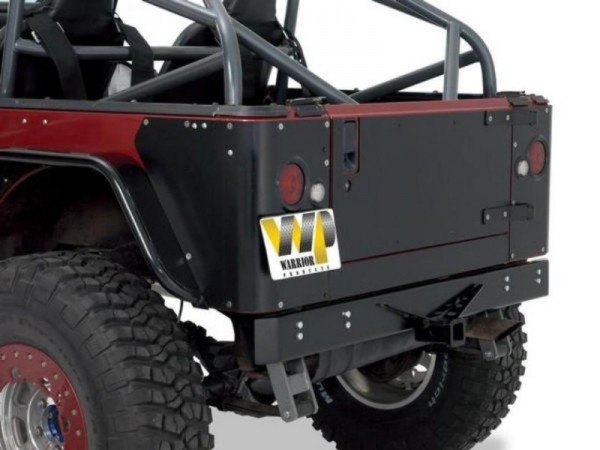 If you want to add a cover, but further enhance your Jeep's protection, you can hook up with one of
Warrior's Black Diamond Plate Tailgate Covers
. That's right, bang on that tailgate all you want while trailing. It's made to take some abuse. Warrior makes slightly different covers, but all offer good protection, in a variety of finishes, such as Black and Polished Aluminum. The Warrior Tailgate Covers are also available in a smooth flat finish, like the ones for the
TJs, part WARS909D
. Often times, depending on the model Jeep, they will cover the entire tailgate,
like on a YJ Jeep
, or on the JK models (or
Wrangler TJL
) , they will have a hole for a rear vent hole. Not to be left out, Warrior also makes a tailgate cover for the
CJ-Series
.  These are very popular accessories because they not only look good, they're practical.  Added protection for the body is always a bonus on a Jeep while trailing.
Tailgate Storage Solutions.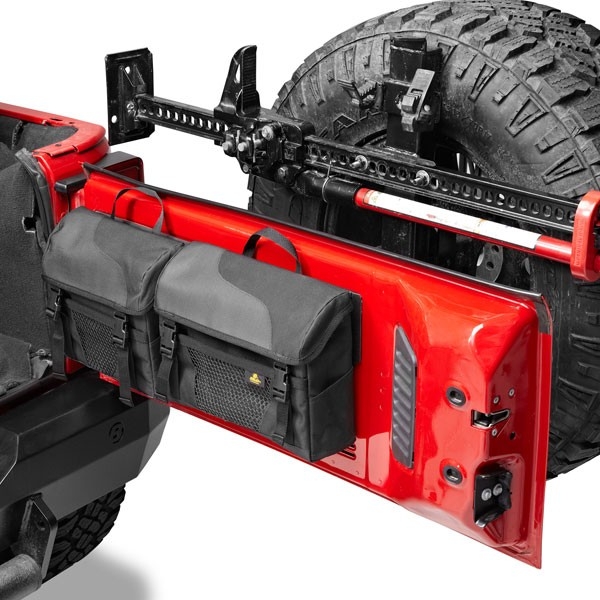 Now we're talking. When you're out camping or fishing, just opening the tailgate is going to happen, so why not pack that puppy with as much handy gear as you can? Let's make it easy and count the ways, my friend.
Bestop makes a RoughRider Tailgate Organizer
. Made with UV resistant materials with marine grade thread, they're made to be outdoors. Two handy pouches keep items within easy reach (one of the bags is slightly larger than the other). Each bag has another mesh pocket on the outside front, and the rear mount has a longer mesh organizer. Simple, yet effective.
Smittybilt also offers an alternative G.E.A.R Tailgate Cover with storage
. This system includes two PAL/MOLLE interchangeable storage pouches. They're made from tough 600 Denier Polyester materials. (they're also available in black, tan, olive and green).
Hydraulic (Gas Strut) Kits for Jeep Tailgates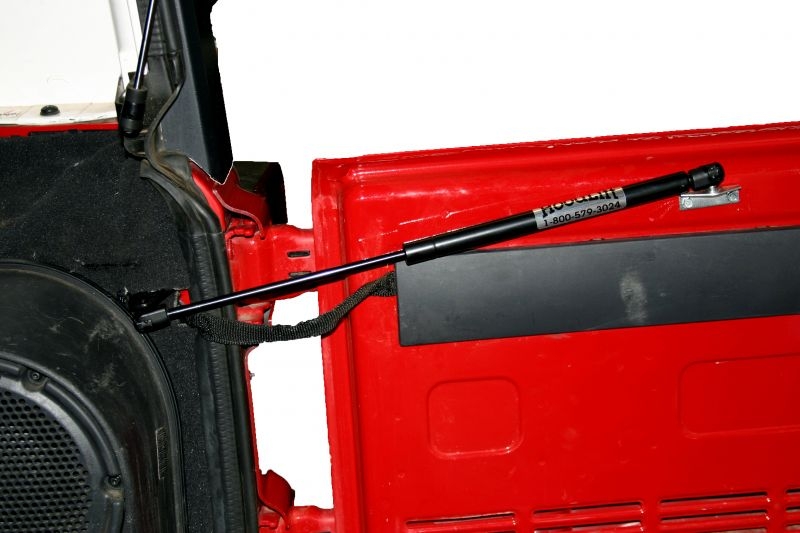 The tailgate on a Jeep Wrangler swings out, rather than down like a traditional pickup truck. It's more of a door when you think about it. One issue is keeping that door open, especially when you're trying to load and unload the back of your Jeep. It can be downright inconvenient. Luckily, a good option is to use a
Rugged Ridge Hydraulic Tailgate Assist Kit
. This kit allows you to mount a gas strut to not only help the tailgate open in one fluid motion, but keeps it open till you decide it's time to close it. Loading your Jeep hands free? Now that's what I'm talking about! Not the one-hand-holds-the-tailgate while the other hands shoves the stuff in. Come to think of it, this makes shopping at the Bait & Tackle shop an all new experience. By the way,
Hoodlift also makes a gas strut kit for the older Jeep TJ and YJ models.
It's definitely time to upgrade your tailgate now. Trust me, you've been fighting that tailgate far too long. Show it who's boss!
Jeep Tailgate Tables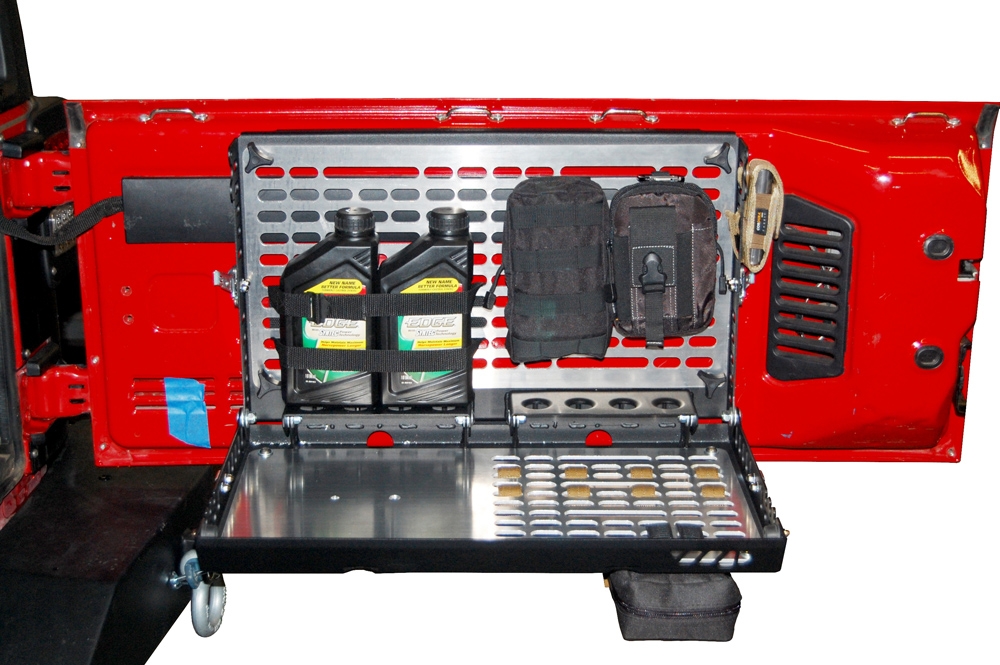 Warrior makes a handy Tailgate Table
that has added storage (can't have enough storage on a Jeep, right?). This one also folds up out of the way when not in use. It can even be locked, and is made from aluminum, with a powder coated steel frame. The holes provide breathing, but also allow for you to hook (hang) objects on it. This handy Warrior product (image above) features interchangeable and fully customizable panels too. Ready to work that tailgate even more? If you fish or work out of your Jeep a lot, you want to check out the
Rock Slide Engineering Tailgate Table
. Made from 12-gauge aluminum with riveted hinges, it's tough, easy to clean, and folds up nicely when not in use. Once installed, you'll wonder how you got along all those years without it.
Jeep Tailgate Hinges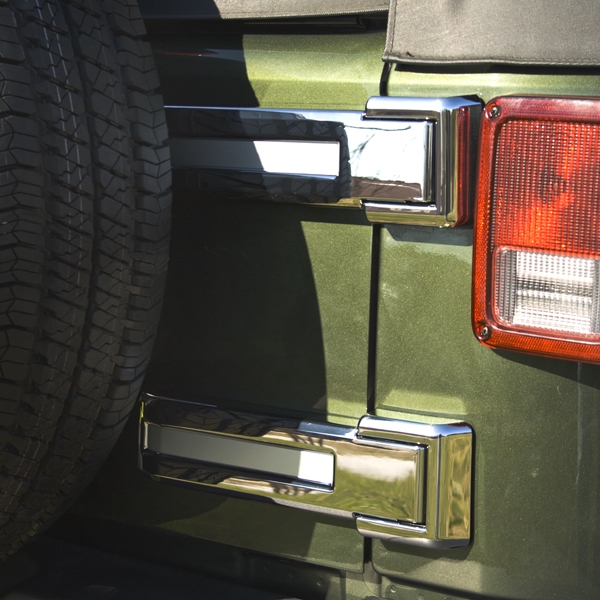 The hinges on a tailgate get a lot of use and abuse. But you can update those hinges not only with new ones, but different styles and designs. If you want to go for the black-out look, you can go for some Kentrol hinges, like this steel set for a
JK Wrangler
. They also make sets for the
YJ Jeeps, like these stainless steel ones
, or your
TJ Wrangler
that's just itching for an upgrade. Looking for something, well, maybe a bit brighter? How about some Kentrol stainless steel hinges for your
Wrangler TJ
. Or
spot a set for your JK Wrangler
and get that tailgate looking even better. We carry hinges in several other brands, including
MOPAR
,
Rugged Ridge
,
RT Offroad
,  
Smittybilt
, and others. So there are plenty of versions to get your  tailgate operating smoothly and up to par.
RotopaX Universal Mounting Plate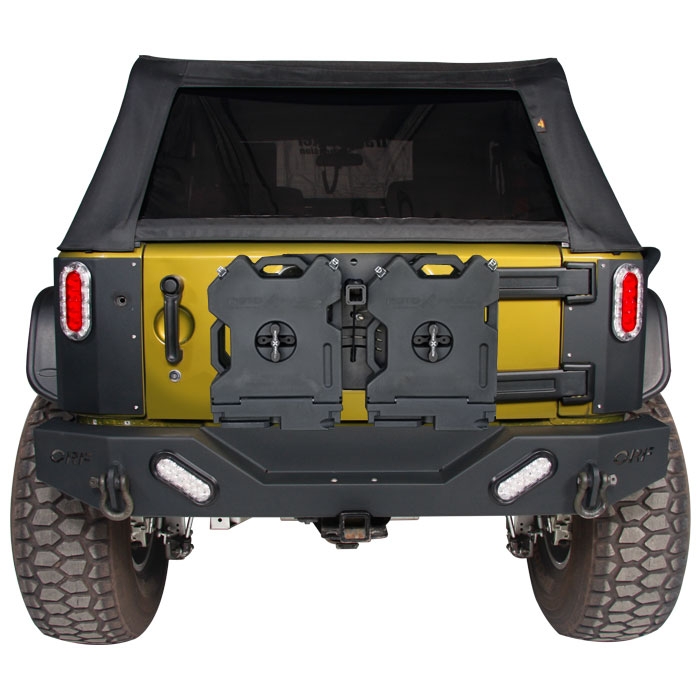 The
RotopaX Universal Mounting Plate
is designed to mount to your rear spare tire if you use one. But Jeepers have been adapting for other uses, and on Jeeps without a spare, they sometimes mount them right to the tailgate. While you may not be carrying fuel on your Jeep, the RotopaX mount uses the
RotopaX containers that hold water,
or a similar fluid. So if you trail in the southwest where water is hard to come by, the plate makes an easy way to carry two portable containers on the back of your Jeep. Those are some of the highlights of how you can upgrade your tailgate, and even get more use out it. Note that we carry the
parts
to keep your tailgate functioning well for many years. Including tailgate hinges, seals, tailgate cables, striker pins, tailgate bars, latches, weatherstrips, lock cylinders, and almost any other part to keep your Jeep in top condition.
What would be the first thing you would upgrade on your tailgate?
Follow Us!
Read More: