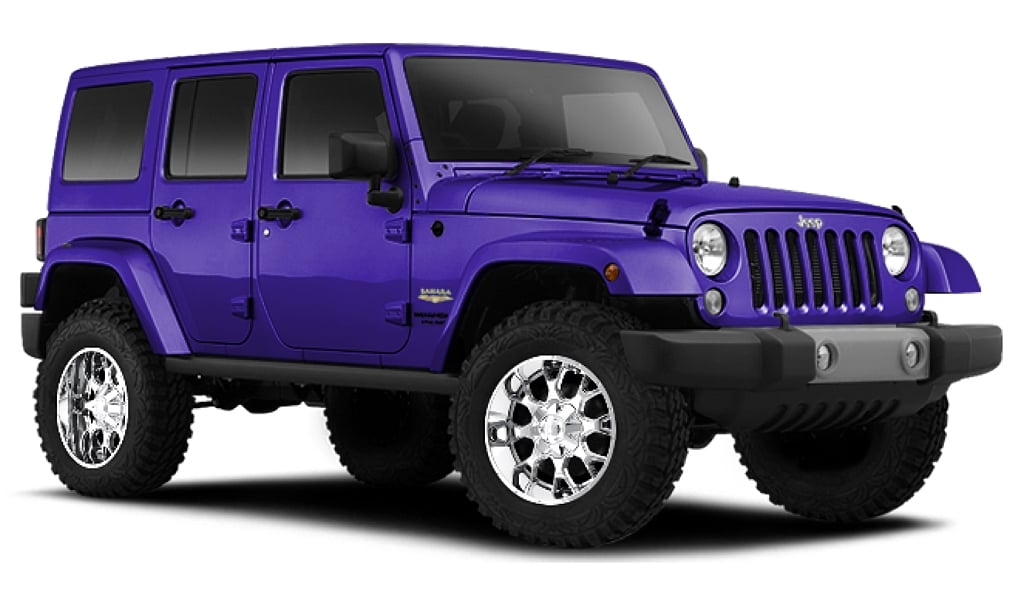 Jeep colors. With the long history of the Jeep, over 70+ years, you can bet just about every shade and hue has been taken at one time or another. Olive Drab? Always. Wedgewood Blue? Yep. Firecraker Red? Absolutely Gecko Green? Popular. Crush? Can't miss it. Xtreme Purple? ............  say what ????
Jeep introduces new color "Xtreme Purple"
Brace yourselves, because Jeep will be producing a limited 2016
Wrangler Backcountry
edition. In an all new color, dubbed, "Xtreme Purple". If you want to see an example before 2016, Jeep will have one on display at the
Los Angeles Auto Show
. Traditionally, Jeeps are most common today in basic colors, such as Black and White. The second tier of color choices by owners tends to lean more towards more outdoor shades, such as browns, greens and desert shades. But there are those who want more pop, more pizzaz on their Jeep, and they usually choose a bright color to make their statement. In the past,
say the CJ-series years
, you could get some interesting colors,
but an optional stripe package
often brought the colors up to an eye searing level that hasn't really been touched on since then.
1970's flashback on Jeep colors
Maybe this is a 1970's  flashback stage at Chrysler. The next thing you know, they might be painting Jeeps in their Dodge shades of Panther Pink, Green Go, Detonator Yellow, Hemi Orange, or Plum Crazy Purple. While the Polar Edition Wrangler received a deep Metallic Blue, and the Gecko color is still a popular choice for some today, this all new Xtreme Purple may take the electric look to an all new level. But it will only be available on one Jeep model, the 2016 Wrangler Backcountry. So if you take a liking to this color, you may want to pre-order yours ASAP. PS. One thing we don't care for are the black wheels. There is so much more you can with this color. We suggest a set of 
Moto Metal Series 962 Chrome wheels to go with that ride. We would probably bolt up a set of Westin Signature Series 3" Round Nerf Step Bars as well.
How would you accessorize this new color?