Jeep Buyers Check List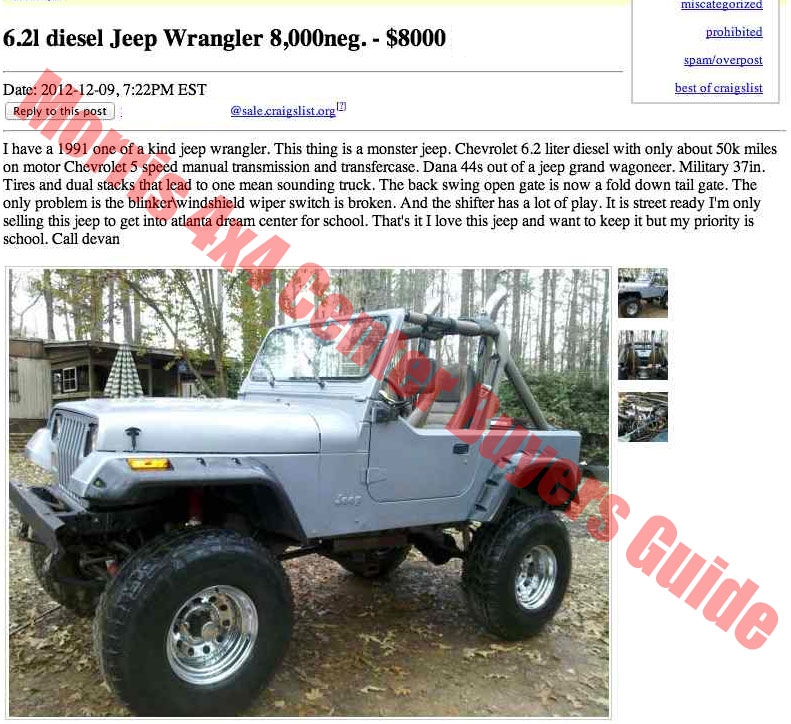 Looking over a used pre-owned Jeep to see if its worth your time can be time consuming in itself. Checking to see if the Jeep has been abused or well maintained is part of the purchasing process. It's best to have a mechanic check over it first before buying, but most of us don't have that luxury. To help we developed a simple check list for you to look over a Jeep Wrangler and help you get the best deal you can!
What to Check Before Purchasing A Jeep Wrangler!  (Print Out Buyers Guide)
Engine
•Cracked exhaust manifolds
•High idle from possible vacuum leak
•Plugged or rattling catalytic converters (You will be able to hear it, When playing with the throttle)
•Leaky plastic-tank radiators (The leaks can be so small, make sure to check after test drive)
•Oil leaks at the rear main seal or harmonic balancer
•Any excessive ticking from valve train or knocking from the bottom end when running. (Walk away if knocking or maybe adjust the pricing)
•Dented or crushed oil pan or exhaust components (Typical if it's been off road)
Transmissions
•Fluid level and condition if automatic (want fluid to be red/pink)
•Clutch fluid reservoir level and condition if manual
•Leaking fluid(Check after test drive)
•Bashed skid-plate, abrasions, or cracks on bell-housing or transfer case
•Wobbly or loose-feeling shifter
T-Case & Axles
•T-case slip yoke output seal leaking
•T-case linkage shifts smoothly and without binding
•Leaking at axle tube ends, pinion seals, diff covers
•Smashed front diff cover
•Peeled back rear diff cover
•Any excessive slop or play from the rear axle (especially Dana 35 models)
Suspension
& Steering
•Bent, broken, damaged control arms
•Worn, sloppy bushings (look for cracks in the bushing as well)
•Movement or slop at the track bar when turning the wheel
•Clunking when driving
•Bent, broken, worn steering linkages
•If the Jeep has an aftermarket lift kit, make sure there aren't any parted out or missing pieces
Other
•A/C and HVAC works
•Top rips and zipper door/window functions
•Signs of water damage under carpet or rust on floorboards in early models (be sure you can live with the smell)
•If it comes with a soft top, make sure it seals. (get a hose and make it rain).