The life of a
Jeep YJ
might not be an easy one, but when it comes to offroading, they can still carry their own weight and then some. But like any type of Wrangler, space is at a minimum. So any way you can distribute that weight, whether it's on the top, behind, or the outside of your Jeep, that's a good thing. To be prepared for the trails, lugging around a spare tire, especially if it's an oversize behemoth, can be tricky. Storing the tire inside your Jeep is out of the question. You've got too much gear to store inside, and maybe a fellow Jeeper or two. Getting your spare on the outside of your YJ Jeep is the way to go. Let's look at some of the options.
Popular Spare Tire Carriers for YJ Jeeps
If you're running a Body Armor High Clearance Bumper (say, part
BATJ2994
), then you've got the basis for adding on their
Swing Arm Tire Carrier
. This carrier can hold up to a 37 inch tire. To support a larger tire like that, the pivot barrel is machined for two tapered wheel bearings that slide over a 42mm axle shaft. The pivot mounts to the bumper, not your "stock" tailgate hinges. Making it easy to operate, and easy to get to your tailgate. If you decide to add on some fuel cans or a trail jack, the carrier has pre-drilled mounting points. The carrier itself is lightweight, making it easy to install, and easy to operate.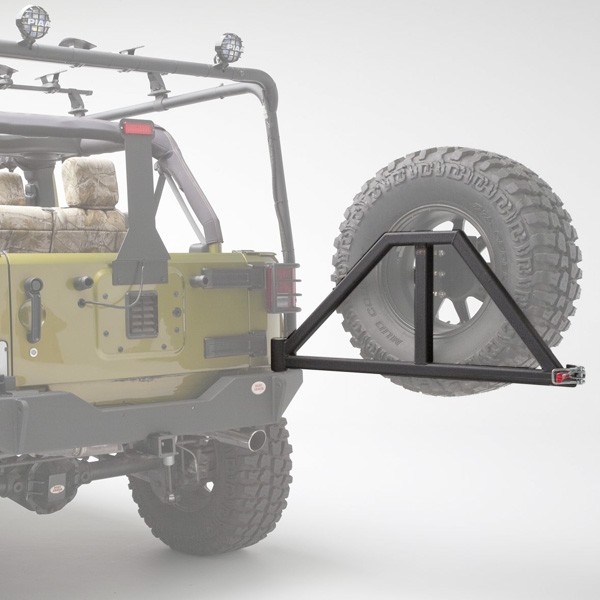 Or-Fab makes a few swing away spare tire carriers, some that allow you to mount two traditional
Jerry Can style fuel cans
. They use reinforcement plates to keep the carrier rock solid, strong, and without any rattles. They mount in place using the tailgate hinges. The carrier is designed to sit up high, giving you more ground clearance, and is normally compatible with whatever aftermarket bumper you may be running. Bestop always has some of the most ingenious ways for getting a product constructed, and their YJ Jeep Oversize Tire Carrier is no different. It's designed to distribute the weight of the carrier and tire to the strong points on your Jeep, such as the roll bar base and the vehicle's frame. So you don't put a lot of stress on the tailgate hinges, or stress on the tailgate sheet metal itself. The
Bestop Oversize Tire Carrier
also includes a third brake light that's taller to raise above the spare tire. The carrier swings open easily with the tailgate, so there's no extra latches to fiddle with or to unhook. Come'on, it's a Bestop, did you expect anything less? Looking for something simple to mount a larger tire? What you need is to get the tire further out from the tailgate. This is especially a problem if the wheel has a lot of deep offset. The
Rugged Ridge Heavy Duty Tire Carrier
can help. It effectively moves the spare tire out 2 inches from the position of your stock Jeep tire mount. Not only that, it's made from 1/4 inch steel plate material. It's not fancy, but it gets the job done. (
no drilling is required on this mount)
.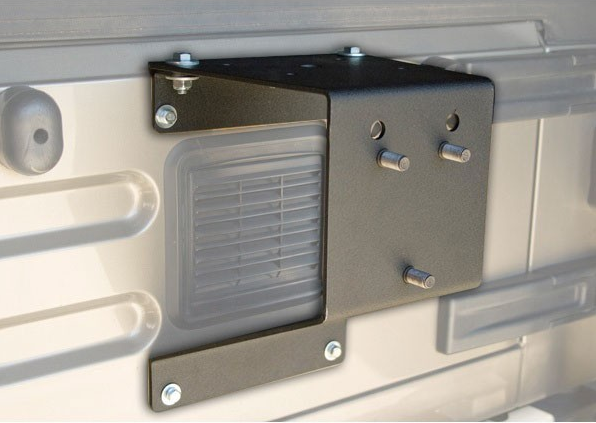 By the way, if you've got a
Smittybilt XRC rear bumper
, they make a spare tire carrier just for you. This
Smittybilt XRC Swing Away Carrier
is beefy and solid. The pivot is mounted to the bumper for a strong, easy swing motion. Giving you full access to your tailgate. The billet lever handle is easy to grab and operate and features a camlock. The tire mount is adjustable, and has a safety catch to keep the carrier open, even if you're on a slope. It's the perfect combo piece for your bumper. If you have a Warn Rock Crawler Bumper (specifically,
Warn part W65509
),
Warn offers a Spare Tire Carrier
that attaches to the bumper. It can handle a spare up to 36 inches, and is a swing away design. It pivots on a 1-1/2 shaft that's mounted to the bumper itself for a secure and smooth action movement. (
Note the pivot is welded for extra strength, rather than bolted
). For the YJ Jeep owners with the ARB Modular Bumper (part
ARB5650310
), there's the 
ARB Swing Away Spare Tire Carrier
that's designed to be light weight and simple to operate. The carrier mounts to the bumper for added support, but hooks to the tailgate door (via a connecting rod) to make the whole process easy to open and close. Made from tough Australian steel, this carrier can support up to a 37 inch tire. When you open the tailgate, the tire carrier swings open with it. Since the weight is regulated to the pivot rather than the door, it's easier to use.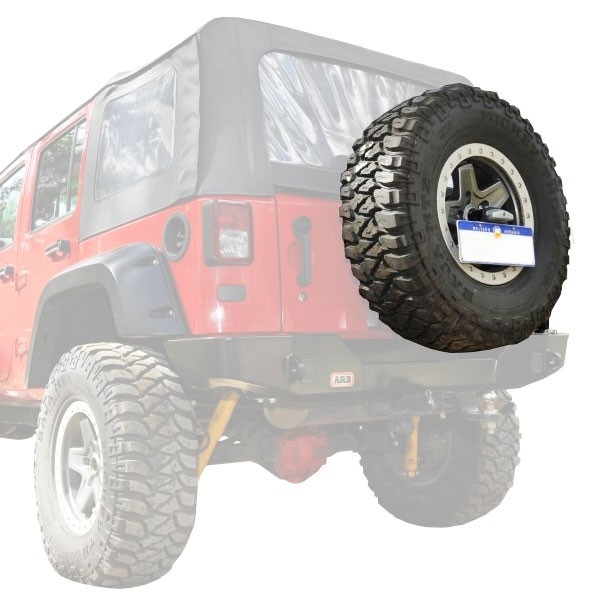 Even with the mighty YJ, there's plenty of options to get a larger spare on the back of your Jeep. Be ready to trail anywhere with a better and upgraded
YJ Spare Tire Carrier
. There's lots to choose from!
Share This Post!
Follow Us!