Kargo Master Congo Heavy Duty CJ and Jeep Wrangler Racks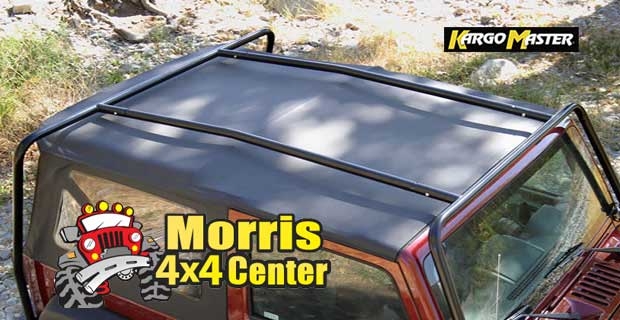 Kargo Master Heavy Duty Congo Jeep Racks are available at Morris 4x4 Center. These racks enable you to add and mount accessories such as Safari roof cages, lights and light cages, and other parts needed for off-roading and carrying gear. The "Congo Cage" design we carry is a rock solid 1.65" tubular steel structure that mounts over and around the Jeep's top. It attaches securely to the Jeep's windshield hinges and rear body panel. (without any drilling). The big advantage to this style rack is that it doesn't matter if your Jeep has a soft top,  hard top, or no top at all. The rack assembles and attaches around where the top would be, so you can still remove your top at any time if needed. Without removing the Kargo Master Congo rack.
Kargo Master products
are known for their durability and ruggedness. Here are a few more reasons to go withe the Kargo Master Congo:
Big 1.625" Diameter x .083" Steel Tube -  The Strongest Available
500 Lb. Cargo Capacity
No Drill Installation
Nationwide Lifetime Frame Warranty
Clean 4" Swaged Joints Double Tube Thickness At Stress Points
Zinc Epoxy Primed Beneath a Marine Grade Powder Coat Finish
Yellow Zinc Plated Grade 5 Fasteners For Added Strength And Corrosion Resistance
Unique front and rear mount brackets attach using use existing windshield hinge and tail light holes
Jeep rack removes easily with 4 bolts
Hinged rear brackets allow installation/removal of Jeep hard or soft top without removing Jeep rack
Unique indented top rails reduce overall vehicle height and make it easier to load/unload cargo
Accessory brackets available to mount our Jeep Rack Utility Crossbars or Yakima Crossbars
This is a well thought out and engineered product. So go ahead, pile your stuff on. Surfboards, tools, coolers, camping gear, kayaks, bicycles, the spare tire, the Kargo Master Congo rack can take it. If you don't already have a
basket, we carry those in several brands
, including Kargo Master's Safari line. We also carry the different brackets to attach your choice of accessories. With the cage in place, even if your Jeep didn't come with a stock basket, now you can install the cargo basket that best suits you and your trailing needs. Note that some cargo basket manufacturers have baskets that only bolt onto or into the stock rack. But if you don't have a stock rack, the
Kargo Master Congo Rack
is the perfect solution. All brought to you by your favorite place for Jeeps parts,
Morris 4x4 Center
.