Keep Your Like New with Fresh Body Parts
It's not likely you will have to replace a body part on your Jeep. Then again, things can happen. You might damage a part while off-roading, or maybe you run your Jeep in a desolate terrain and climate that's just plain brutal on body parts. Or maybe someone  decided to bounce into your awesome Jeep because it's just one of those days. Whatever the cause, Morris 4x4 Center is here for you. We actually carry
Jeep replacement body parts
and sheet metal to make the l
ove of your life
 your Jeep as good as new. Probably even better. In fact, you can just about get every part to build a Jeep from the ground up. Everything from a full tub body to the front floor pans. You would be surprised at what we carry!

We cover all the popular Jeep models, here's a quick list:
Did you try one of those links above? How about some of those great blow up diagrams! That's just one of the many ways here at Morris 4x4 Center we make ordering parts easy. We know it can be stressful when your favorite Jeep may be down. We want to help you as quickly and as easily as we can. Why should ordering a part be hard? It shouldn't! That's why Morris 4x4 Center is one of the largest Jeep parts distributers in the country. We know our Customers depend on their Jeeps, on road and off road. Cosmetics is only one part of keeping your Jeep nice. But a Jeep just isn't any old car or truck. They hold their value year after year. They last for a very long time, much longer than the usual everyday vehicle. And let's face it, EVERYONE wants to own a Jeep, even if they don't have one yet! (or want to admit it). So there's really no reason to let that bent body part get ignored. We have the body parts you need, at the best prices, right here at Morris 4x4 Center. We carry body parts in steel, like an original factory part. But as an option, we also carry some body tubs in Aluminum, and some body parts or tubs in Fiberglass. These are widely used in Jeeps that may see heavy off road use, or be used in racing. But some Customers combine the different materials and parts to build their own custom Jeep, so it's really a matter of choice. Either way, Morris 4x4 Center carries what you need to make your Jeep dreams come true.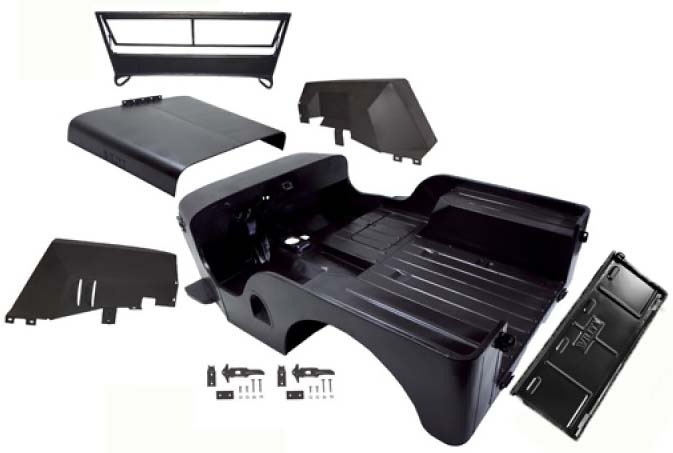 So don't worry, your Jeep doesn't have to be ugly for any length of time. We have the 
Jeep accessories
you need to get her up and running, and ready for the catwalk. See you on the trails!