Light Up the Trails with J.W. Speaker Lighting from Morris 4x4 Center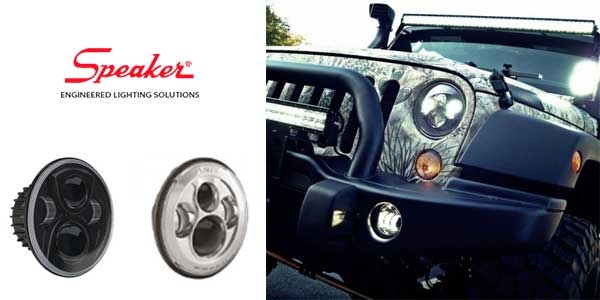 Lighting on a Jeep is a very important part of the vehicle. It's not just about driving, or seeing where you're going, it's a serious tool in your box of survival gear. When you're out in the middle of nowhere, and it's just you, the terrain, and blackness all around, light is the best friend you have. If you don't think your stock lights are pulling their weight and lighting up the woods, you will want to step up with some performance 
J.W. Speaker LED Lights
from Morris 4x4 Center.
J.W. Speaker
has been a leader in automotive and truck lighting for many years. They manufacture lights for just about anything from Heavy Trucks, to Marine applications, to Machinery and Farm Equipment. They're specialists in optical engineering, their lighting products are used by Military and Law Enforcement Agencies around the world. They are  a high quality brand that people have come to depend on. Here are some highlights that makes these headlights a high quality replacement for stock lights:
They are legal and DOT-compliant  - high / low beam
Your get a choice of "bold" black or "muscle" chrome inner bezel (on the 8700 series)
They feature UV-resistant polycarbonate lens
They have rugged solid state LEDs, which can withstand shock & vibration
No glass bulbs, fragile filaments, or sensitive electrodes to break
These are long-lasting optical LEDs, which means you may never have to replace another bulb again
They feature a die-cast aluminum housing to provide maximum protection
They produce a clean, crisp white light
(8700 series) Raw Lumen Output: 1,350 (Low Beam); 1,770 (High Beam)
(8700 Series) Effective Lumen Output: 650 (Low Beam); 760 (High Beam)
You can always
add extra lights to your Jeep
, and that's a very popular modification. But by replacing your stock headlights with a couple of JW Speaker LEDS from Morris 4x4 Center, you can get a lot more light with very few, if any, modifications. They will also keep your Jeep looking stock on the outside if that's important to you. If you keep having headlight failures because your stock lights can't handle the terrain, this is the solution. There's nothing wrong with wanting to see more of the outside world at night. After all, from a safety standpoint, better lighting can give you more vision and time to avoid wildlife, big nasty boulders, or Bigfoot. See you on the trails!