Love is in the Air Here at Morris 4x4 Center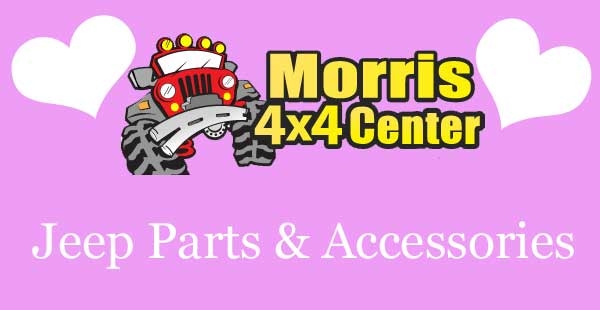 Don't forget February 14th! You know the date. It happens every year. It's the time you give your significant other, your partner, the love of your life, that something special. No silly, not your Jeep... your OTHER significant partner ! Love is in the air here at Morris 4x4 Center because we have some of the best ways to get that Jeep lover, that Jeep owner, something special. Looking for chocolate and flowers?  Socks and ties? Sorry, we don't carry those. And believe us, that's a good thing! We have one of the largest selections of Jeep parts on the planet. We have all those parts a Jeep owner dreams about. We are the ultimate Jeep candy store! Just imagine how that new
Jeep winch
will be the best gift ever.
Tires and wheels for Jeeps
? We have you covered. New
seats
or
bumpers
for the Wrangler? Now you're talking! Ok, ok, we know what you're thinking. You're thinking, "Hey, I don't even know what year his Jeep is, how can I order a part?". No worries! That's why we have
Morris 4x4 Center Gift Cards
! Truthfully, they are a lot lighter to carry than a bumper winch ! And a whole lot easier to hide too ! And before you fire us off a message, we didn't forget the lady Jeepers out there ! In fact, we have an entire section if she's into pink. Not that every female likes the color Pink, but hey, we tried. Guys & Gals, if you don't know what she wants for her Jeep (hi Mom!), step up to the Gift Cards. We also carry a selection of clothing and gift items, as well as
decals and emblems
. Fun stuff that any Jeep lover will enjoy. Or do a combo. Get a gift item, and throw in a Gift Card as well. It's very easy to do. See? Are we looking out for you or what? There's plenty of time to order from Morris 4x4 Center if you jump in the water now. Plenty of time to get just what you need to make this romantic holiday a great one you'll never forget. So like we said, love is in the air. Let's keep that feeling going. Get your partner the best Jeep stuff there is from Morris 4x4 Center!