Spiderwebshade is all about shade solutions. They offer mesh top products for your Jeep that are pretty darn good. Not only at giving you the shade you want from the baking UV rays of the sun, but more airflow to keep you cooler. They also make different styles to fit your personal Jeep needs, and they're not afraid of color. Check out the full line of
SpiderWebShade
products below.
Bikini Shades for JK & TJ Wranglers
You've heard of the Bikini top, but Spiderwebshade takes it one step more and offers the Jkini and TJkini for your JK Wranglers and the TJ Wranglers. These mesh top cover the front driver and passenger area. There's a number of reasons these are very popular "Bikini" Tops. First off, they're one piece. How easier can it get? No zippers or snaps. Another reason? No drilling or tools needed. Not only that, you don't have to buy or install a new header. It's not needed. The mesh material is heavy duty vinyl-coated polyester. It resists tears, flying debris, and branches while trailing. It's held on with strong bungee cord type connectors called Spiderballs.

And the best thing of all, they're available in several colors, from pink, blue,red, yellow, green, orange and more! Honestly, it's so easy to install and use, you'll wonder why you didn't get ones years earlier. Why wait?
Long Shade for the JK Wrangler Unlimited
Want to add some cover for your friends and family in the back of your JK Wrangler? Just use their Long Shade. It covers the driver and passenger, but extends back over the rear seat area. It's still one piece so it's strong and durable. No drilling or modifications are needed, as it uses Spiderwebshade's Spiderballs to attach to the roll bars quick and easy.

Shade Tops for the TJ Wranglers & YJ Wranglers
Spiderwebshade didn't forget the TJ and YJ drivers that want to keep cool. The Shade Top extends back over the rear seat to keep passengers (and gear) more comfortable, and a little bit of protection from debris and mild tree branches. The mesh top goes over the roll bars, so it normally won't interfere with any other accessories attached to the bars. No header is needed, and it's available in many colors to match your Jeep color and style. Of course the material is mildew and fade resistant for many years of outdoor use. Note that there is a Shade Top specifically for the TJL Wranglers Unlimited, so you're getting a top that's the correct size for that TJL Jeep, rather than something that's universal to just TJs.
Of course, the YJ Wranglers get a top made just for them, and it's made to only fit the YJs so you get a perfect match. These tops are not low quality universal tops.
Shade Top JK Wrangler
Spiderwebshade makes a Shade Top Trailmesh for the JK Wranglers as well. It features the same construction and durability as the TJ and YJ versions.
What's the difference between the Long Shade and the Shade Top? While they both cover the front and rear seetings areas, the Long Shade Top bends down over the roll bar to the top of the rear seat. The Shade Top stops at the roll bar over the rear seat. Giving you more air flow from the front of the Jeep on out through the back.
But the Long Shade, with the bend, adds a little extra shade on the back of the passengers head and shoulders. They are both still a one piece top. Same quality and features, just a little different on how they mount and how they cover the rear area. Note that the 2-door and 4-door JK Wrangler do use separate part numbers, so they are specific for a perfect fit.
2-piece Trailmesh Shade Top
It sounds more complicated, but a two piece Shade Top can be handy at times over a one piece. The main reason being you can remove one of the pieces and keep the other. For instance, if you don't need the rear portion, and there's no passengers in the back seat, just remove it and keep the front section. That's more airflow for you up front! But you don't have to remove or change the entire top. Maybe you have some rear passengers that are new to Jeeps and would rather have a cover? No problem. Just use the back half.
The Two piece tops have all the same quality features as the one piece, it's just more flexible in how you want to use it. They're available for the TJ Wrangler and TJL models as well.
Shade Cage Top
The Shade Cage takes coverage a little further. While covering the top as the other 2-piece tops do, it also includes side covers to shade from incoming sun rays and debris.
It's almost like having a small soft top, but you get a lot more air flow. They're also much easier to install and take off at a moment's notice.
The extra side panels attach the same way as the tops, with Spiderwebshade's Spiderballs. No drilling or complicated installation. The Shade Cage is available from the TJ and TJL Jeep Wranglers. They're also available for the 4-door JK Wrangler Unlimited and 2-door versions. Of course, like other Spiderwebshade tops, they're available in a host of different colors.
Spider Sides
If you feel the need to cover the front side openings, Spiderwebshade has thought of that too. These fit in the upper "window" area when you're running a half door or no door at all on a Jeep Wrangler TJ. If you're going into deep bush and don't want to be smacked in the face with limbs and branches, these are a quick way to add a barrier, but still give you some air flow and some visibility.
The Spiderwebshade Krawler
If you trail in a TJ or YJ Wrangler, The Trailmesh Crawler is just for you. It's a one piece that's enough of a mesh to give you air flow, but still provide some shade to keep those UV rays off your head. It has more coverage than a TJKINI, and is more adaptable if you have a custom or modified roll cage.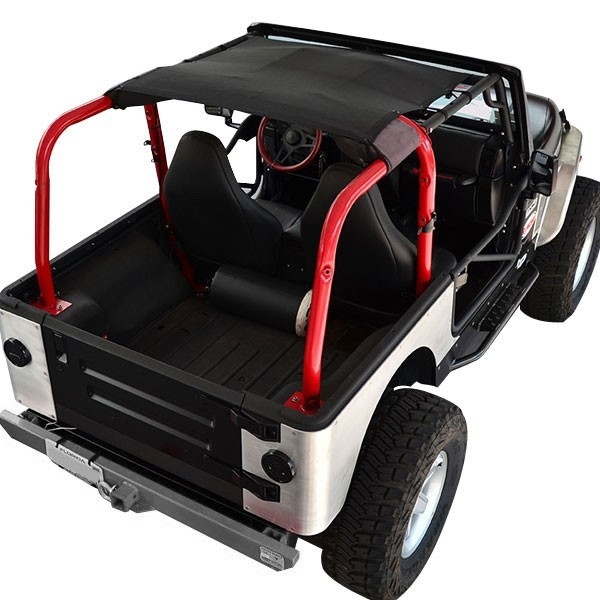 Shade Skins
If you are driving a JK Wrangler and you prefer to trail without doors (who doesn't, right?), Spiderwebshade has some great colored mesh skins for your tubular doors. These are specifically designed for
Rancho Rock Gear Tube Doors
. Why you might ask? Because those Rancho doors are big sellers and very popular on the JKs.
They come in all the colors to match your top (or your Jeep!), and they attach using Spiderballs, so they're easy to install and easy to remove when needed. They are available for 2-door and 4-door JK Wranglers, and TJ/TJL Wranglers.
Spiderwebshade GrabBags
The Ragbag is just right for that gear you use the most - Smartphone, sunglasses, snacks. Slip it on the passenger side grab handle and put it to good use. It's available in a host of popular colors, so you can mix and match. It's easy to see that Spiderwebshade is a great choice for a top. They're incredibly easy to install in minutes (the Spiderballs work on all their products primarily), and they give you better airflow, but offer much more shade at the same time. What could be better?
It's your Jeep, spice it up with the Spiderwebshade color that best shows off your style!
Click to Share!
Follow Us!
Read More: