Morris 4x4 Center now Carries Wicked Trails 4x4 Products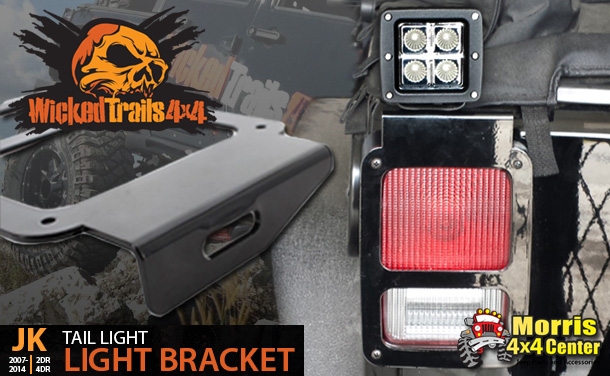 Here at Morris 4X4 Center, we're always looking for great new product lines to team up with, so we can continue to bring you the latest and greatest accessories for your Jeep.
We now carry the Wicked Trials 4X4 LED Taillight Brackets. These brackets are manufactured right here in the U.S.A, in Oakland Park, Florida.  They're made from aluminum to withstand years of hard use, and are very durable. You can get then in a natural finish, textured, or even powder coated. Either way, these brackets look as good as they function. Why use the Wicked Trails 4X4 Taillight Brackets? Easy convenience. In just a few minutes, with only a screwdriver, you can have a pair of these installed on your Jeep, ready to go. The purpose of the bracket is the top lip, which is made to accept accessory lighting. Allowing you to light up the area behind your Jeep for camping, towing, or backing up on the trails. This also keeps all the wiring close together, so you can tap into the leads for the taillights, or at least keep the wires bundled together.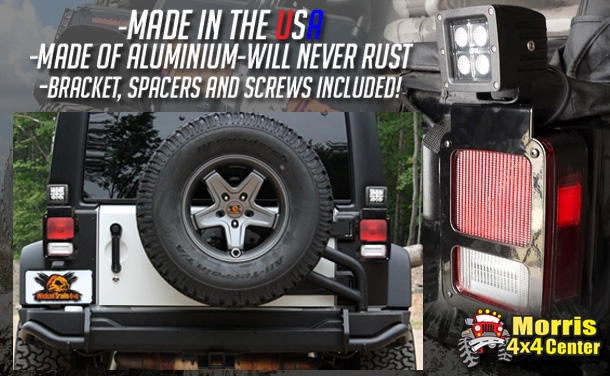 While you could use a wide variety of rear lighting products, Morris 4X4 Center has developed some easy to install kits using both the Wicked 4X4 Taillight Brackets and a pair of LED lights. You can get the kits with Rugged Ridge LED driving lights, or Rigid Industries LED spot lights. The modern LED lights are very bright, but use less energy, and emit less heat than convention halogen lights. With these kits, you can get everything you need in one great package at one low price. The kits not only include the hardware you need, you know all the parts are designed to work together. You may want to think about hooking up with some LED taillights from us as well, since you're already working back there on your Jeep. We carry a lot of choices for LED taillights. So get these great products and more at your favorite place for Jeep Parts and Accessories - Morris 4X4 Center!