Morris 4x4 Center Sponsorship Teams up with Jeep Jamboree USA
Morris 4x4 Center is proud to be a sponsor of
Jeep Jamboree USA
. These events take place across America and allow Jeep fans to safely trail and enjoy the great outdoors. Since 1953, the Jeep Jamboree has been a well known popular event and known for it's professionalism. They usually take place for three days, with registration on Thursday, and the driving taking place normally on Friday and Saturday. These are family oriented events, and allow Jeep drivers and fans to experience trailing in a safe manner, with expert guides, spotters, and crews. The Jeep Jamboree USA  caters to every level of Jeep drivers, from experts to beginners. Family fun is the goal here and the whole event is geared towards that. Just about any Jeep vehicle with a 4-Lo transfer case can participate, but
Jeep CJs
and
Wranglers
are the best for certain trails, and recommended. Experienced trail guides will help you navigate through scenic switchbacks and some of the most challenging off-highway situations for your Jeep. But best of all, you'll be meeting and making new friends along the way and during the weekend.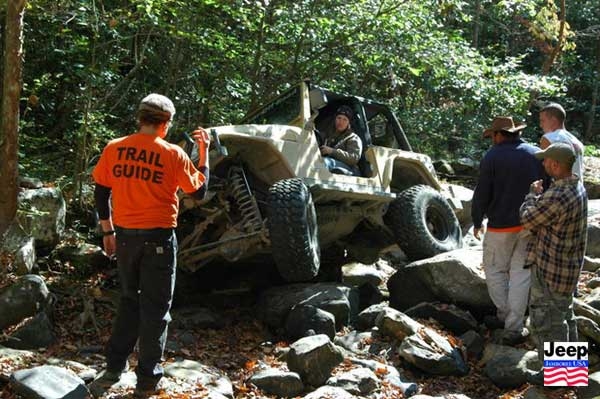 The Jeep Jamboree USAs are Jeep only events, so you won't be mixing with any race trucks, ATVs or other vehicles. It's strictly for the Jeep fans. The trails are usually a mix of terrains for various challenges, but safety is a priority. The trails have been set up to be as safe as they can, so that drivers can have a good time without (hopefully) damaging their rides or causing any concerns. There are plenty of experienced Spotters and Guides to help you though the terrain at your own speed, but still allow you to enjoy the trails with confidence. For safety and the family atmosphere, alcohol beverages are not allowed. Certain gear is also mandatory to keep you safe, and other drivers safe while enjoying the event.
Jeep Jamboree Requirements
-
There are many safety issues regarding upcoming obstacles transmitted over the CB radio by your trail guides. It is required that each vehicle have a CB radio. Learn interesting facts about the area – history, local plant and wildlife, as well as exciting stories.
Jeep vehicles must have four-wheel drive with a low-range (4-LO) transfer case.
Front and rear tow points must be properly mounted to the frame with grade-eight bolts.
Drawbars, receiver hitches, or aftermarket bumpers with manufacturer-installed clevis or D-ring anchor points are acceptable alternates to tow points. If you don't have tow points, you may be turned away without a refund.
All open-topped vehicles, including older models (CJs, Scramblers, and Willys), must have roll bars.
A full-size spare tire; a space-saver spare (donut) just won't do.
Street legal vehicle with current license plate.
Jeep Jamboree Recommendations-
Skid plates covering the oil pan, gas tank, and transfer case. Mandatory for the Rubicon Trail.
Rock rails for Jeep Liberty, Cherokee, Grand Cherokee, and Commander vehicles registered for higher-rated trails. Rock rails are iron moldings designed to protect your vehicle's rocker sills from damage. Strongly advised for Jamborees with rocky terrain. Mandatory for the Rubicon Trail. Please contact the Jeep Jamboree USA office for additional information.
Heavy-duty, 20-foot nylon tow straps (7,000 lb max vehicle weight) with looped ends. TOW STRAPS WITH METAL HOOKS ARE NOT PERMITTED.
Body lifts/suspension lifts up to six inches (combined) are permitted. Running boards and snowplow frames are not permitted. Tires over 37 inches are not permitted.
As you can see, the Jeep Jamboree takes every precaution to see that families have a good time at the event, and everyone goes home safe afterwards. These are professional people who take trailing seriously. Morris 4x4 Center is proud to be a sponsor of Jeep Jamboree USA, and work with such a great group of folks to help promote Jeeps, Families, and Trailing.
Upcoming Jeep Jamboree Events 2014 -
| | | |
| --- | --- | --- |
| 6th Big Horn Mountains | Aug 21 - Aug 23 | Dayton, Wyoming |
| 4th Laurel Highlands | Sep 11 - Sep 13 | Farmington, Pennsylvania |
| 27th Ouray | Sep 11 - Sep 13 | Ouray, Colorado |
| 17th Catskill Mountains | Sep 18 - Sep 20 | Monticello, New York |
| 22nd Black Hills | Sep 25 - Sep 27 | Deadwood, South Dakota |
| 25th Maine Mountains | Oct 02 - Oct 04 | Bethel, Maine |
| 25th French Lick | Oct 02 - Oct 04 | French Lick, Indiana |
| 16th Moab | Oct 16 - Oct 18 | Moab, Utah |
| 20th Gateway to the Cumberlands | Oct 23 - Oct 25 | Williamsburg, Kentucky |
| 25th Ouachita | Oct 23 - Oct 25 | Hot Springs, Arkansas |
| 5th Cullman Alabama | Oct 30 - Nov 01 | Cullman, Alabama |
| 1st Greenbrier Valley - New | Nov 06 - Nov 08 | White Sulphur Springs, West Virginia |
| 1st Ozark Adventure - New | Nov 13 - Nov 15 | Ozark, Arkansas |