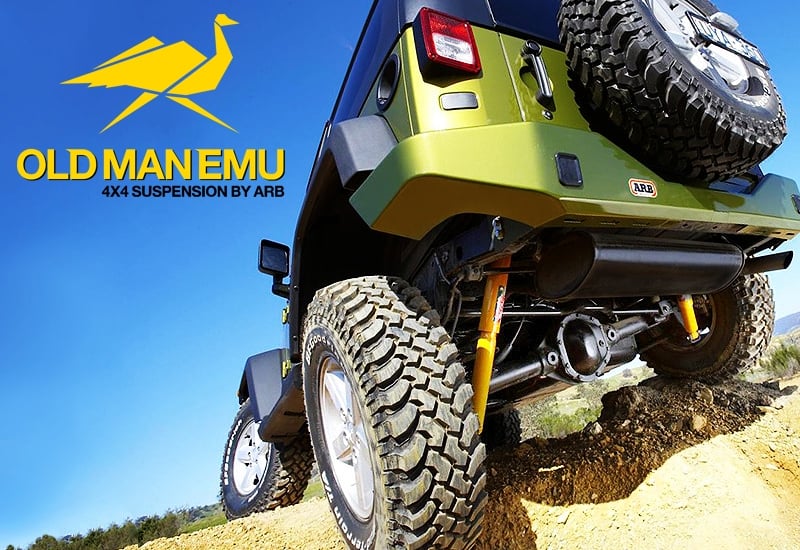 It used to be, maybe 20+ years ago, that few people ever heard of
"Old Man Emu"
parts here the USA. While widely known in Australia (where the company originates and produces it's products) and around the world, the parts were not easy to get here in the States. Their reputation as some of the highest-quality parts and tough, long-lasting construction is legendary. Whether it's the brutal outback or severe bush of the countryside, they were tested by mother nature herself in the harshest conditions. Of course, here at Morris 4x4 Center, we carry the best products for all your 4x4 and Jeep needs, and we've had Old Man Emu parts for some time now. Not surprising, they are popular with Customers and Jeep enthusiasts. Together with
ARB
, these tough Australian 4x4 parts - such as offroad shocks, suspension lift kits, coil springs, and much more - are available for your own Jeep. Here are some sizzling hot, popular setups you want to take a close look at for your Jeep.
Top Old Man Emu Parts for Wrangler JK & Unlimited
When it comes to
Old Man Emu parts for Jeep JK Wranglers
, the
Old Man Emu JK4 suspension lift kit
is the top dog. It gives you 4-inches of lift and includes 4 Nitrocharger Sport Shocks, new Coil Springs, Spacers, Track Bar, Steering Stabilizer, multiple relocation brackets, and more.  It fits both the
2-door
and Unlimited 4-door JK Wranglers.
Engineered from the ground up literally, it makes installing a lift kit a straight forward process. There's no need to buy multiple parts from multiple companies and try to make them fit. With the EMU kit, you know the parts will all work together. This saves you installation time and hassle.  It's no wonder it's one of EMU's most popular kit they ever made. If you've packed up your
JK Wrangler
with a lot of heavy weight bumpers, winch, and hard core accessories, you will want to get the
JK4DHKS suspension lift kit
. While it's similar to the JK4, this kit has heavy duty springs for heavy loads.  Now you can get more stability and control on the trails with your Jeep Wrangler, packed to the hilt with all the off road supplies you need for that deep bush excursion to no man's land. Why stress out your weak stock suspension? This kit will make a big difference.
Wrangler TJ & TJL Old Man Emu Parts
Driving a
TJ or TJL Jeep Wrangler
? Old Man Emu makes a very popular kit for you. Let's face it, if you're going deep in the country, you'll be loading your Jeep up with everything you need to survive and get back to civilization (some day!).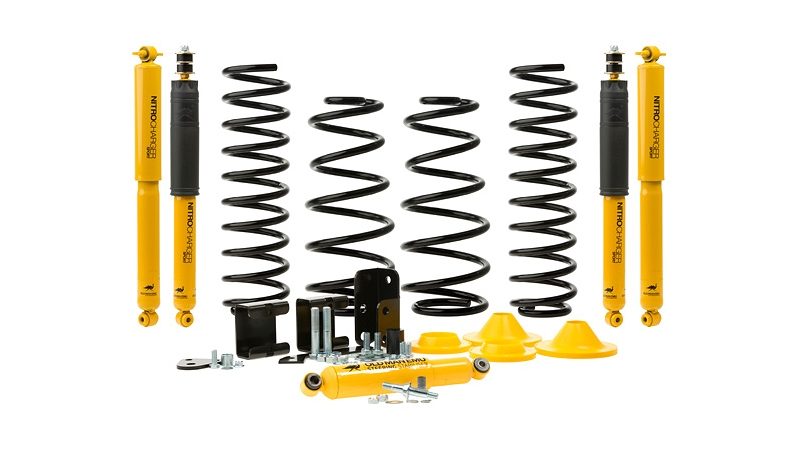 Together with off-road steel bumpers, winches, rear spare tire carriers, fuel cans, camping gear, trail bikes ... you've put the load capacity of the suspension to serious test. But Old Man Emu has you covered. Their
TJHKS kit is a heavy load suspension kit.
Together with four Nitrocharger Shocks and HD springs, you can help keep the load more steady and beef up the suspension on your Jeep for whatever the hard trails can throw at you. How old is your stock suspension on you TL / TJL? Can it take the abuse? Why take a chance and roll the dice? Grab this EMU kit today, and a few of your 4x4 buddies, and you could have it installed in just a few weekend hours, ready to go. Then pack your Jeep up like you're never coming back ... with confidence.
Does Old Man Emu Make Wrangler YJ Parts?
Old Man Emu hasn't forgotten some of the older Jeeps, such as the
Jeep YJ Wranglers
. OME makes some great DAKAR leaf springs to bring your Jeep back to better than new. With their upgraded springs, you can easily get 2-inches of lift. They feature a graphite coating, shot peening, and anti friction pads. OME makes both the
front leaf springs ( CS014F )
and the
rear leaf springs ( CS036R )
.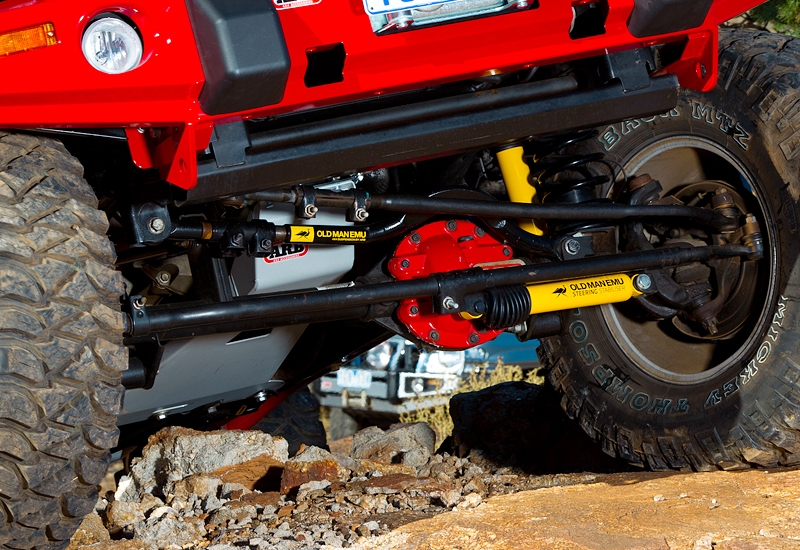 As you can see, these Aussie tough suspension parts are great additions to your Jeep. The word has gotten around, and offroad drivers and owners know that Old Man Emu is the brand of high quality parts they can depend on. And you can depend on getting the best price on Old Man Emu products right here at Morris 4x4 Center!