N-Fab Jeep Parts Joins the Morris 4x4 Center Product Line-Up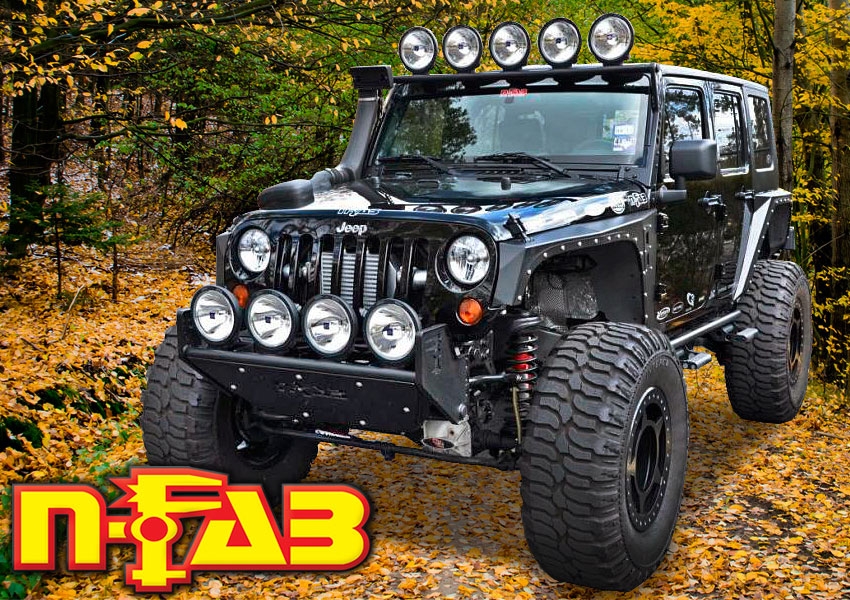 The Morris 4X4 Center continues to add more high quality products that our Customers demand. To keep up with current trends, we've teamed up with N-Fab to bring you even more great parts for your Jeep and off road vehicles.
N-Fab
is no stranger to the off road community. They manufacturer several kinds of products, but are best know for their award winning patented Nerf Bars. Their Bars are made from some of the thickest steel used in the aftermarket accessory market, and have an all welded one piece construction. Each Bar is Zinc coated for better corrosion protection. They then finish the standard parts in a thick layer of powder-coating for a long lasting finish! They make products for vehicles all the way back to the 1980's, and their products lines offer over
400+ part numbers
. N-Fab products are built in-house at their Texas facility.
Right here in the U.S.A.!
For our Jeep Customers, you can get set up with Light Bar Brackets, Bumpers, Nerf Bars, an Over-sized Tire Carrier, just to mention some of the many products available. All high quality and made as rugged as your off road vehicle can be. The highlights of their products are:
N-Fab Nerf Steps
- This is one of their most popular styles. These utilize a patented Hoop Step and innovative mounting system. The Wheel 2 Wheel steps work with stock heights, as well as lifted vehicles. They are built using .084 wall steel tubing, which gives them an industry high load rating or 465 pounds. They are constructed as a one-piece assembly, to give you the maximum in durability and strength. Each Wheel 2 Wheel N-Fab set of Nerf Steps is built specific for the vehicle, providing the fit and finish you Jeep or Truck deserves.
N-Fab Rock-Rails
- These Rock-Rails give your vehicle extra protection,. while also enhancing the rugged look you always wanted. They are constructed using .120 wall, 1.75" tubular steel. They are treated inside and out, for corrosion resistance, and built to last. They incorporate a matte black powder coat finish for even more protection against severe driving conditions..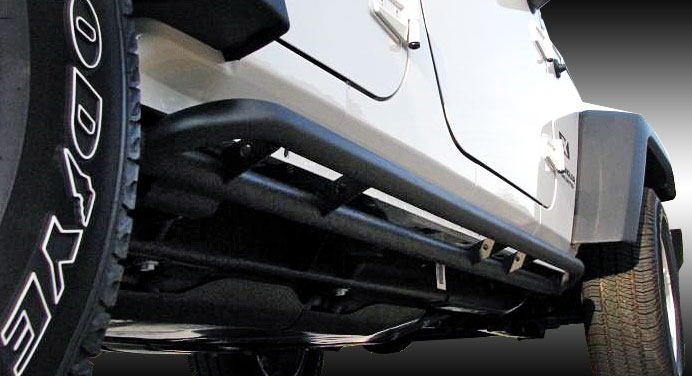 N-Fab N-Durastep
- The N-Durasteps have an all new styling and concept for your truck or Jeep Wrangler. They feature an extra large step surface, and feature a 7-inch drop from the vehicle threshold. They are finished using a durable black satin powder coated finish, over a zinc base coat for the ultimate corrosion resistance. N-Fab also offers an adjustable ADJUST-step Nerf Bar that is manually adjustable in height, with multiple locations and strong steel fabrication.
N-Fab Lighting Mounts
- N-Fab manufacturers several options for mounting lights, including modern LED assemblies. Most of these are specifically for the Jeep Wranglers. They are available as kits, for specific lighting arrangements. They are available for single or double row LED lighting systems. The offer overhead mount kits, as well as windshield post kits. They also offer light mounts for the front of your Jeep and / or the bumper location. These are strong steel construction, and made in the U.S.A.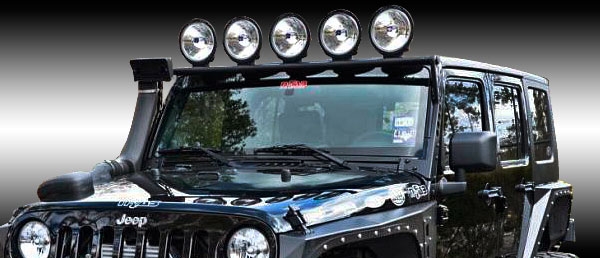 We are happy to include the N-Fab product line to our
Jeep and Truck accessories
. Now we can offer even more great add-ons to our Customers to get their rig just the way they want them! And it can all be done right here at the Morris 4x4 Center!