New Haven Police Warn Jeep Wrangler Owners

Things are rough all over, and owning a Jeep, one of the most popular vehicles of the times, can be great, but it can also make you a target for others who don't share the dream. For instance,
News 8 in new Haven, Conn
, warns that door thefts are up, and your Wrangler may be at risk. But that doesn't mean you have to throw in the towel and live with the idea that parts will disappear off your Jeep. We carry a variety of products to make it very difficult to take something off your vehicle, and might make a thief look elsewhere for free auto parts...
Let's start with the doors.
To go doorless on a Jeep, they made it simple for an owner to just swing open the door, lift it up off the hinge, and take it to store in your garage or toss in the back. Unfortunately, anyone who can break into your Jeep and get the door open is already halfway to leaving you doorless when you least expect it.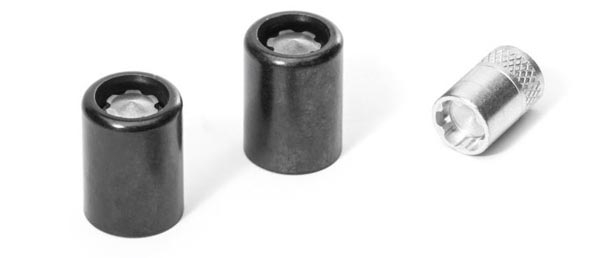 What to do? Get some
McGard Door Hinge Locks
. You can get them for your Jeep JK Wrangler 2-Door (
Part MCG-76057
), and a set for the 4-door of course (
Part MCG-75060
), TJ Wrangler (
MCG-76058
), and even the YJ Wranglers (
Part MCG-76059
). So there's no excuse for not locking your doors on.

We also carry the Tuffy Door Lock sets, for instance, this one for the JK Wranglers (
Part 164-01
). For a Jeep TJ, you may want to check out the
Tuffy Security Products Security Door Lockers in Black (Part 043-01).
Most CJs don't have doors, but if yours does, you can lock them up with
Tuffy Security Products Security Door Lockers (Part 037-01)
. For just a few dollars you can secure the doors on your Jeep, and they'll still be there when you come out of the hardware store.
Jeep Spare Tire
Another common item to "go missing" of the back of a Jeep Wrangler is the spare tire. Normally from the factory, it's only held on with common lug nuts. No lock whatsoever.  Many new Jeep owners don't even know that, till the tire's long gone.

One of the easiest locks we have to use is the BOLT lock (Part
BOLT-5922986)
. It secures your rim / wheel / tire using your ignition key. So you don't have to carry an extra key on your ring, or one of those special "lug nut" keys that always seem to get lost. On a traditional note, most locking wheel sets for Jeeps include a fifth lock nut for the spare, so you can not only lock your four new wheels, you can protect the pare as well. McGard makes a variety of lock kits to do this.

These are just a few items you can use on a Jeep, though we carry many different kinds of security products to protect parts on your Jeep, including interior storage lock box options, to special Trimax locks to secure your exterior accessories. You work hard to own a Jeep, don't let some loser take what they want the easy way. Make it difficult, if not impossible. We do carry the parts so you can buy or build a new Jeep door, or replace your spare when it takes flight, and we do sell
wheels and tires
. But we would rather sell you some great security products now, because we know you'd rather  spend your cash on cool stuff ...  like say,  
bumpers and winches
.